11/29/21
Clovis - #1-1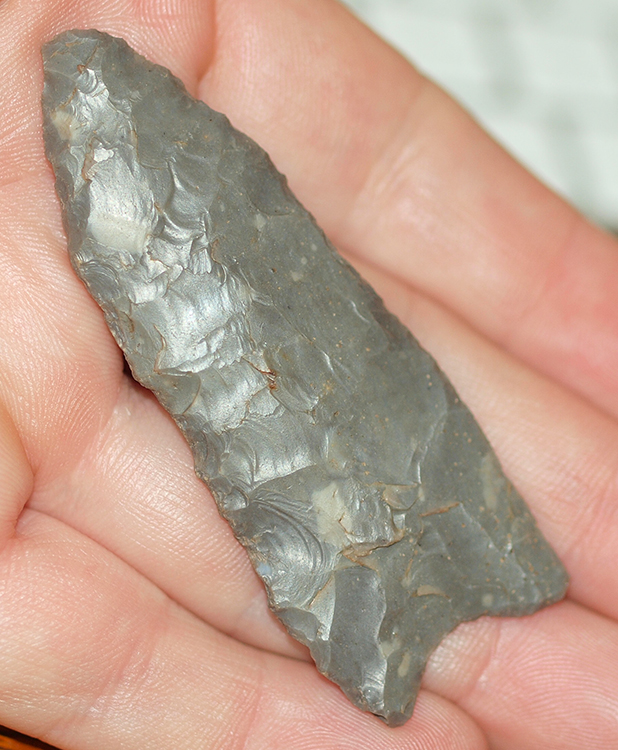 Size: 3" L x 1 1/8" W.
Provenance: Found in Ohio. X: old timer Harlan Snyder.
Condition: Excellent. Indiana Hornstone. You won't need a microscope for this one. Fluted on both sides. True mammoth killer that shows actual use. Consider just how rare an authentic example is of our earliest flint type. Been a long time since a clovis passed my standards to sell.
Price: $800 - RESERVED FOR A BUYER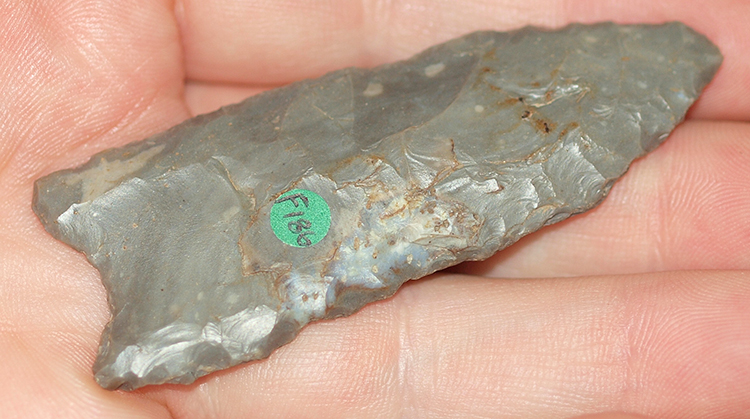 Flat Base Dovetail - #1-2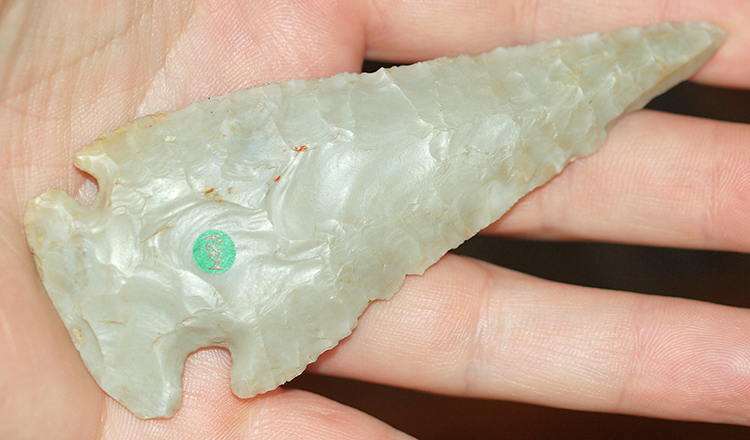 Size: 4 3/8" long x 1 13/16" wide.
Provenance: This was found in either Wayne or Crawford County, Ohio. Collector hunted those areas.
Condition: Excellent. There is an old impact fracture that I highlighted in the pictures. Amazingly, this impact didn't break the tip off. Piece displays like whole, and the impact doesn't effect overall condition much b/c of the way it formed. High grade Flint Ridge, which is the material choice for nearly 100% of this rare Dovetail variant. I love the way the notches are different sizes, and this was clearly a choice of the maker. Don't miss a chance to get a a piece like this.
Price: $500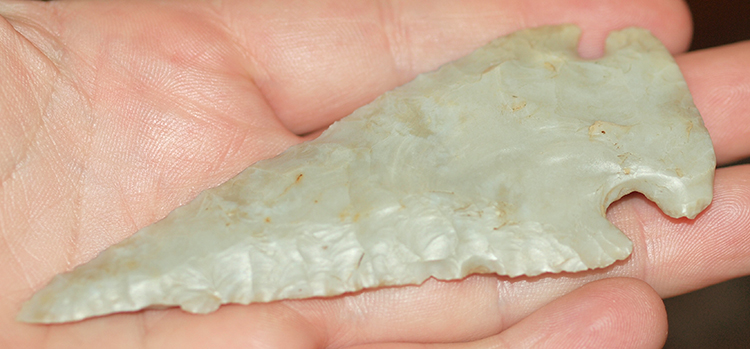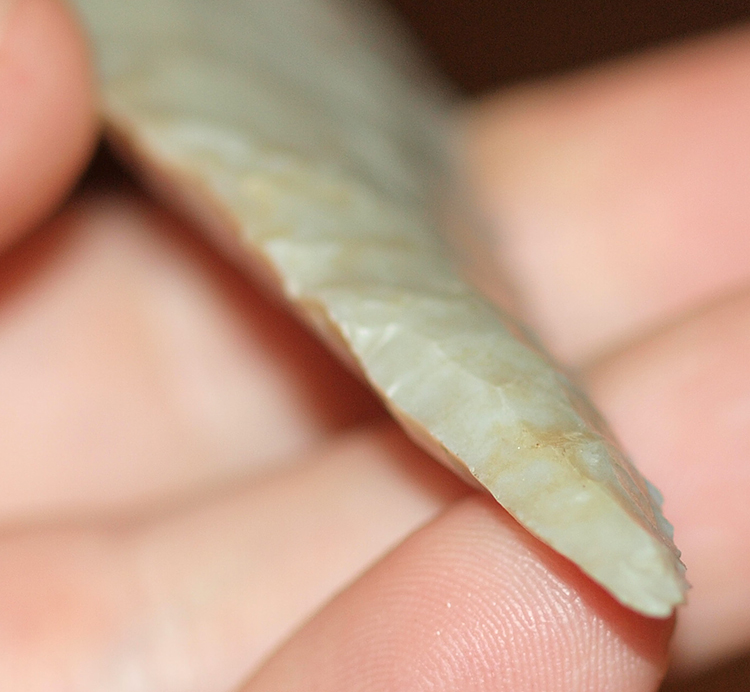 Huge Stanfield Drill - #1-3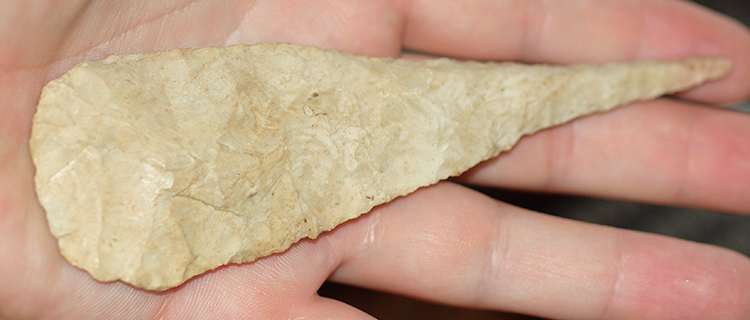 Size: 5 5/16" L x 1 1 11/16" wide
Provenance: Vermillion County, Illinois. Jim Bennett COA dated 11/6/17. X: Tom Razmus. Pictured in Lar Hothem's Indian Artifacts of the Midwest III Page 68.
Condition: Perfect. Any flaws are too small to deduct. A very large knife that was worked down into a fine drill form. Burlington Chert. Over 5" drills are not something you see.
Price: $600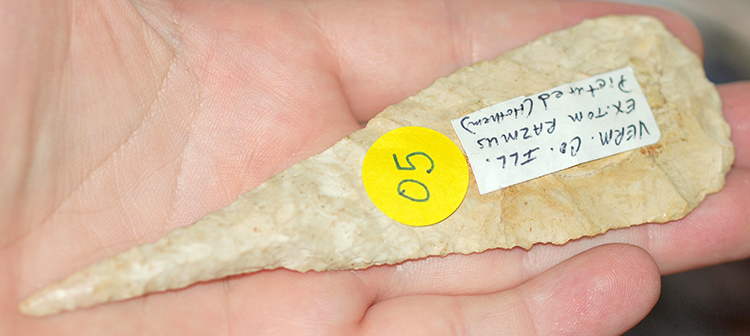 Kirk - #1-4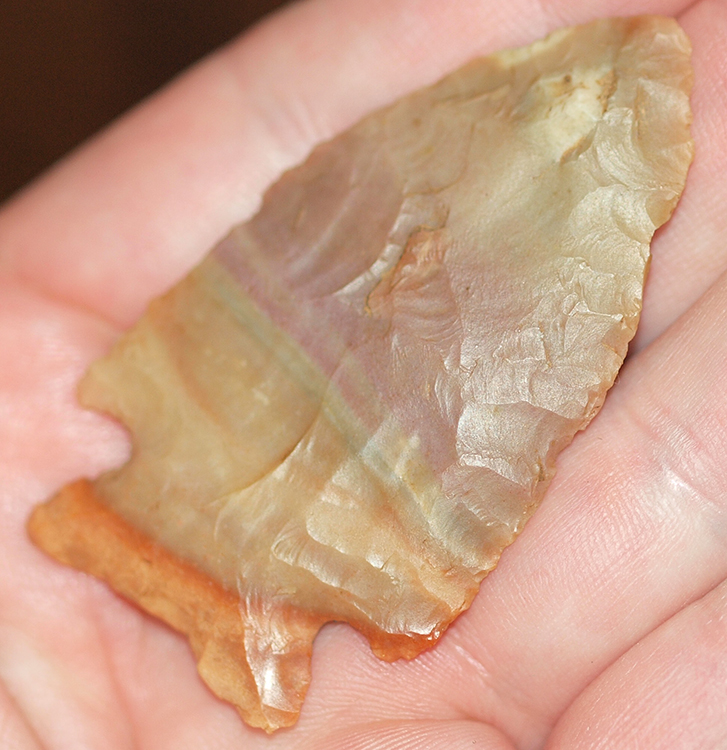 Size: 2 1/2" long x 1 7/16" wide.
Provenance: Lee County, Kentucky. Collected by Russ Strunk.
Condition: Excellent. Every once in a while at an artifact show somewhere deep in Kentucky, you will hear rumors about a grade of Carter Cave that has green in it. Most will say "it can't be", others will swear they have seen it, but nobody will produce an example. The band underneath the purple area on this piece sure looks green to me, and this is as pretty a grade of Carter Cave as you will ever see. The yellow paint comes off easily. I sratched most of it off with my fingernail after I took the pic.

Price: $150 - RESERVED FOR A BUYER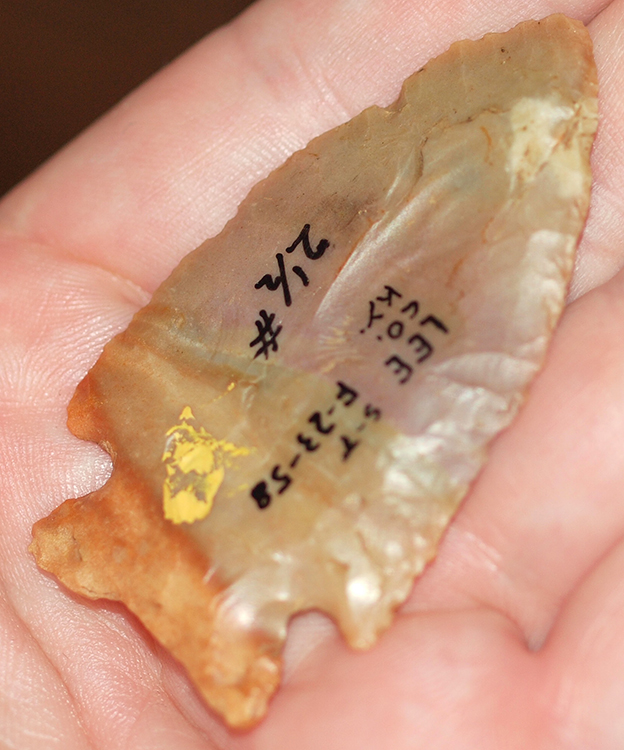 Thebes - #1-5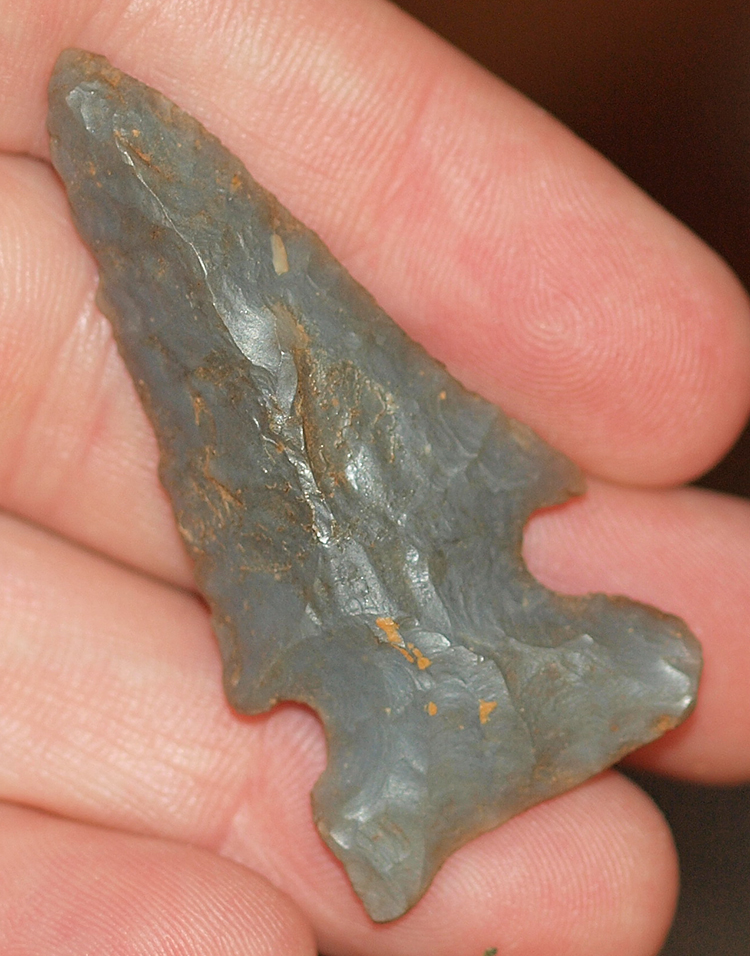 Size: 2 1/4" long x 1" wide.
Provenance: Wally Dibble Collection. Cass County, Indiana.
Condition: Super. Small amount of glue on the front. Easily removed by setting in water. I put this on page one b/c I find it to be a very fine smaller point. High grade material with translucency. There is an impact on one side near the tip that doesn't effect piece much at all. solid 8 of 10.
Price: $100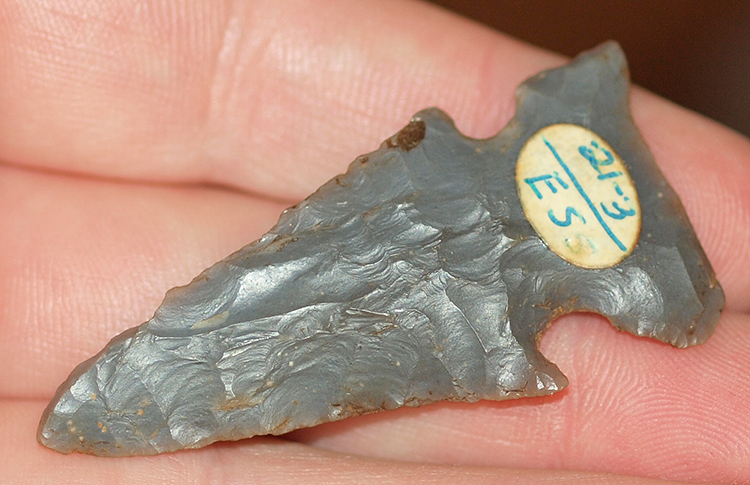 Flint Ridge Dovetail - #1-6
Size: 2 15/16" L x 1 1/2" W.
Provenance: Licking County, Ohio. Comes from multiple old Midwest collections. Pete Schwinn and Fred Bartol. The writing is a perfect match for a Payne buyer, and I can suggest with a high degree of certainty that the piece was in the Payne collection.
Condition: Super. So few good dovetails on the market. When you see one, do you even need to consider whether it is old or not? Good old flint reveals itself with very little thought or effort. This is obviously Flint Ridge, and a high grade translucent variety.
Price: $800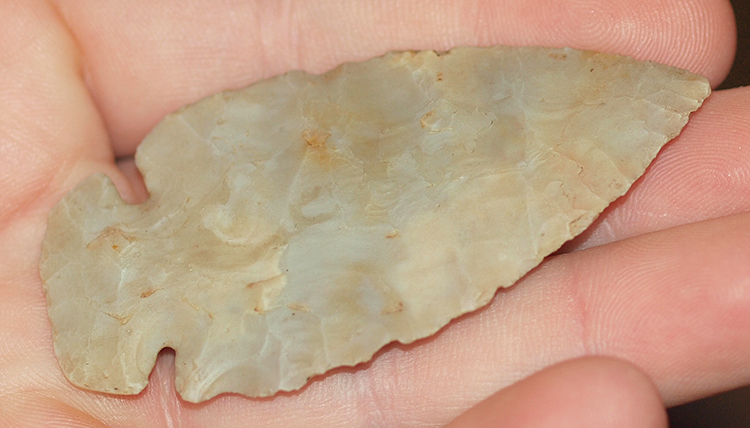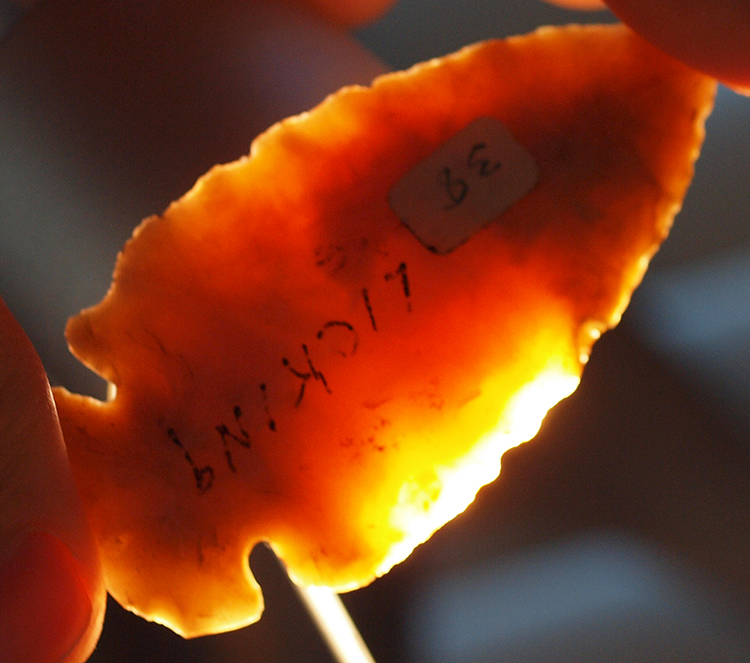 Ohio Pentagonal - #1-7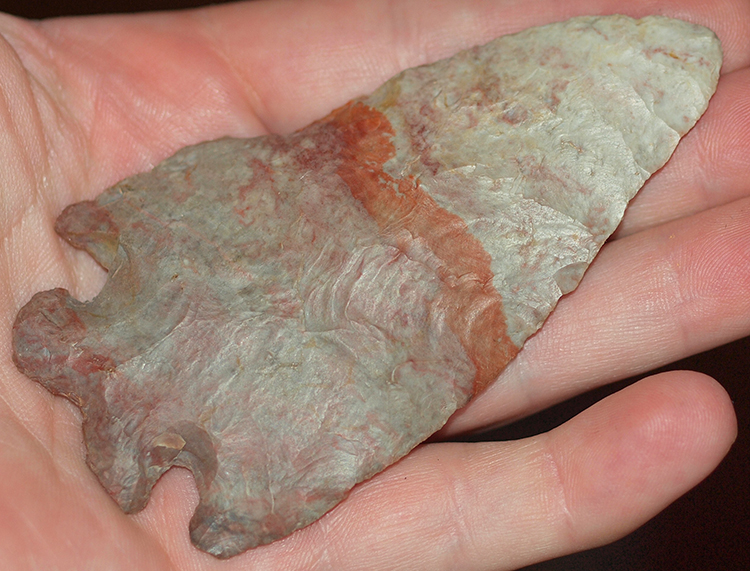 Size: 4 1/8" long x 2 3/8" wide.
Provenance: Found on the Berger Farm located in Seneca County, Ohio. Collected by Sam Speck and Richard Sisson (two great Ohio collectors).
Condition: Super. You can see the beginnings of the Pentagonal re-sharpening on this piece, but it is almost first stage. The straight side only has the slighest re-sharpening that you can see as a small bevel near the tip. You can tell the part that was re-sharpened in the pic b/c it almost appears as a different color. This is only b/c of the angle change. From the side, this flaking is the same as the rest of the point in color. Material has to be Nether's Flint Ridge, but I have not seen another example exactly like it. The give away for Nether's is on the right ear of the bottom photo. See the black/pink/purple striped area. The rest of the point is some of the most pleasing colors you will ever see on a piece of ancient flint, and you will never see this combo again. I also feel strongly this grade of Nether's was easier to knap, and the maker knew this. You just don't see Pentagonals of this size, and it could be one of the largest known. Interesting basal concavity that is not typical of the point style. As you can tell, I have a bunch to say about this thing of beauty.
Price: $600 - RESERVED FOR A BUYER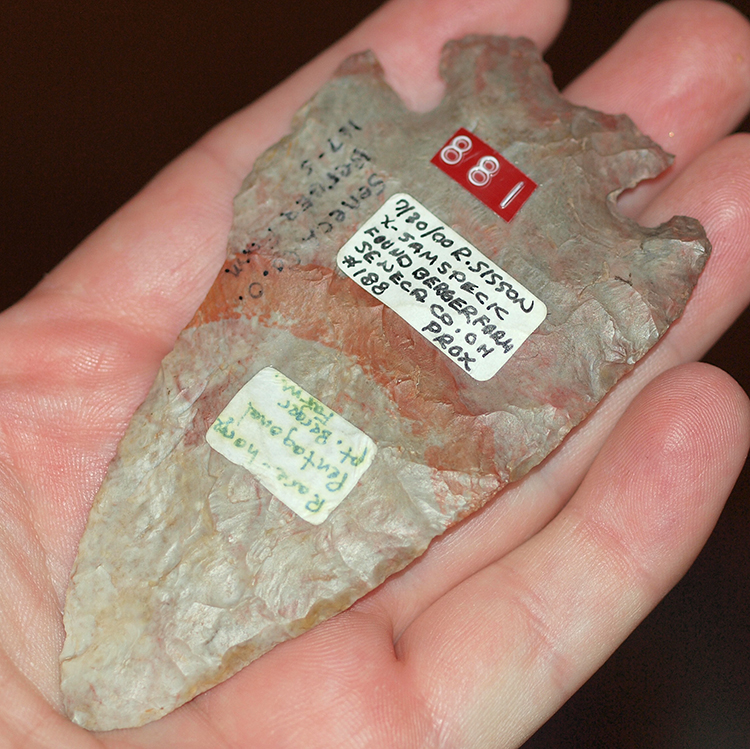 Copeland Lost Lake - #1-8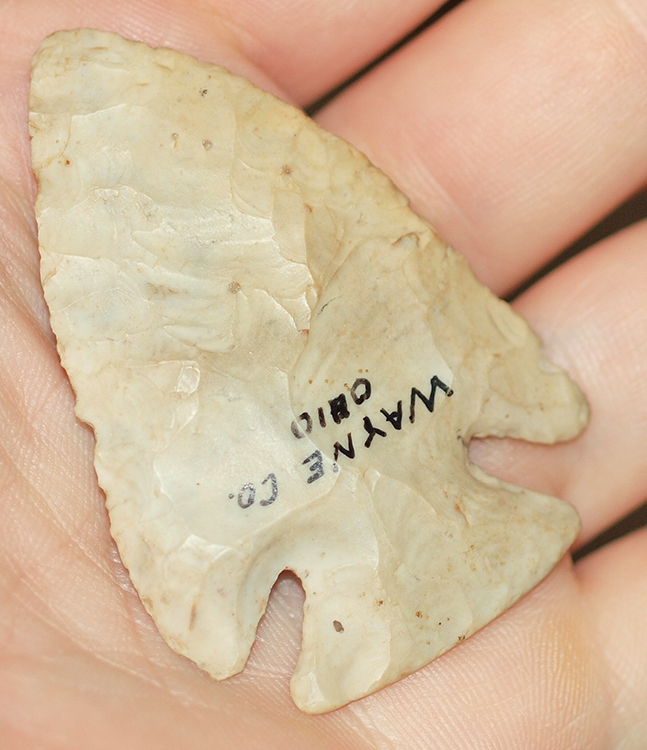 Size: 2 1/2" L x 1 5/8" W.
Provenance: Wayne County, Ohio. Doctor Stanley Copeland collection. Labeled by Copeland.
Condition: Super. Fantastic Lost Lake made from Flint Ridge. Patinated white, but you can see little areas of glacier blue that tells me this is Chalcedony. Copeland pieces of this calibre don't show up often.
Price: $350 - Reserved.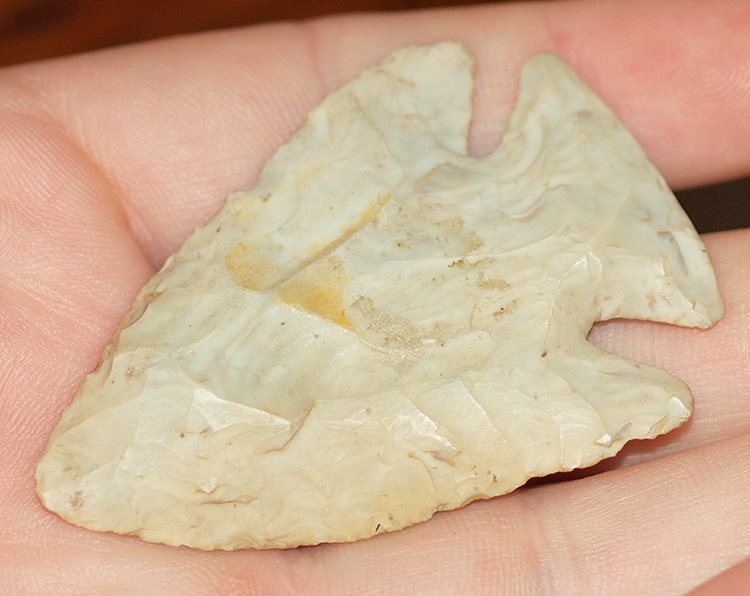 Monster MacCorkle - #1-9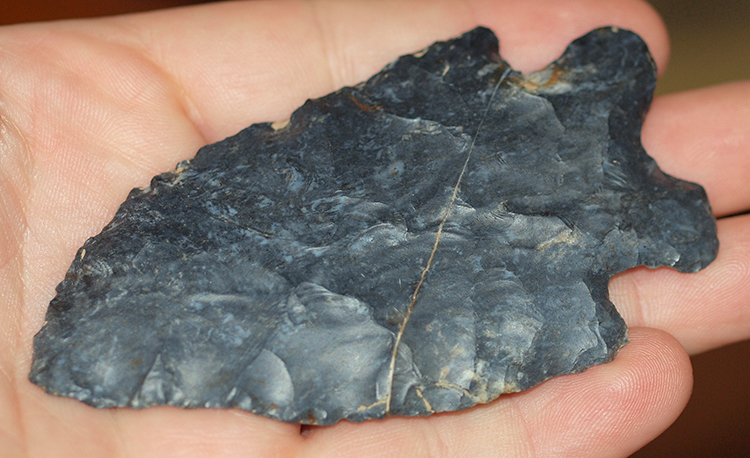 Size: I pulled on it to see if it would stretch, but it won't. Sits just under 4" L x 2 1/8" W
Provenance: Found by Larry Bartell one mile East of Shilo, Richland County, Ohio. X: Frank Tackett.
Condition: Excellent. This sits at the very upper end of MacCorkle sizing. I call points like this one a "hand filler". Note the fanstastic Lightning Line that cuts all the way across this piece of beautiful Upper Mercer Chert.
Price: $600 - RESERVED FOR A BUYER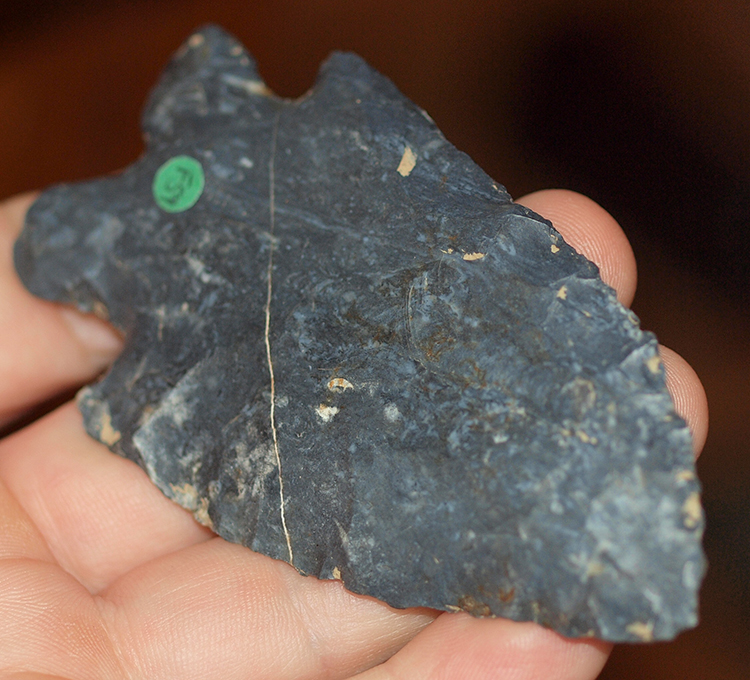 Finely Made Dovetail - #1-10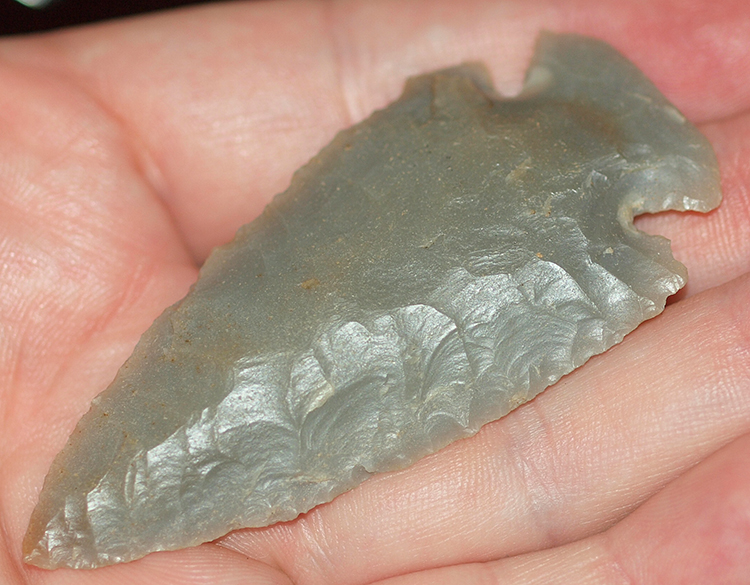 Size: 3" long x 1 3/8" wide.
Provenance: Adams County, Ohio. This piece has superior collector lineage. In order from earliest to present: Ray Titus, Col. Vietzen, EK Petrie, Fred Bartol, Doc Pyle.
Condition: Super. A nip to one ear that gives the ear a bifurcated look. Makes me wonder if purposeful to help in hafting. This piece has fantasting bevels that start almost in the middle of the piece. The pressure retouch in the bevels in top notch. I feel strongly that this material is of the highest grade of Carter Cave. Not all carter is Orange. Shows translucency. A superior Early Archaic Flint.
Price: $750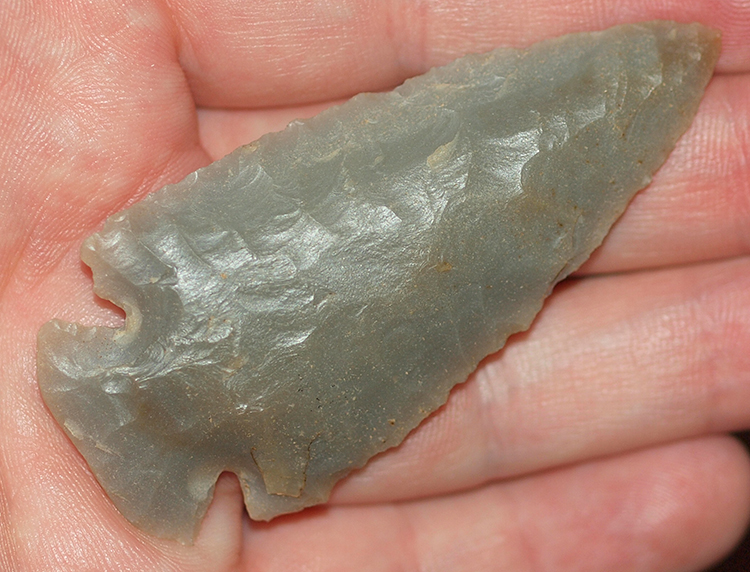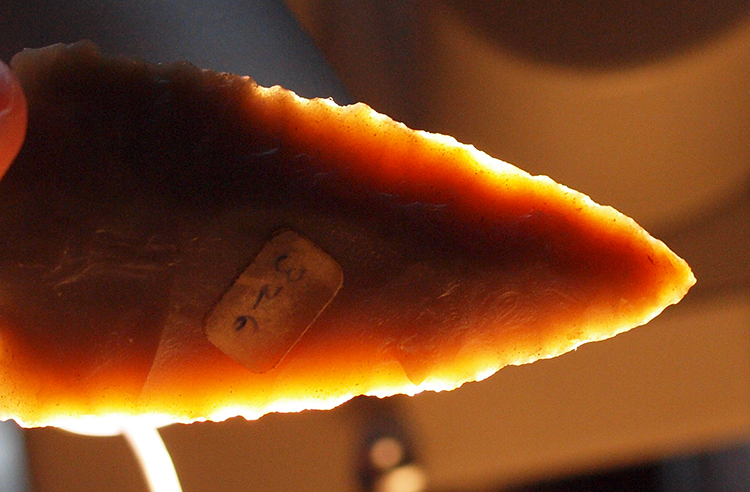 "Kissed by Fire" Flint Ridge Dovetail - #1-11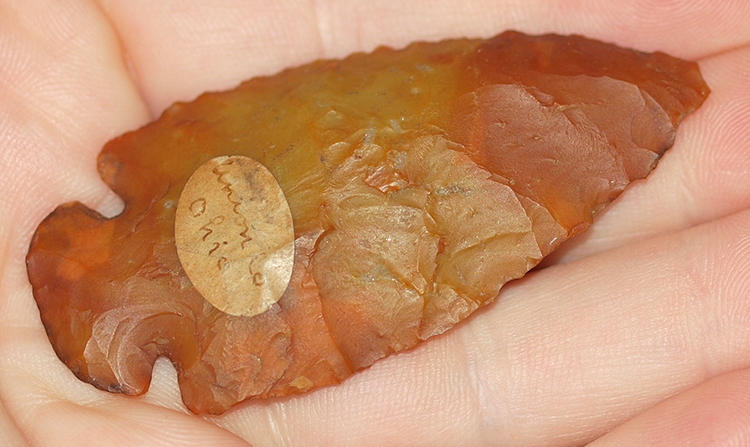 Size: 2 3/4" Lx 1 3/8" W
Provenance: 1800's tag showing Union County, Ohio. Newer ink is from Mike Cramer.
Condition: Super. Tip nick keeps it from the thousands. Minor damage. This coloration on Flint Ridge Chalcedony I reference above as "kissed by fire". While it looks like fire, the reason for this patination is often completely opposite. I have noted this patina from water finds. I highly doubt you find a better looking flint with such a no brainer patina.
Price: $650 - RESERVED FOR A BUYER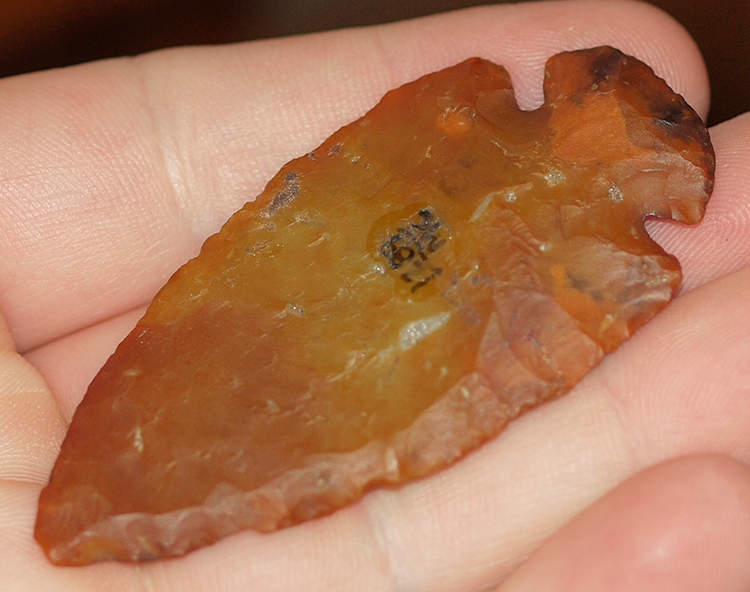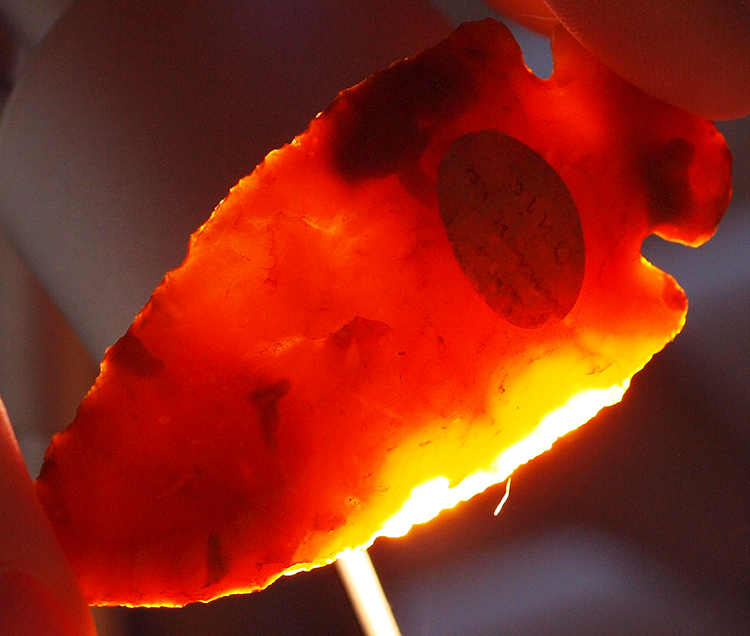 Logan County MacCorkle - #1-12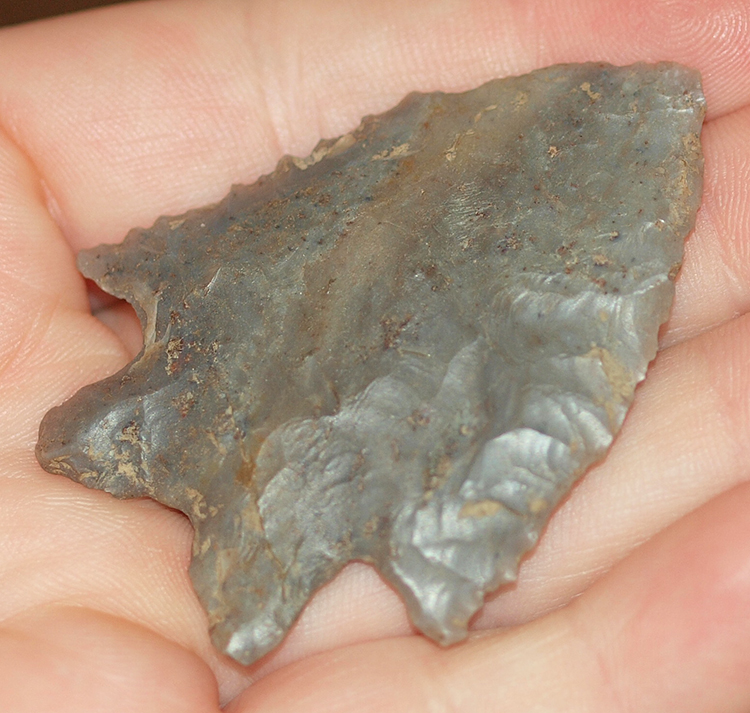 Size: 2 1/2" L x 1 7/8" W.
Provenance: Logan County, Ohio. X: Bob Converse, John Gossard
Condition: Killer. Could be ultra high grade Hornstone, but may be patinated out Flint Ridge. It shows translucency, and is very waxy and lustrous. Thin and extremely well made with delicate ears. Labeled by Bob Converse. No brainer. This is a killer piece.
Price: $300 - RESERVED FOR A BUYER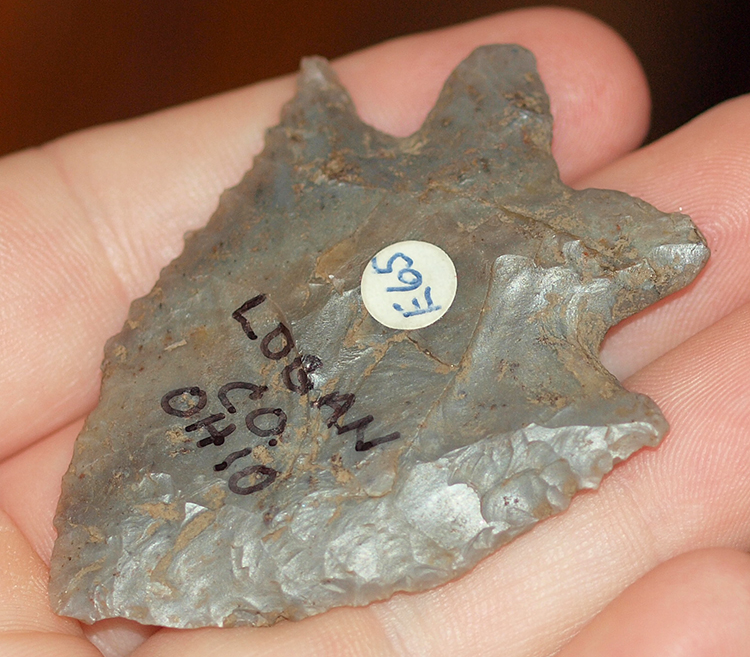 Stone Eyes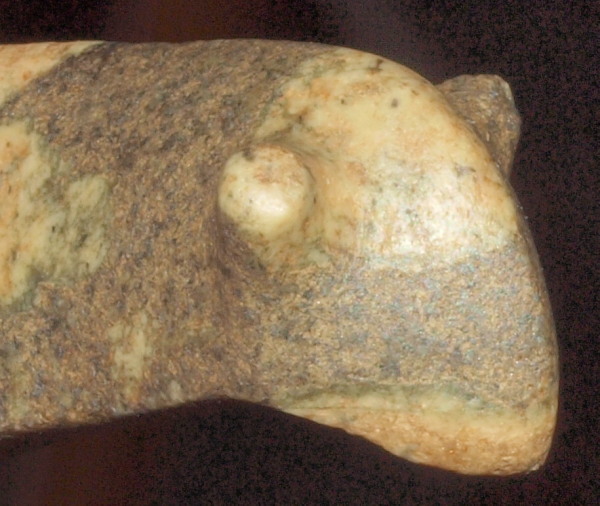 Sometimes we have stone eyes, and mouths, but we still know what you fakers are doing.
Jon Dickinson
Copyright 2004 (Dickinson Contract Marketing). All Rights Reserved.