Dr. Copeland Ohio Lance - #1-1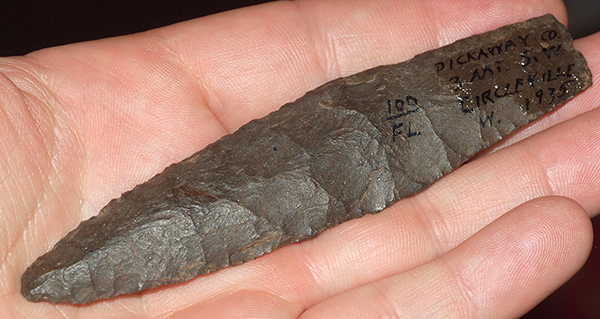 Size: 4 1/2" L x 1 1/16" W.
Provenance: Found 3 miles S.W. of Circleville, Pickaway County, Ohio in 1935. Culled by legendary Ohio collector Dr. Stanley Copeland. This is the earliest date I have ever seen on a Copeland flint. Consider that Copeland was 24 years old in 1935.
Condition: Excellent. Absolute classic definition of a true Ohio Lance. Hefty diamond cross section, percussion parallel flaking to a strong median ridge, excellent grinding. One of Ohio's rarest types, and one of the most often mistyped. by authenticators. Maybe, 1 of every 250 lances are actually this type. Material is a dark brown Breathitt chert. Breathitt is the hardest knapable chert, and sits just below quartz on the Moh's scale. Of the small handful of Ohio Lance's. I have sold many over the years, this is the 2nd made of Breathitt.
Price: SOLD> THANK YOU>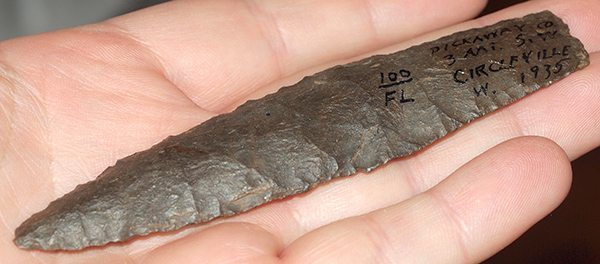 Warrick - #1-2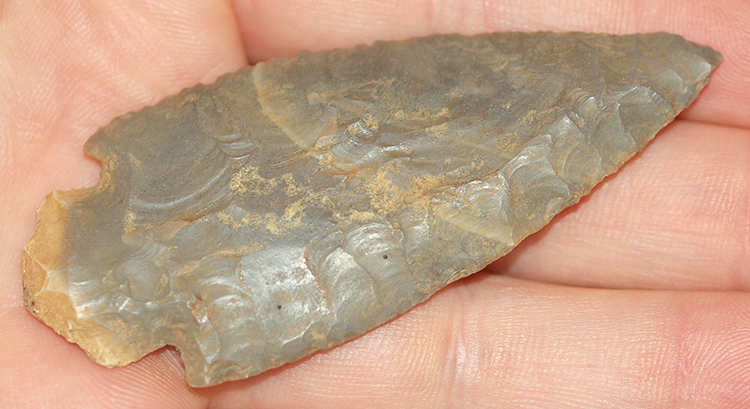 Size: 3 5/8" long x 1 1/16" wide.
Provenance: Ohio.
Condition: Super. Very close to perfect. It is fitting that this piece is listed to the Ohio Lance, b/c the types are closely related (my opinion). Take the classic Warrick notches (small, and upturned) away, and you have an Ohio Lance. Diamond cross section, parallel percussion to a median ridge... Possibly the earliest notched points, and one of the rarest and most beautiful types in the Midwest. Material is extremely high grade, and demonstrates a great two sided patina with plenty o' minerals. When I purchased this point, the previous owner told me he thought the material was Flint Ridge. I instantly felt it was high grade Boyles. Now, I am fairly confident it is Carter Cave.
Price: SOLD> THANK YOU>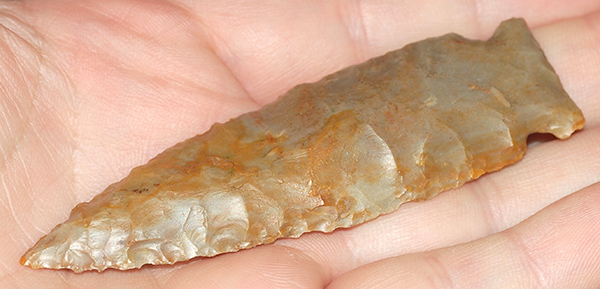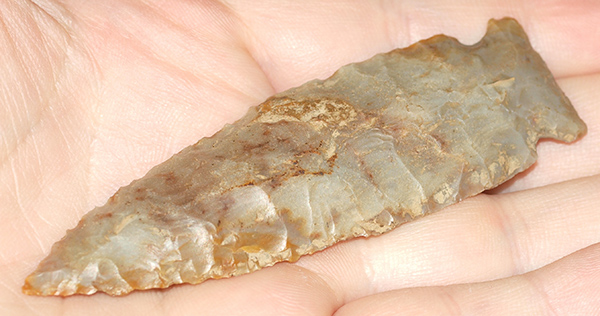 Breathitt "Cortex Notch" - #1-3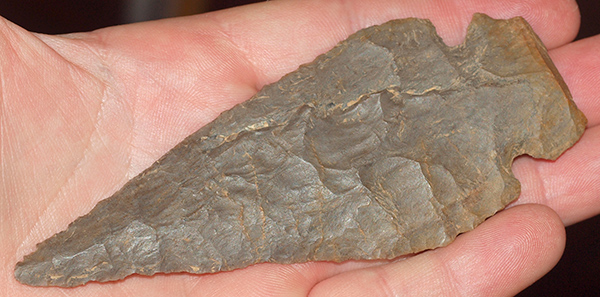 Size: 4 13/16" long x 1 7/8" wide.
Provenance: Ohio. Cliff Bauer collection.
Condition: Super. This is a top notch piece of Breathitt Chert. It is exceptionally long for the material, and extremely well made. As many of you already know, Breathitt Chert is one of the hardest cherts in North America. Only an extremely skilled artisan would be able to knap this material at all, let alone an 5" notched blade. The second half of the story on this point is worth telling. My friend and noted author Jim Murphy was working on a study of Breathitt Chert when he passed away last year. I held this point out of the Bauer collection b/c I wanted to surprise him with it. The collecting community lost a great friend and ambassador when Jim passed away. While Jim was studying Breathitt, he discovered several of these large notched blades, all made with the natural cortex as the base. We spoke several times about this enigma, and Jim was convinced this was a unique type, contemporaneous with dovetails. Although, I don't know exactly where this example was found, Jim told me that every example he knew about came from 50 miles North or South of the Ohio River. I don't know how far along Jim was with his research, but if someone picks it back up, I hope they like my name "Cortex Notch" for this newly defined point type.
Price: $ON HOLD>buyer- please contact me.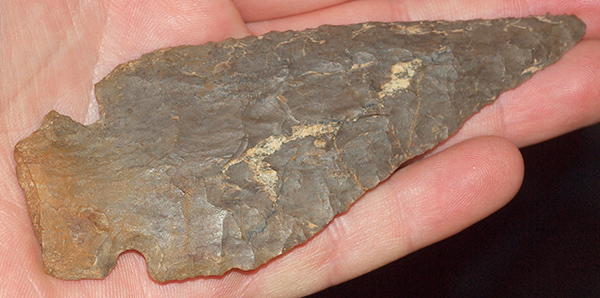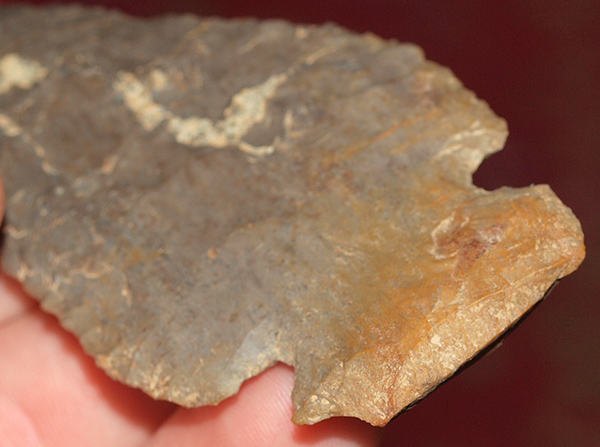 Flint Ridge Dovetail - #1-4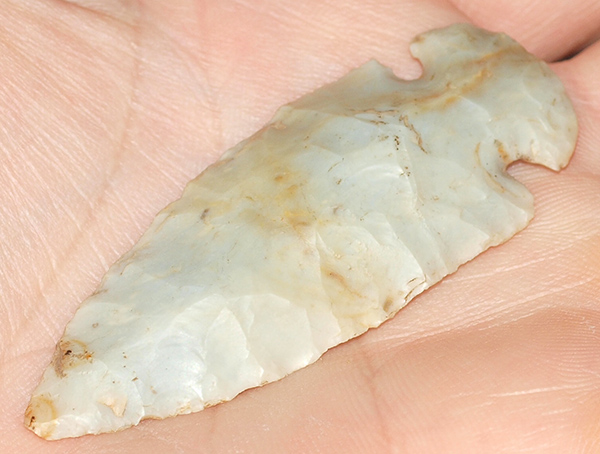 Size: 2 9/16" long x 1" wide.
Provenance: Franklin County, Ohio. X- Walter Nelson (bears his signature $1.00 price tag). X- Cliff Bauer. From the Bauer "boards".
Condition: Excellent. Classic small dovetail variety made from translucent Flint Ridge.
Price: SOLD> THANK YOU>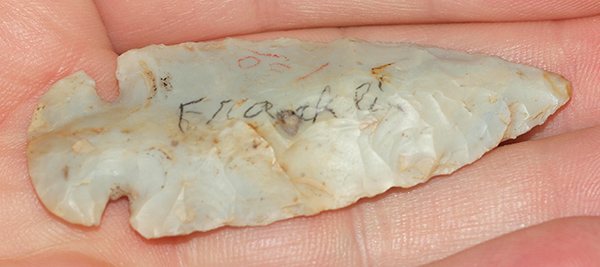 Carter Cave Paleo - #1-5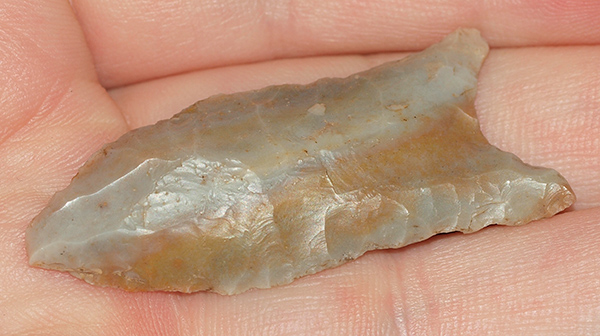 Size: 2" long x 7/8" wide.
Provenance: Found by Walter "Bud" Blum around Maineville in Warren County. Bud was a luminary member of the Fort Salem Chapter, a WW II veteran who patroled around Normandy, and a friend.
Condition: Good. I am not sure how to type this piece. I am sure it is Paleo, and it is fluted on one side. If forced to type it, I would say a hybrid Clovis/Quad. Let me say a bit about the material. Not only is it stunning in quality and color, but it also appears to be made to accentuate the striping.
Price: SOLD> THANK YOU>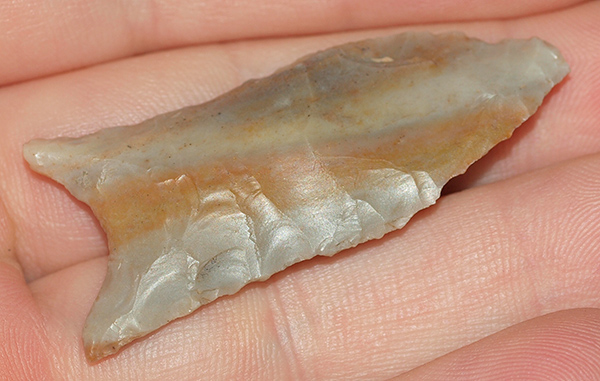 Dog Leg E-Notch - #1-6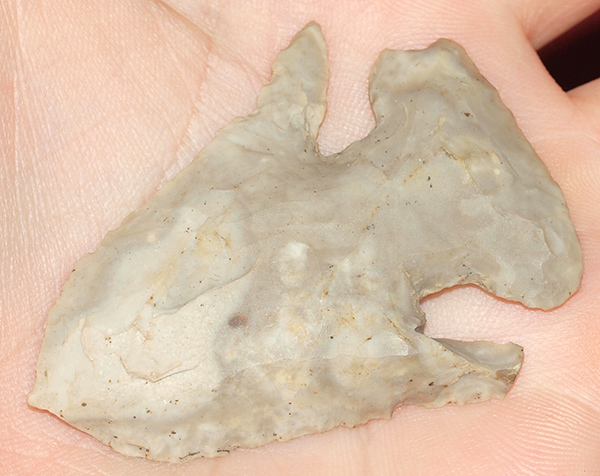 Size: 2 7/16" long x 1 7/8" wide.
Provenance: Ohio. X- F.P. Hill. X- A.T. Wehrle. Cliff Bauer purchased at Wehrle Estate Sale held on 4/11/1956. Bauer small notebook P. 24.
Condition: Excellent. Extremely rare nipple tip, one unreal long delicate ear., and classic dog-leg notches. High grade of Delaware chert. There is a nick inside of the left ear, that I can't figure out how it didn't snap the ear off.
Price: SOLD> THANK YOU>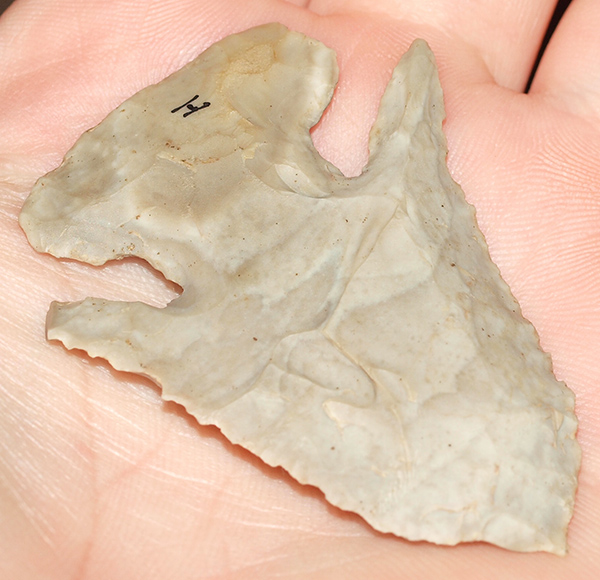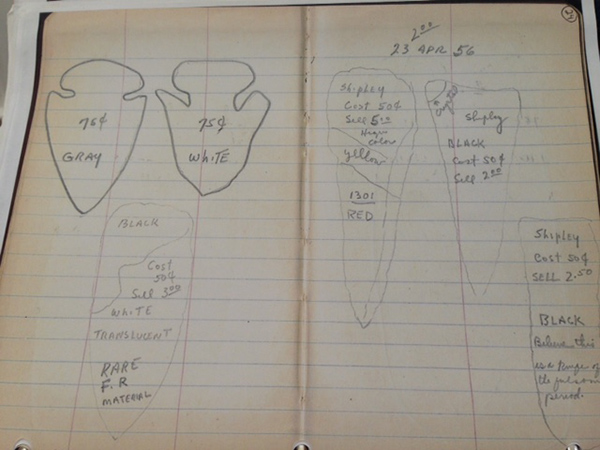 Perfection Dovetail - #1-7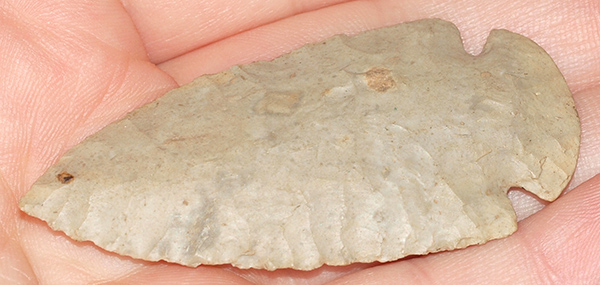 Size: 2 11/16" long x 1 1/4" wide.
Provenance: Ohio. Bauer Collection.
Condition: Perfect. No description needed. Look at pictures.
Price: SOLD> THANK YOU>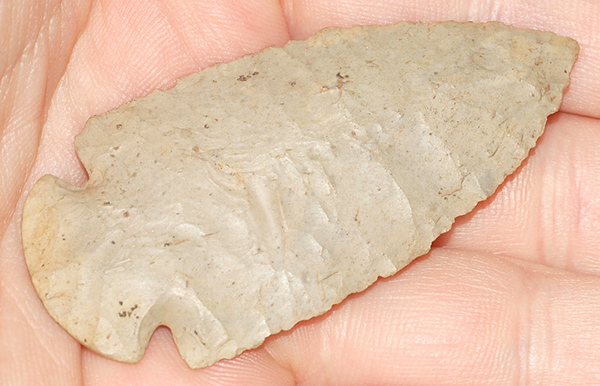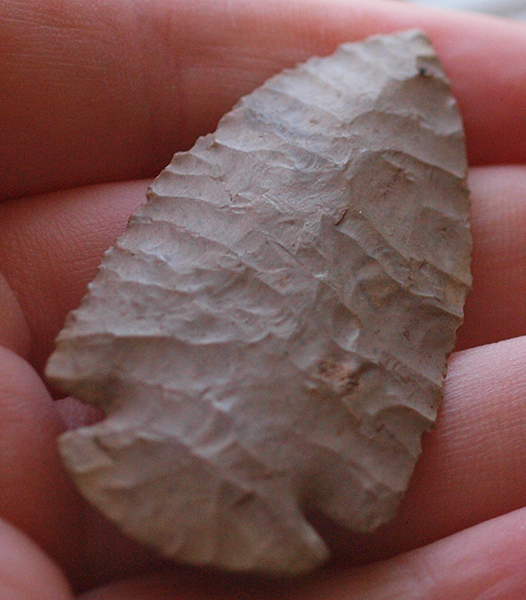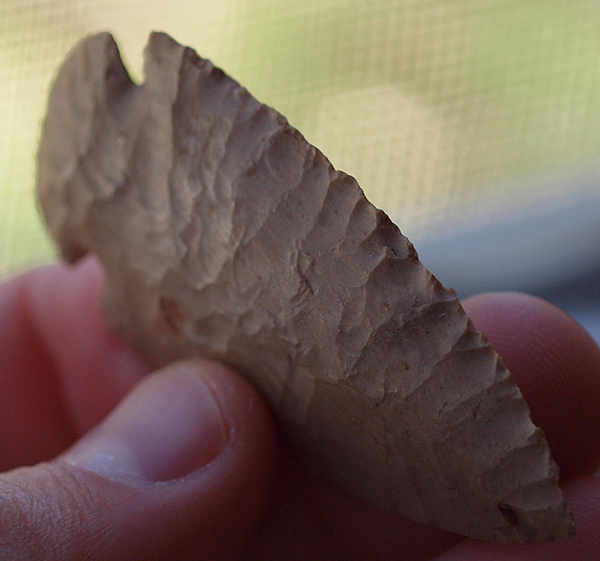 Flint Ridge E-Notch - #1-8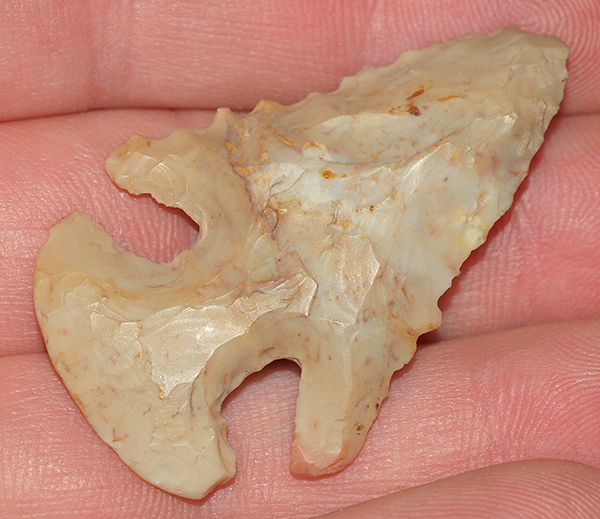 Size: 1 15/16" L x 1 3/16" W.
Provenance: Ohio. Cliff Bauer Collection.
Condition: Good. Tip is nipped, but it doesn't detract much b/c of the steep bevel. Authentic Early Archaic Flint Ridge points are exceedingly rare, despite what you think is old and on the market. E-notches are a collector favorite, and are not seen on the market. I don't want to rant about fakes, but seriously take a long look at the color scheme, how the colors are muted, the flaking, the look.... of this piece, and you will start to notice a huge difference on the coa auction fakes.
Price: SOLD> THANK YOU>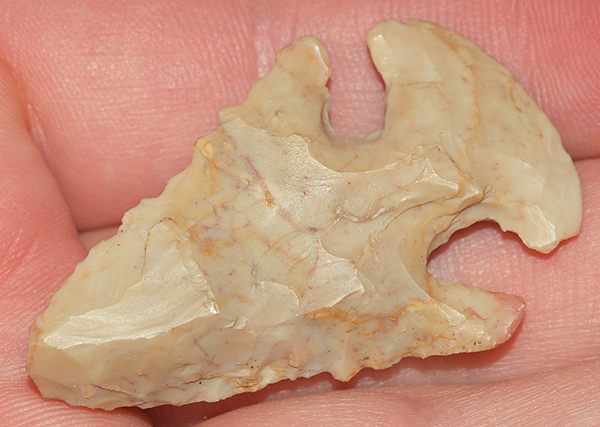 Black Beauty Beveled B-Notch - #1-9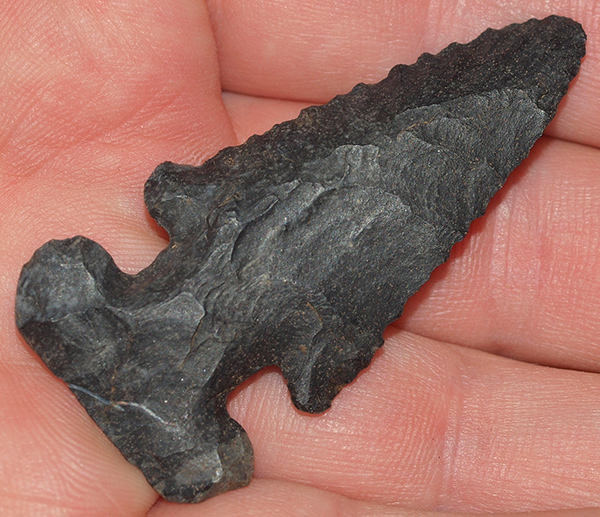 Size: 2" L x 7/8" W
Provenance: Ohio. Bauer collection. F.P. Hill collection labeled #22596. Compare number to #1-2, which is #755 in the Hill collection. Kinda boggles your mind how many pieces were in that collection.
Condition: Super. It is an E-Notch, just wanted the title to all start in "B".
Price: SOLD> THANK YOU>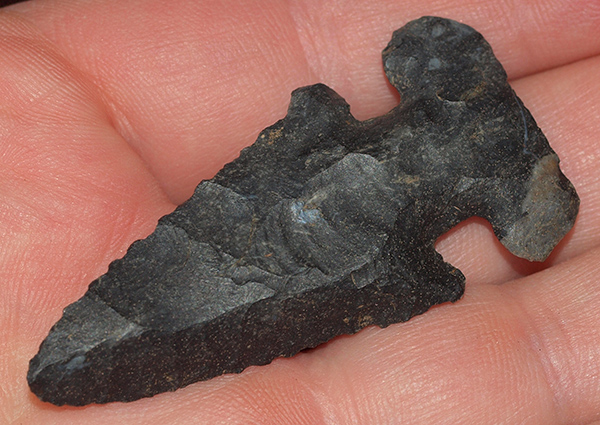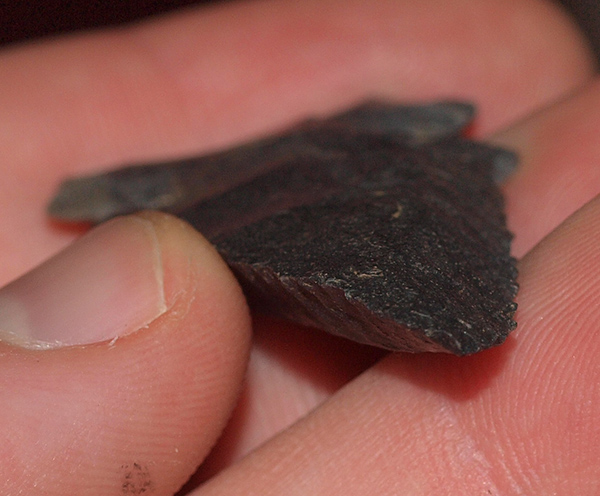 Slate Eyes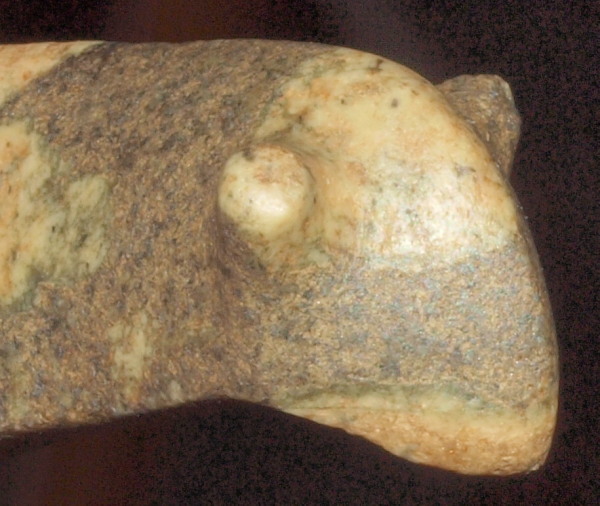 Sometimes we have stone eyes, and mouths, but we still know what you fakers are doing.
Jon Dickinson
Copyright 2004 (Dickinson Contract Marketing). All Rights Reserved.