Missouri Stemmed Blade - #1-1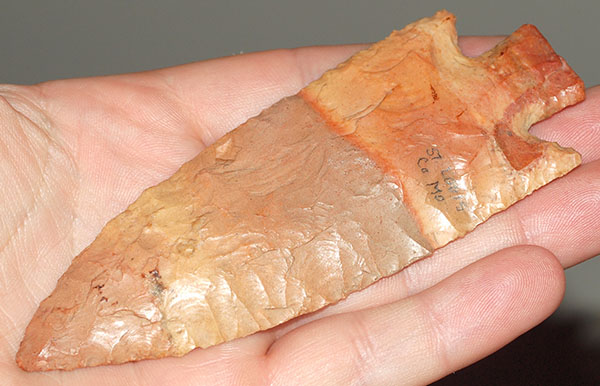 Size: 4 3/4" L x 1 3/4" W.
Provenance: Found in St. Louis County, Missouri. Been through several collection and labels over the years.
Condition: Super. Great material from the land of white. Main color seems to peach. Call it a Missoura' Peach. I really like this piece, and will miss it. I don't know how to type it. Basal grinding, great flaking. Hardin? Smith? Call it killer.
Price: $SOLD> THANK YOU>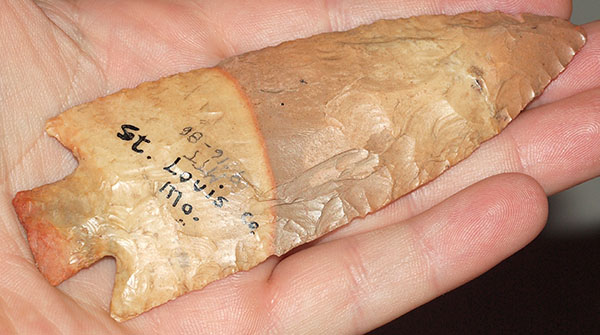 Fish Spear - #1-2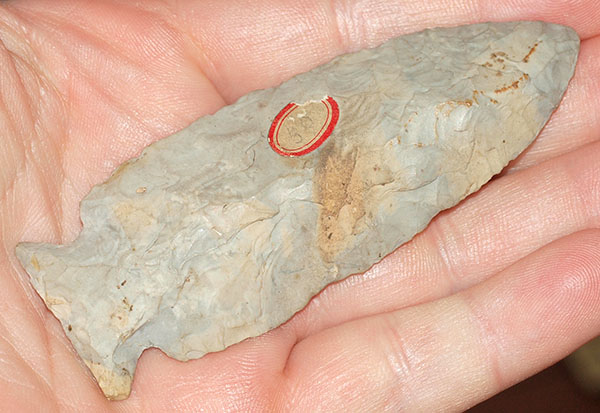 Size: 3 5/8" long x 1 3/8" wide.
Provenance: Northern Ohio. Elmer Rudolph collection. Elmer was an early Ohio Arch member listed in the 1951 roster.
Condition: Excellent. Fishspear's are a uniquely Ohio type. They date to the Mid Archaic time period, and are very popular with collectors. Quoting from Ohio Flint Types: "Although there are specimens over 3 inches long, these are rare. Most are around 1 1/2" - 2". I have owned a few over 3", but I think this is the biggest. If anyone has a bigger one, let me know.
Price: $125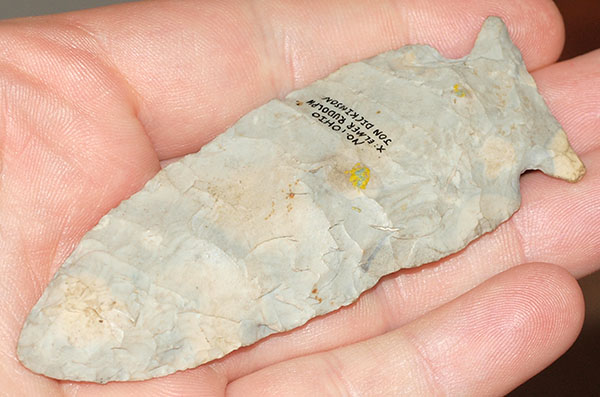 Ohio Early Archaic Side Notch aka Big Sandy - #1-3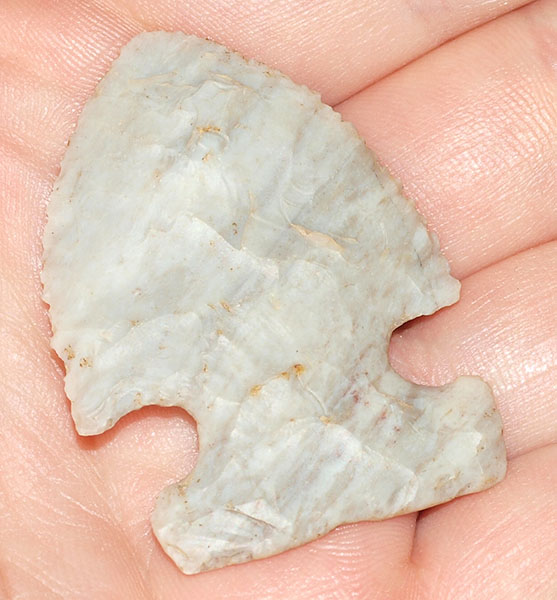 Size: 2" long (had to stretch it an eyelash) x 1 1/2" wide.
Provenance: Northern Ohio. Elmer Rudolph collection. Elmer was an early Ohio Arch member listed in the 1951 roster.
Condition: Perfect. High end Ohio collectors have always gravitated towards this type. The symbol for the Ohio Archaeological Society is this type. Considered somewhat common in Southern States, nice large notched pieces like this are special in Ohio. I don't want to call it a Big Sandy, b/c it really isn't. Earlier, twisted, and micro-serrated. Pleasing striped Coshocton.
Price: $SOLD> THANK YOU>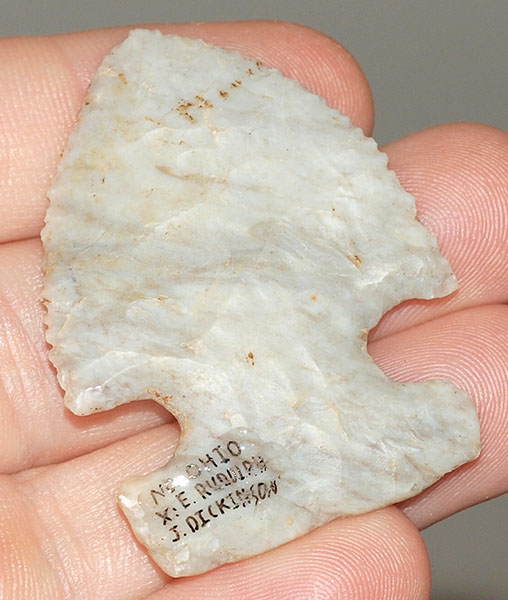 Broken Clovis with cool feature - #1-4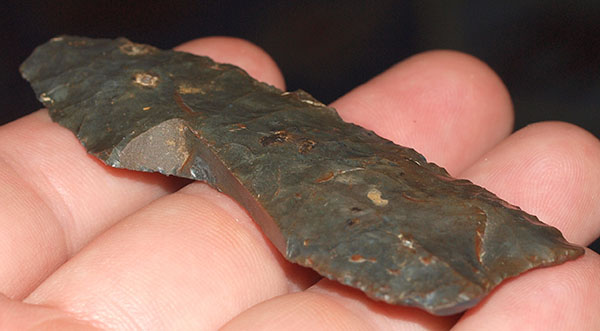 Size: 3 1/4" long x 1 1/8" wide.
Provenance: Found in the area centered upon Massillon, Ohio. Collected by Julian Converse (no relation to Bob) in the 1940's - 1950's.
Condition: Broken. This piece tells a very cool story. First, the tip was busted on the piece. The Clovis man reworked the tip to make it functional again. However, a bigger calamity was coming. There is a rough and almost porous inclusion inside the piece. You can see it in the top picture very well. This area was weaker than the flint around it, and it snapped the piece, removing a large area of the piece. So many lessons with this one. First, look at the surface and patina. If your shiny new Black Mercer clovis doesn't have a patina like this one, it is most likely a "shiny new" clovis. Second, the flaw within this piece of flint was hidden by higher quality material all around it. However, if it wasn't hidden, no prehistoric maker would ever allow his survival to be dependent upon a flawed tool. Try to remember this the next time someone offers you a perfect dovetail with obvious flaws in the material. Lastly, the first two reasons are why I put a broken point on Page 1, and why I value the piece.
Price: $
SOLD> THANK YOU>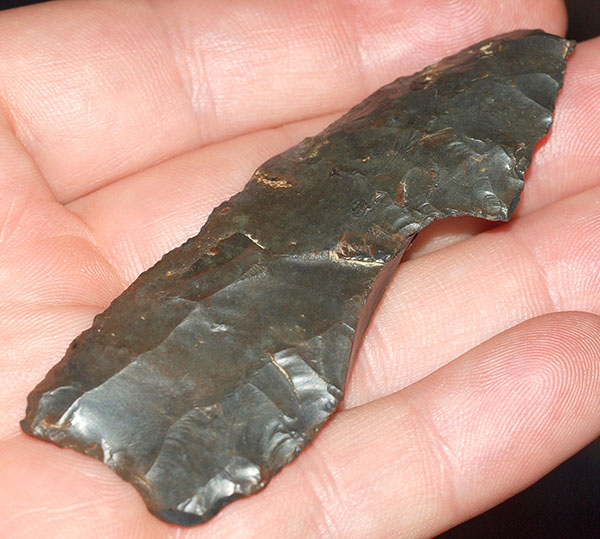 Stemmed Lance - #1-5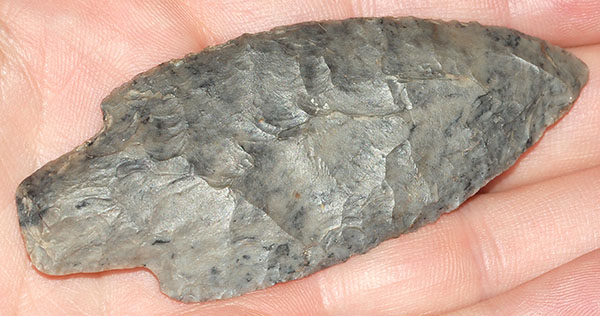 Size: 3 3/8" long x 1 3/8" wide.
Provenance: Northern Ohio. Elmer Rudolph collection. Elmer was an early Ohio Arch member listed in the 1951 roster.
Condition: Super. Ground stem, angled base flake, superior work, ergonomic... My personal favorite flint from the entire Rudolph collection. I don't know if this type is Paleo or not. I only know that this is not Adena in character. Certainly earlier. Material is another big plus on this relic. I see more people calling this Flint Ridge these days, but I think it is a variegated Coshocton of extreme quality.
Price: $SOLD> THANK YOU>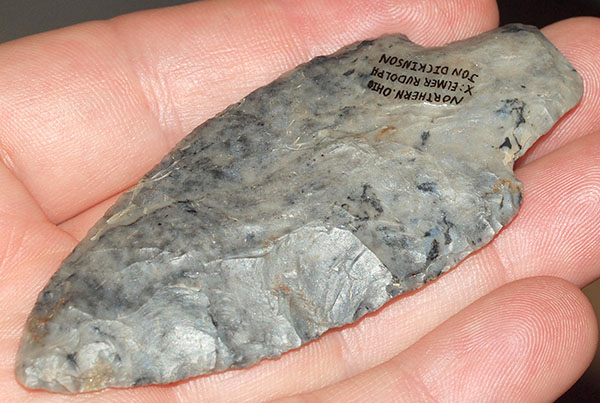 Shell Gorget strung with 36" of tubular bone beads - #1-6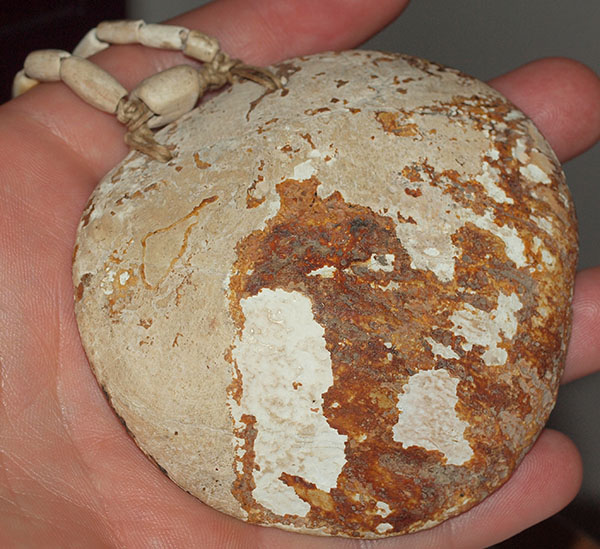 Size: Gorget averages around 3 1/2" diameter.
Provenance: Collected by Julian Converse (no relation to Bob) in the 1940's. This piece was purchased from Donald Boudeman around 1947 by J. Converse. I have a letter from Boudeman dated June 2, 1947 discussing the possible sale of other relics. Unfortunately, I don't have anything that directly connects this piece to a specific location. However, I do have a theory. Boudeman was known to have many Spiro Mound pieces. This one not only has the look of Spiro, but the beads are identical to some I own from Spiro. The piece was also strung in the era it was sold in a very similar way that Robert Bell and others strung Spiro beads. Can't prove any of this, but maybe someone else will find the key to the provenance.
Condition: Museum. More than a little nice to see a shell piece, and know it is old in about 1 second. These pieces were made for Mississippian elite, and represent high status in the late prehistoric. Wasn't sure where to list this on the website, so here it is.
Price: $SOLD> THANK YOU>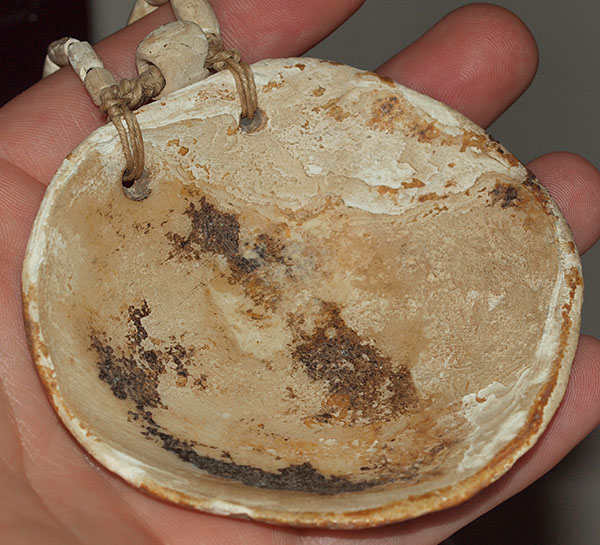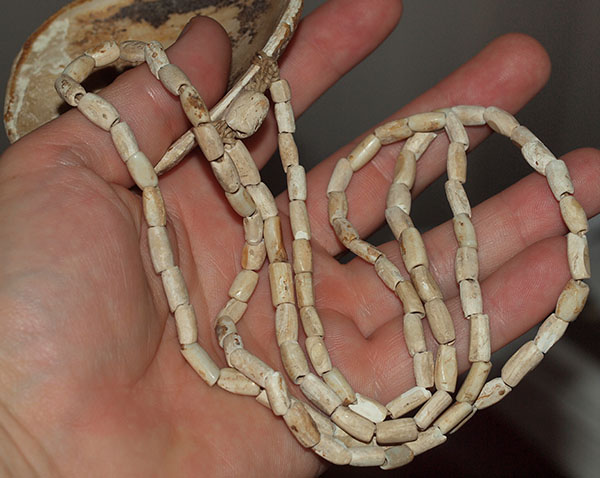 Notch Base Bevel - #1-7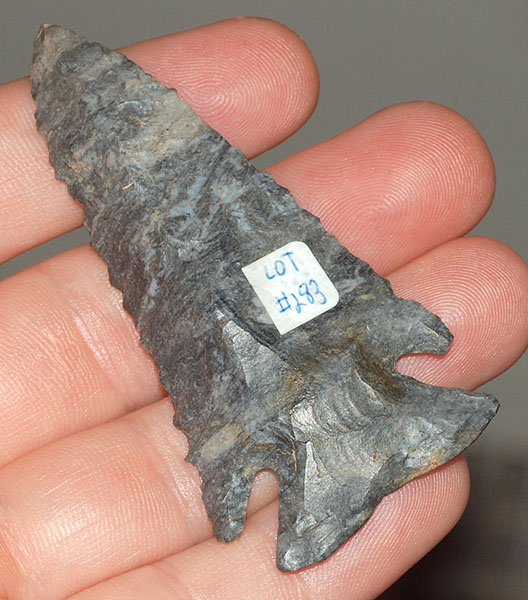 Size: 2 15/16" long x 1 9/16" wide.
Provenance: Purchased by Cliff Bauer on 4/11/1956 at the famous A.T. Wehrle estate sale held in Newark, Ohio. Bauer paid $.50 each for 40 of the best Ohio bevels I have seen. Bauer Small Notebook page 21 and Bauer invitation to Wehrle sale included.
Condition: Super. This is a very rare and desirable Ohio form that borders on Pinetree. Slightly notched base with heavy grinding. Long and delicate ears. Piece was returned to me at the Bauer sale. I took it back with no questions, and removed it from the buyers bill. I recently found it in a box, and took a look at it. I do not see any problems. A bit of modern damage near the tip, but the main color change is completely natural to the flint. I think the buyer at the sale missed out on a very nice relic.
Price: $ON HOLD>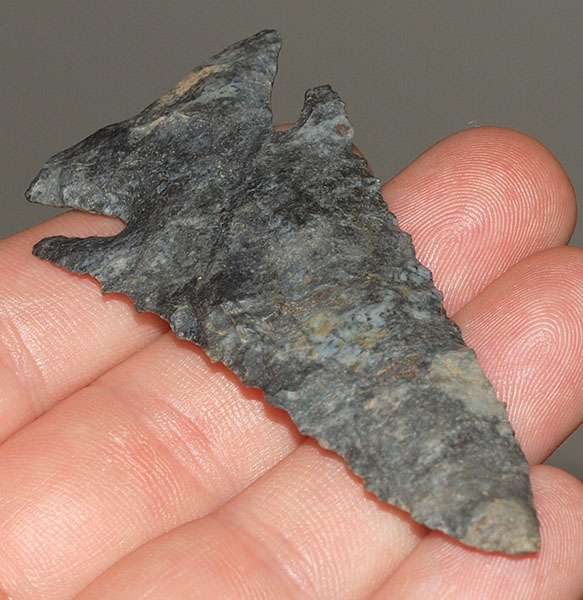 There is a bit of modern damage in this area, but I don't see rechipping. Material has a natural color change.
Notebook page: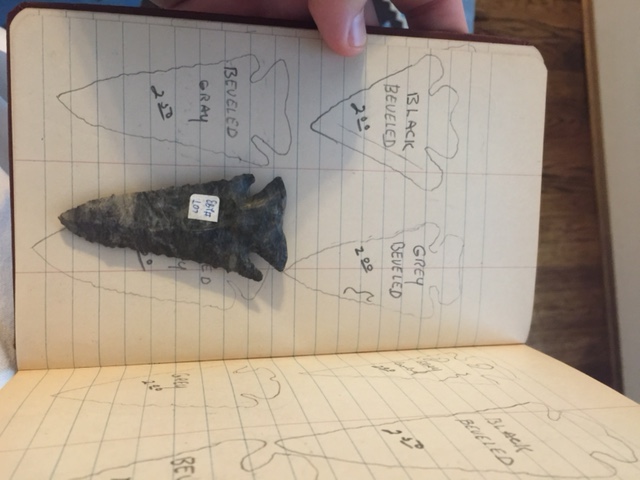 Plum Run ? Lance - Big - #1-8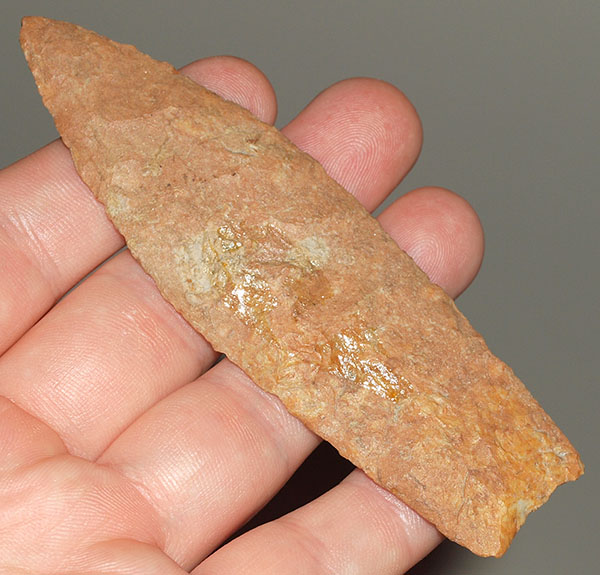 Size: 4 1/4" L x 1 1/4" W.
Provenance: Northern Ohio. Elmer Rudolph collection. Elmer was an early Ohio Arch member listed in the 1951 roster.
Condition: Excellent. Plenty to say about this piece. #1, is it Plum Run? If yes, one of the rarest flints you will see. I asked a local Plum Run expert, and he told me that he "thinks" it is Plum Run, but not sure. Two points here: Plum run is rarely seen on pieces this big, and even rarer to see Paleo related material. In my mind it is Plum Run, but I don't claim to know this material extremely well. #2 - Piece exhibits modern nips along an edge and base. I have no doubts that these represent box dings or wired to a board damage, but I want to point them out. #3- Flaking and thinness are exceptional. There are even a couple of horizontal transverse flakes. However, there is a lack of grinding on the sides of the base. Put it all toghether, and you really have something here.
Price: $600
Doctor Meuser Black Dovetail - #1-9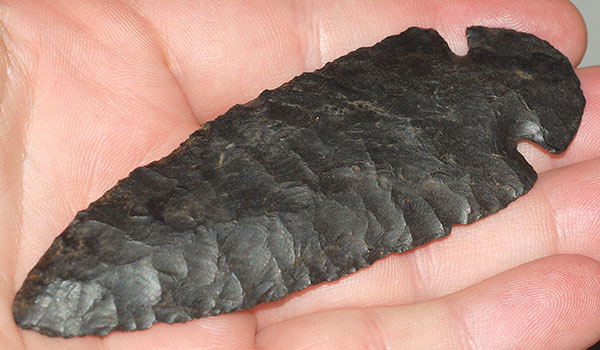 Size: 4" L x 1 3/8" W
Provenance: Found in Butler Township, Richland County. Purchased from Doctor Gordon Meuser before 12/11/1950 for $3.25 by Cliff Bauer. This piece is #29 in the Bauer collection. Bauer catalog page included.
Condition: Super. There are a few extremely minor blade nicks along the edges. Why I even point these out is beyond me. Good flint is never razor perfect. These items were tools depended on to survive a hunter/gatherer lifestyle almost 10,000 years ago. It is completely beyond me how new collectors think they are getting old flint when they buy razor edged stamped out pieces. I digress... Large base form with great single hit punched out notches. Flaked to a great median ridge on both faces. If I need to re-state the importance and rarity of documented Meuser flint, this piece probably isn't for you.
Price: $SOLD> THANK YOU>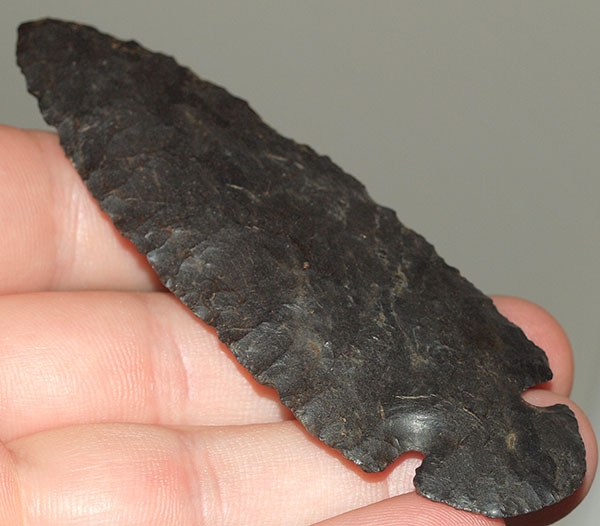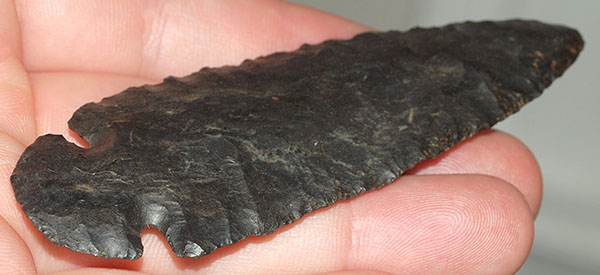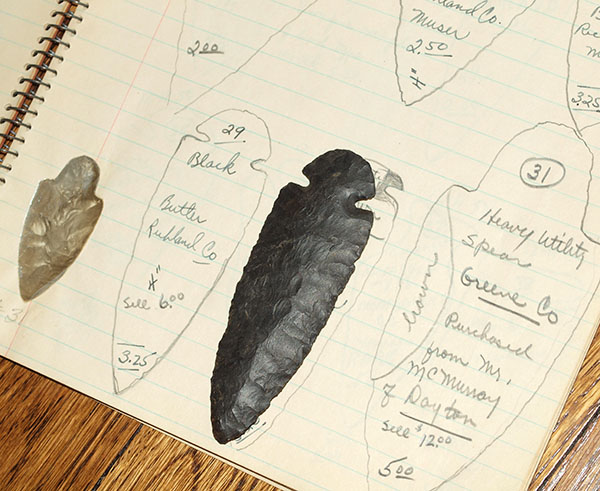 3/4 Grooved Axe - #1-10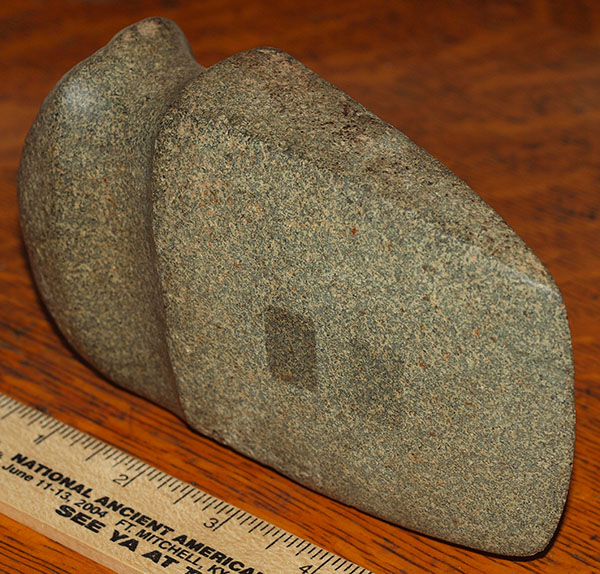 Size: 5 3/4" long x 3 1/2" tall x 1 7/8" wide.
Provenance: Found by Ray Easley in Macon County, Missouri North of the Post Office. Purchased from Ray by Rob Carter. I purchased this axe to keep it, and just decided to let it go b/c it didn't quite fit my shelf.
Condition: Perfect. This axe has one of the best bits I have ever seen. Poll end shows some well polished over battering. I don't think anyone could grade it anything less than perfect. Wonderful squared off top with highly defined lines and top quality workmanship. Bottom is slightly convex, but it still stands pretty well. Fine grained and extremely dense hardstone with a super polish. Keeper axe for the discriminating collector. My dilemna with collecting axes is that I know and appreciate that the Illinois/Missouri/Iowa types are superior to the Ohio / Indiana types, but I try to focus my collection for my area.
Price: $ON HOLD.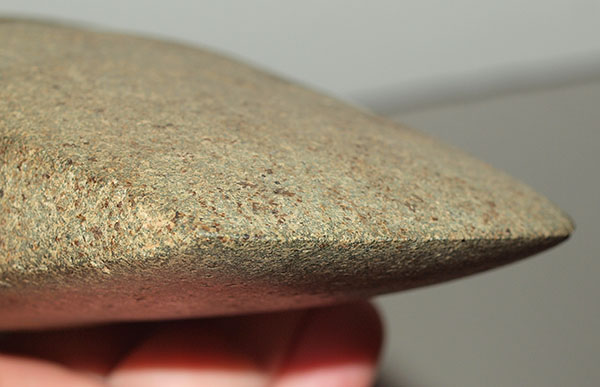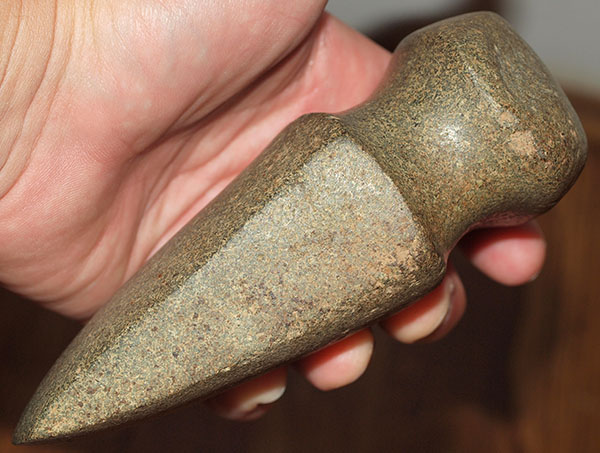 Slate Eyes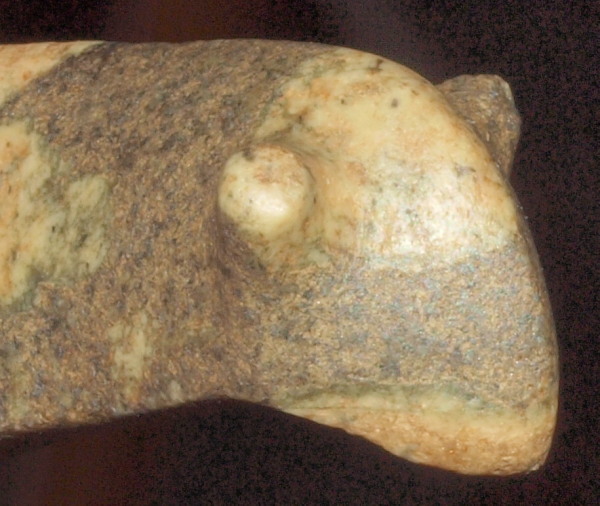 Sometimes we have stone eyes, and mouths, but we still know what you fakers are doing.
Jon Dickinson
Copyright 2004 (Dickinson Contract Marketing). All Rights Reserved.