Ohio Thebes Bevel - #1-1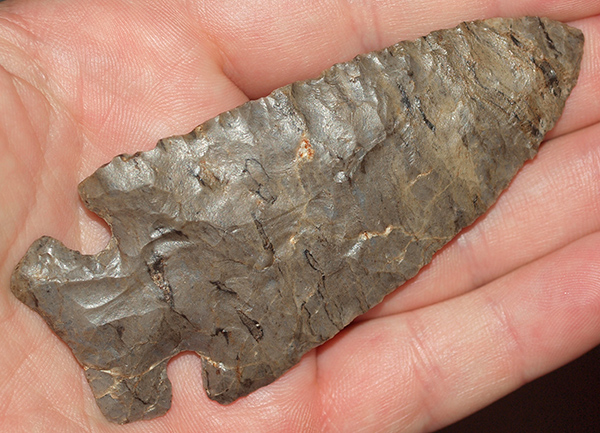 Size: 3 3/4" L x 1 3/4" wide
Provenance: County, Ohio. Collected by old timer Indiana collector Bob Asher in the 1960's, and kept until recently.
Condition: Super. Material is worth a discussion, b/c I believe it is a very rare variegated strain of Coshocton. Extremely pleasing to the eye. Back to the form, it is a big, well made, and highly mineralized example of a classic Ohio type.
Price: $400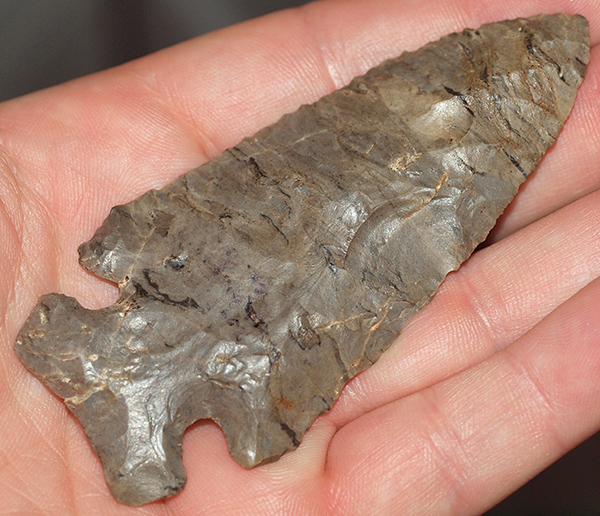 Restored Heavy Duty - #1-2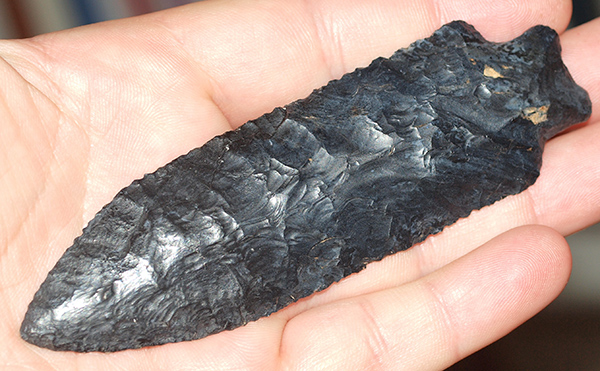 Size: 4 9/16" long x 1 3/8" wide.
Provenance: Unknown
Condition: Restored. NOTE- This is not for sale at this time. I am posting it to see if anyone recognizes the piece. I have no proof that this point was stolen from someone, but I suspect it due to the way I acquired it. I purchased this point from the "finder", but immediately knew the tip was restored. B/c the finder stated it was in "as found" condition, and other elements of the story didn't jive after reflection, I suspect that the piece could be stolen. My hope is that someone recognizes it, or even a restorer remembers working on it. The restoration is top notch. Please let me know if you have information
Price: NOT FOR SALE until circumstances can be figured out.
Large Ohio Cobbs Knife - #1-3
Size: 5 1/16" x 1 15/16" wide.
Provenance: Ohio. Purchased from Walter Nelson's grandaughter by Scott Yerkes.
Condition: Super. Big, with fine flaking in jet black Mercer. Great Ohio Early Archaic blade.
Price: $400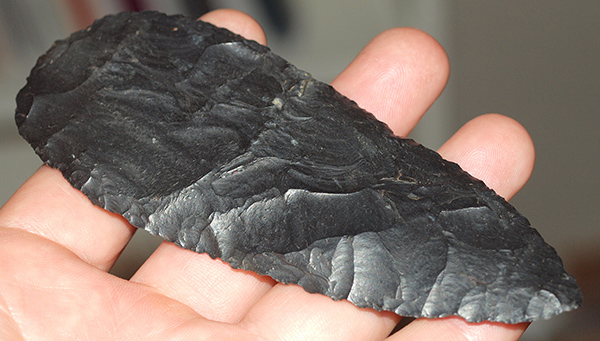 Flint Ridge Dovetail - #1-4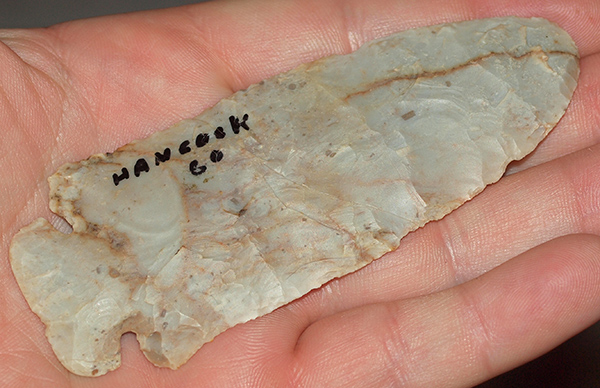 Size: 4 1/8" long x 1 5/8" wide.
Provenance: Found in Hancock County, Ohio. Purchased at a Converse auction by David Morlock.
Condition: Good. Shows age, and use. Tip is rounded off. Nice patinated Flint Ridge with good size.

Price: $200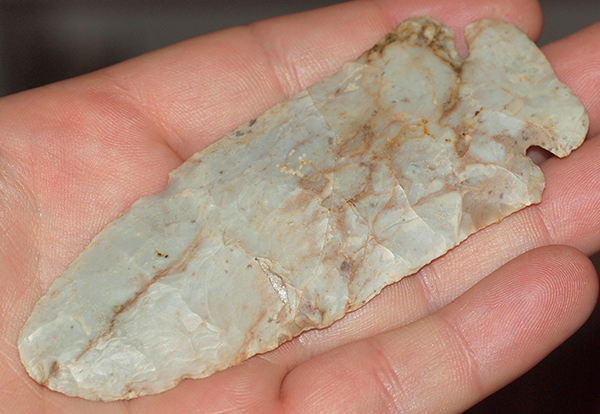 Meadowood -Broken/Glued - #1-5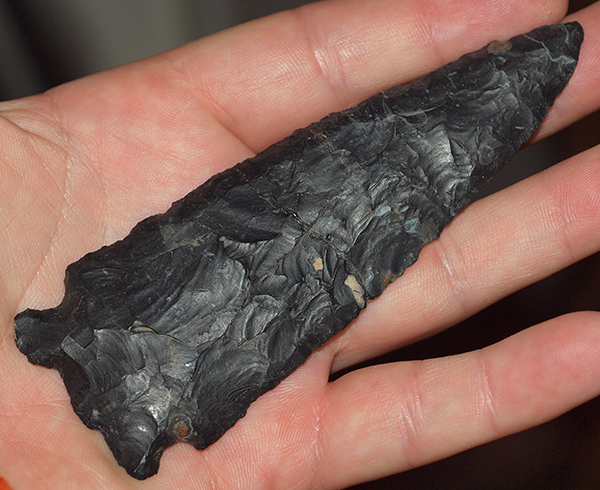 Size: 4 3/4" long x 1 3/4" wide.
Provenance: Found in Ashtabula County, Ohio.
Condition: Broken/Glued. Huge piece of flint. Shame it is broken. I have had it for a while, and putting it up at the giveaway price.
Price: $50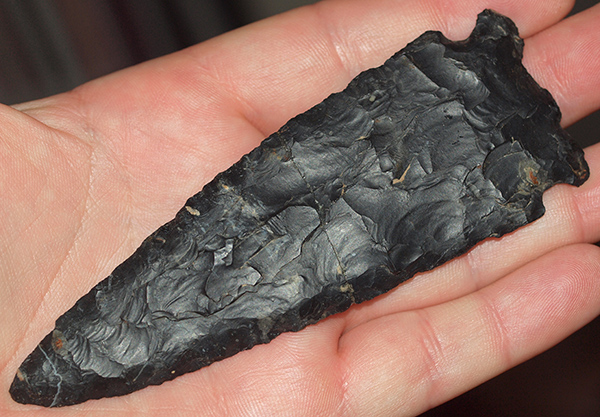 Prof. Honeywell Heavy Duty - #1-6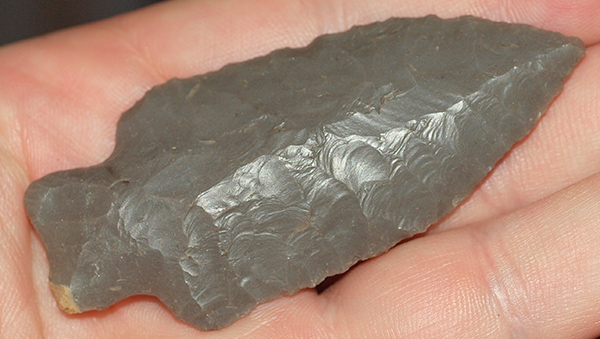 Size: 2 15.5/16" L x 1 5/16" W.
Provenance: Professor E.R. Honeywell collection. Will supply photo of point in original Honeywell frame.
Condition: Super. One of my favorite types, and this one does not dissapoint. Extremely fine early, early Archaic flaking to the classic diamond cross section. Exhibits my secret Heavy Duty feature. Quite simply, a fine flint.
Price: $150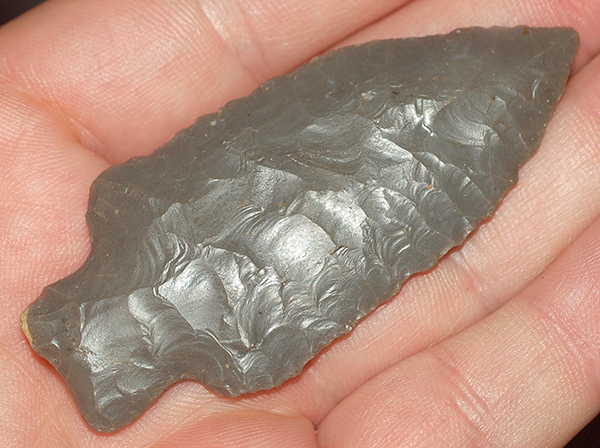 Big Ohio Flint Ridge Hopewell - #1-7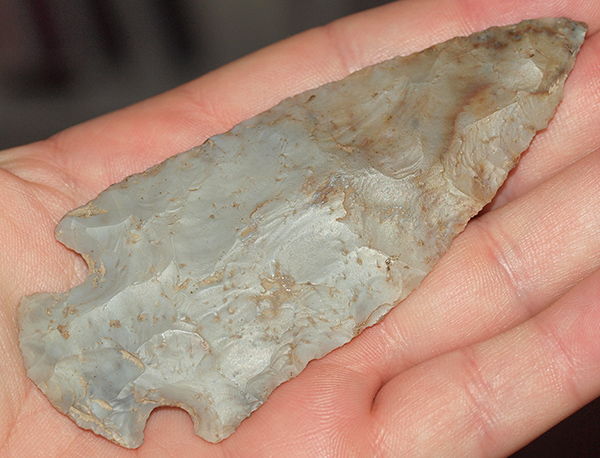 Size: 4 3/8" long x 1 13/16" wide.
Provenance: Found in Ohio. Collected by Ohio Arch President Jim Hovan.
Condition: Excellent. Shows some use nicks, but form is intact. Large for the type. Flint Ridge material patinated how you like it.
Price: $165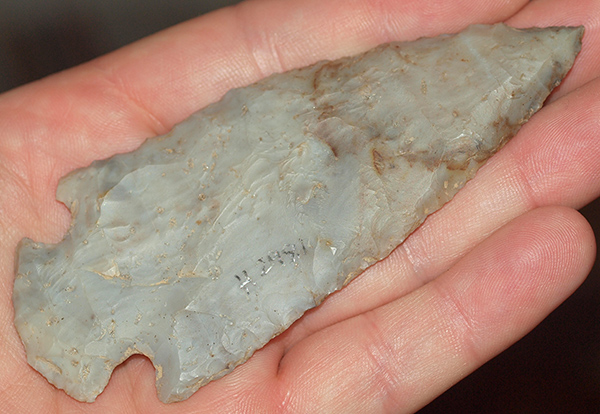 Huge Group of Unifacial Knives - #1-8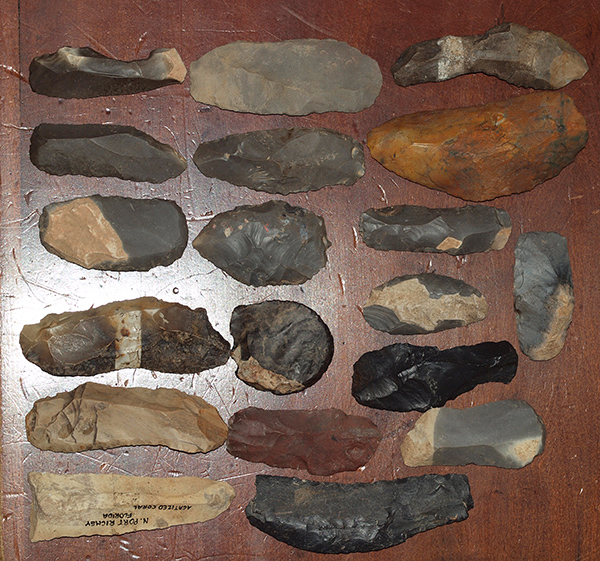 Size: Top center piece is 3 7/8" L x 1 5/8" W
Provenance: Various locations. Most are Southern Indiana from the Dr. Hasewinkle collection.
Condition: Varies. 19 total examples. Here is a great chance to have a ready made collection of this enigmatic Paleo form. I am pricing the group at $10 each. Will not split it up. Every example is unique, and shows excellent secondary workmanship.
Price: $190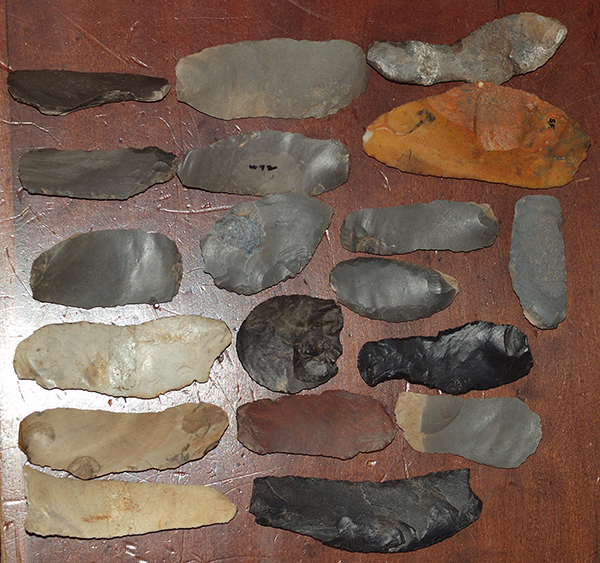 Mound Quality Adena - Cliff Bauer Collection - #1-9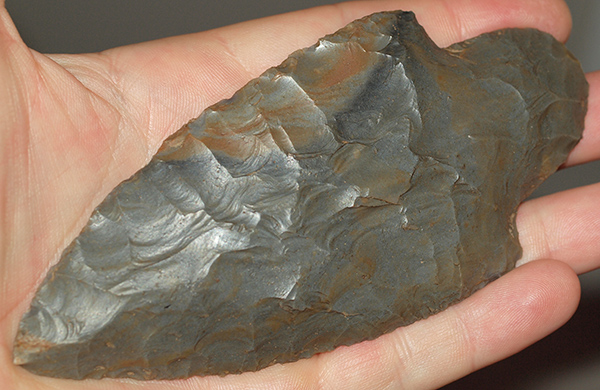 Size: 5 1/2" L x 2 1/2" W
Provenance: Found in Greene County, Ohio. Cliff Bauer purchased piece pre-1950 from known early collector Mr. McMurray of Dayton, Ohio. Cliff paid $5.00 for piece, and thought it was worth $12.00. $12 is a significant price for a flint in 1950. I was recently able to purchase this piece back, and offer it to you at a discount. Lot #229 Bauer Sale. Bauer Large Notebook Page 9 page included.
Condition: Museum Grade. This piece is special. Just a massive hunk of center bullseye Indiana Hornstone. Crafted with exceptional skill to be a large sturdy cutting machine. Some of the deposits on this piece point to a ceremonial nature. This piece would rank in the top 15 of the entire wonderful Cliff Bauer flint collection.
Price: $1700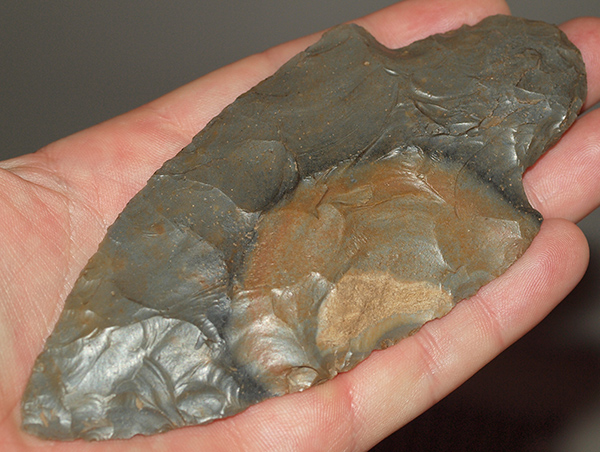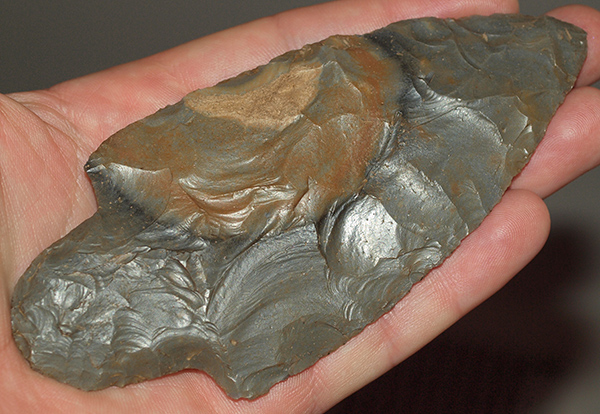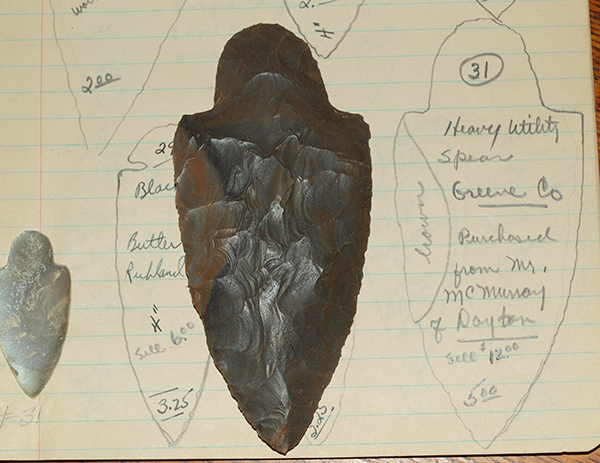 Monster Drill - Curtis/Tully Collection - #1-10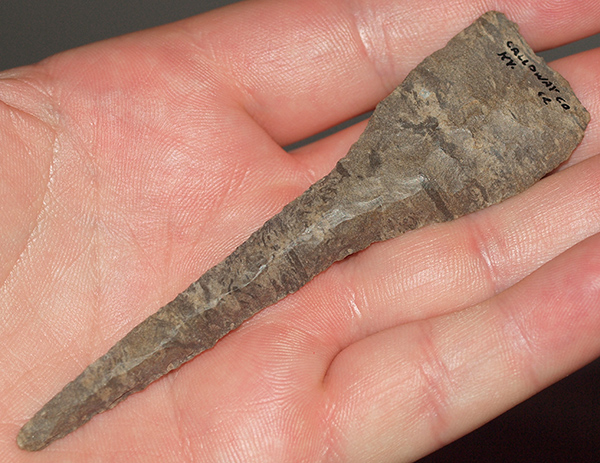 Size: 4 1/8" long x 1 1/16" wide.
Provenance: Found in Calloway County, Kentucky. X: Eugene Curtis / Red Tully. Curtis is considered the Copeland of Kentucky.
Condition: Killer. over 4" drill! High quality variegated Dover Chert. Archaic in nature with a great bevel on both sides, and superior collector provenance. Good luck finding a better one.
Price: $350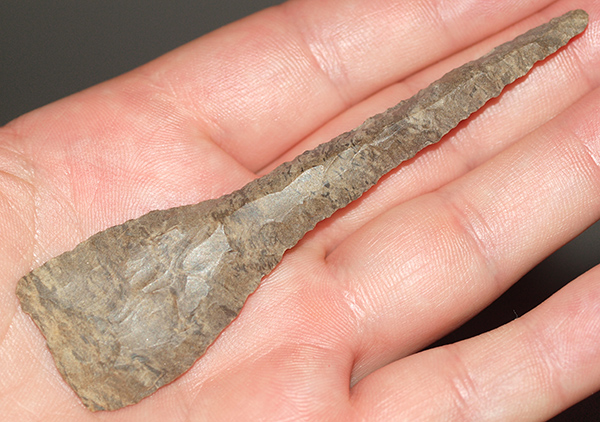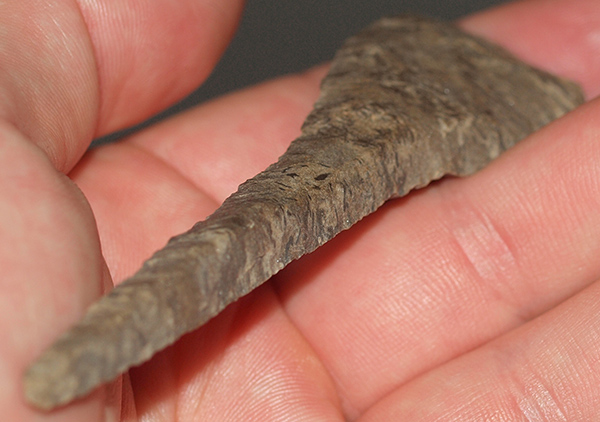 Giant Snyder's - #1-11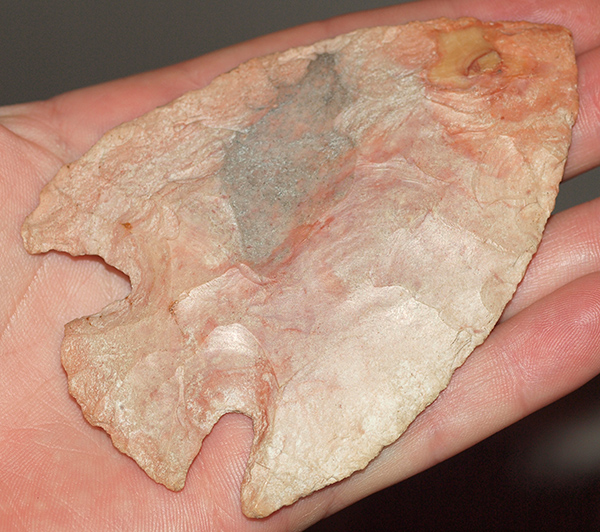 Size: 4 1/4" L x 3" W. How about that for surface area?
Provenance: Found in Clark County, Wisconsin, and labeled as such with old school India Ink. X: Tom Amble. Dennis Arbeiter (Rainbow Traders) had Gregory Perino COA this artifact. Perino states that this piece was never resharpened. COA included with relic.
Condition: Super. Small basal nick hardly even noticed across this large flint. Material is worth mentioning, b/c I believe it to be a high grade heat treated Burlington. However, Perino calls it "unidentified heat treated flint", and he is certainly more knowledgable than I am. I have had a knowledgable collector mention Cochrane Chert as a strong possibility b/c of the high quality butterscotch like inclusion near the tip. Whatever it is, they sure made a great flint out of it. Huge and open notches with massive ears. Definition of hand filler.
Price: $1250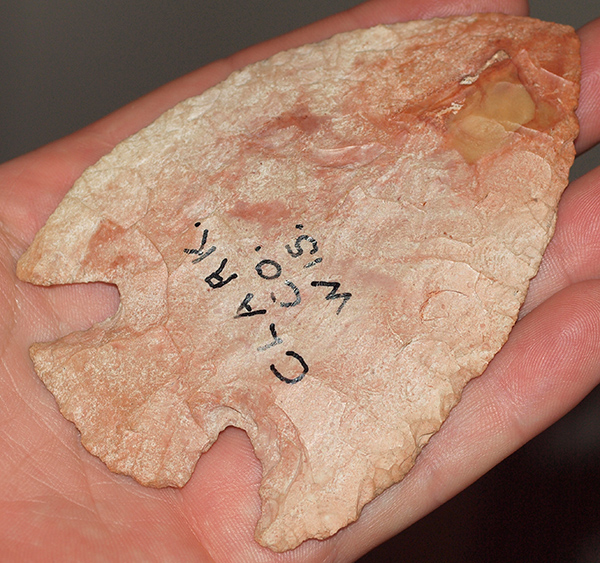 Monster Turkey Tail - #1-12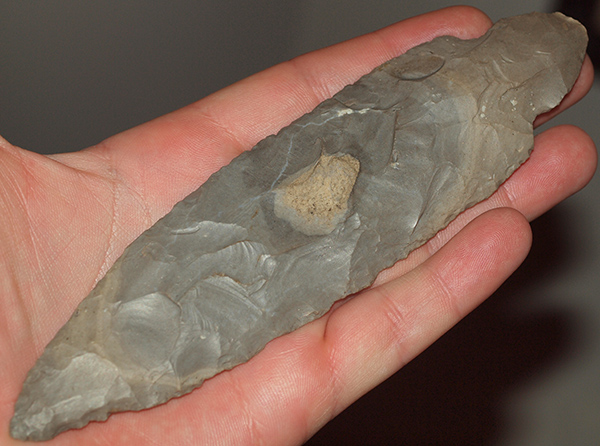 Size: 6 13/16" L x 1 3/4" wide !!!!
Provenance: Found in Fayette County, Kentucky by Patrice Elliott. Comes with COA made out to John Duncan (good guy and collector) from Gregory Perino stating typology as "Tupelo Turkeytail". I am not extremely well versed on the different turkey tail forms, but know a turkey tail when I see it. COA included with point.
Condition: Excellent. This giant chunk of center bullseye Indiana Hornstone does show damage associated with it being used and as found in a field. Shouldn't take long to look past any flaws when you realize you just acquired an authentic almost 7" turkey tail.
Price: $1000. Last sold in 2002 for $975.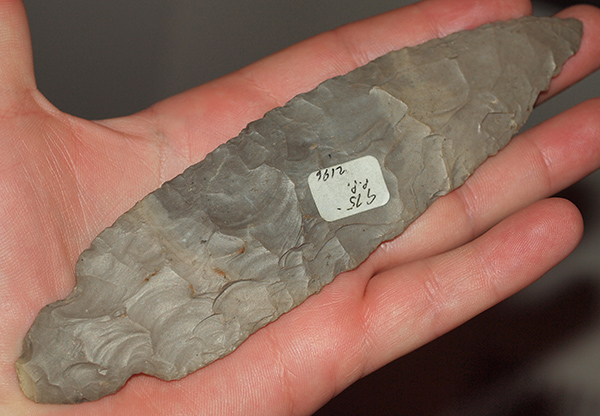 Slate Eyes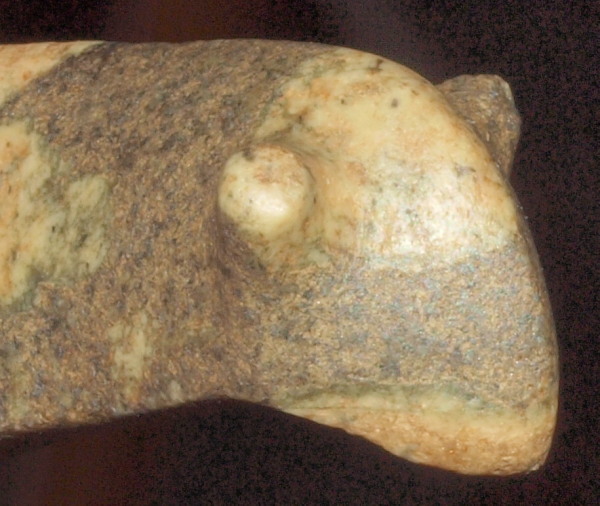 Sometimes we have stone eyes, and mouths, but we still know what you fakers are doing.
Jon Dickinson
Copyright 2004 (Dickinson Contract Marketing). All Rights Reserved.