Clovis - #1-1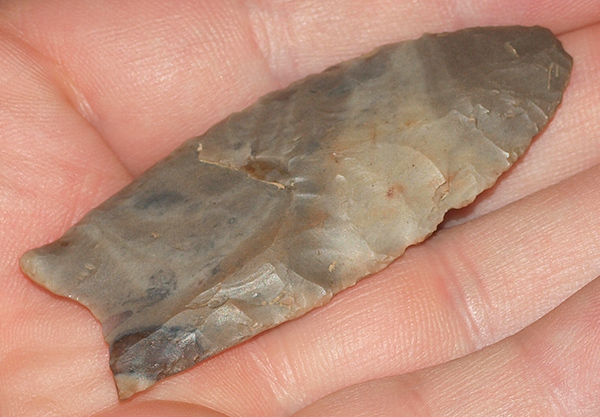 Size: 2 1/2" L x 1" W.
Provenance: Ohio. This one came from the Bauer boards put together in the 1940's. Pic below shows frame.
Condition: Excellent. Tip shows prehistoric impact fracture. Made from the highest grade of Indiana Hornstone I have seen. The basal area is highly translucent and made from a brown quartz inclusion. One side flute is very long in comparison to total length at 1 1/2". Other flute is 1 1/8". All forms of patina and mineralization present in serious amounts.
Price: $SOLD> THANK YOU>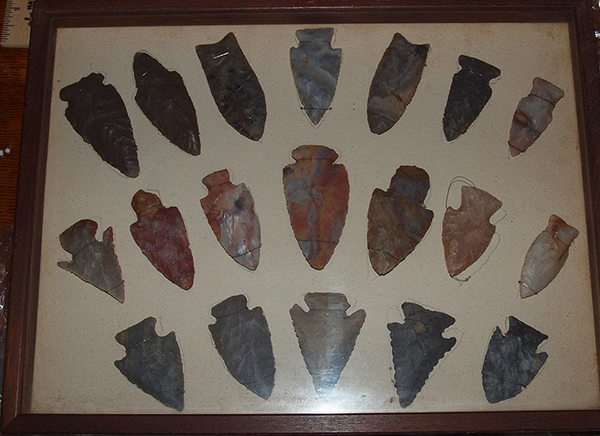 Flint Ridge Dovetail - #1-2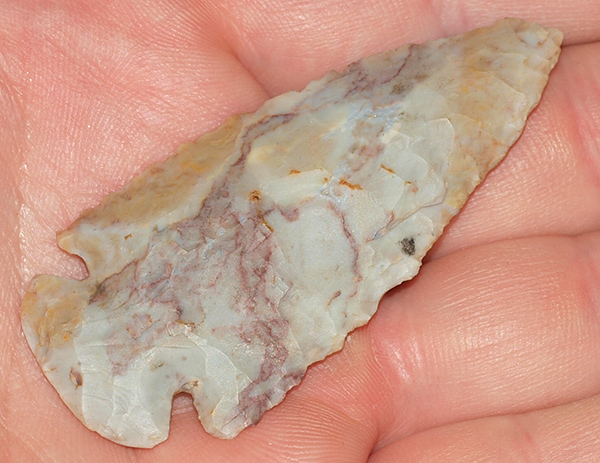 Size: 2 5/8" long x 1 3/16" wide.
Provenance: Ohio. Cliff Bauer collection. This piece came off of Cliff's earliest portion of his collection from the 1940's. He made copper wired frames, which I dismantled.
Condition: Excellent. A few nicks here and there. Gold/purple/light blue Flint Ridge. Heavy on color, and mineralization. This is a very classy dovetail.
Price: $SOLD> THANK YOU>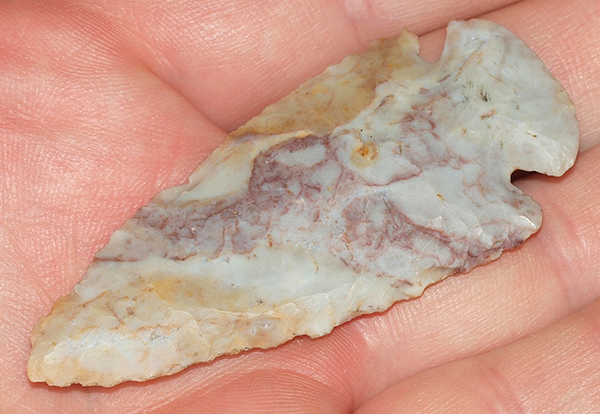 Old frame that piece was on: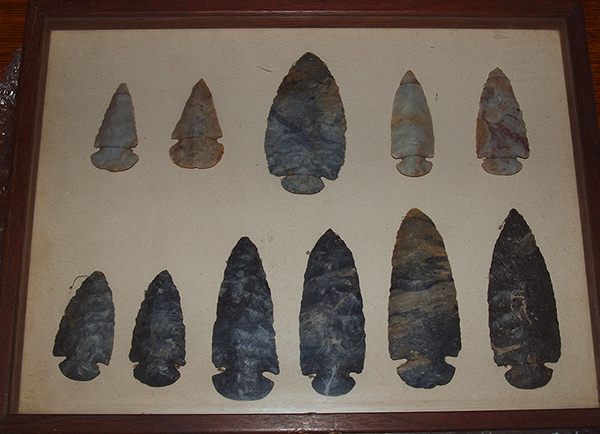 Breathitt "Cortex Notch" - #1-3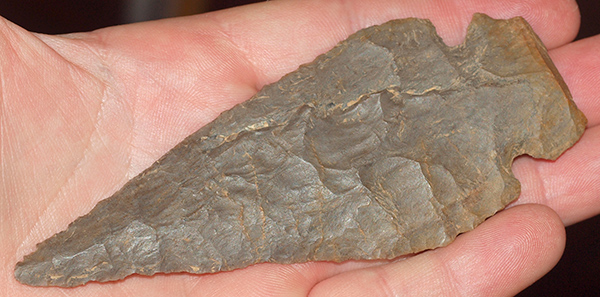 Size: 4 13/16" long x 1 7/8" wide.
Provenance: Ohio. Cliff Bauer collection.
Condition: Super. This is a top notch piece of Breathitt Chert. It is exceptionally long for the material, and extremely well made. As many of you already know, Breathitt Chert is one of the hardest cherts in North America. Only an extremely skilled artisan would be able to knap this material at all, let alone an 5" notched blade. The second half of the story on this point is worth telling. My friend and noted author Jim Murphy was working on a study of Breathitt Chert when he passed away last year. I held this point out of the Bauer collection b/c I wanted to surprise him with it. The collecting community lost a great friend and ambassador when Jim passed away. While Jim was studying Breathitt, he discovered several of these large notched blades, all made with the natural cortex as the base. We spoke several times about this enigma, and Jim was convinced this was a unique type, contemporaneous with dovetails. Although, I don't know exactly where this example was found, Jim told me that every example he knew about came from 50 miles North or South of the Ohio River. I don't know how far along Jim was with his research, but if someone picks it back up, I hope they like my name "Cortex Notch" for this newly defined point type.
Price: $ON HOLD>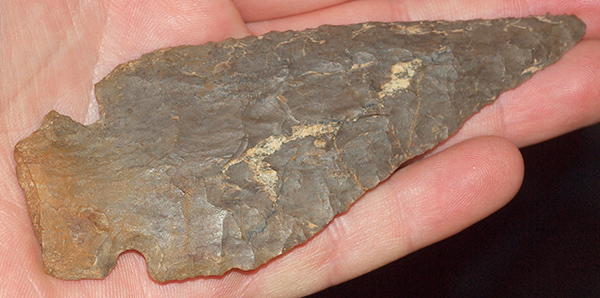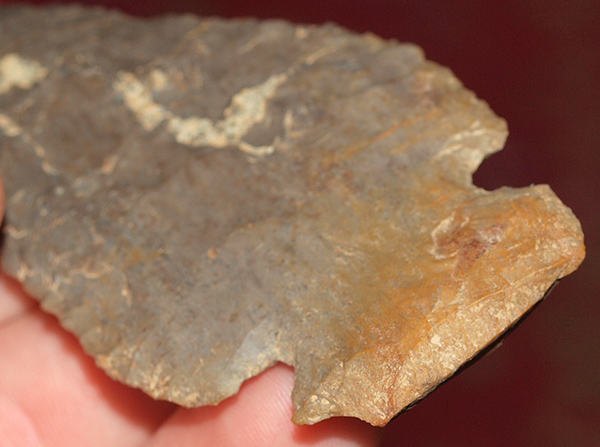 Green Hornstone Kirk - #1-4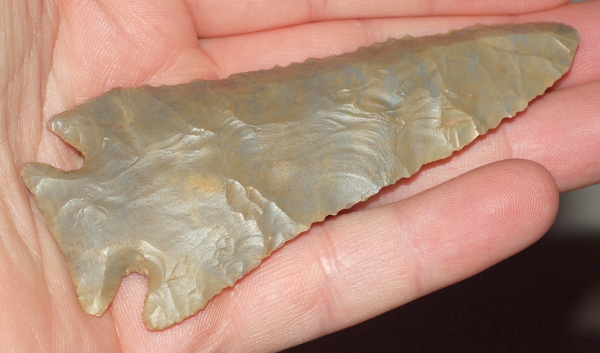 Size: 3 15/16" long x 1 5/8" wide.
Provenance: Found in Henderson, Kentucky in a field above the Ohio River by Bill Spainhoward. I purchased from Bill at least 10 years ago. This piece has been in my personal collection since that time, and one of my favorites.
Condition: Super. The tip of the tip is snapped off modernly. There is a patina change that is illustrated below, and can teach a collector volumes about patina. Speaking of patina, this has just about the best green patina you will ever see on Hornstone. Displays like it is perfect from top side. Highly beveled with superior pressure flaking. A class piece of flint.
Price: $SOLD> THANK YOU>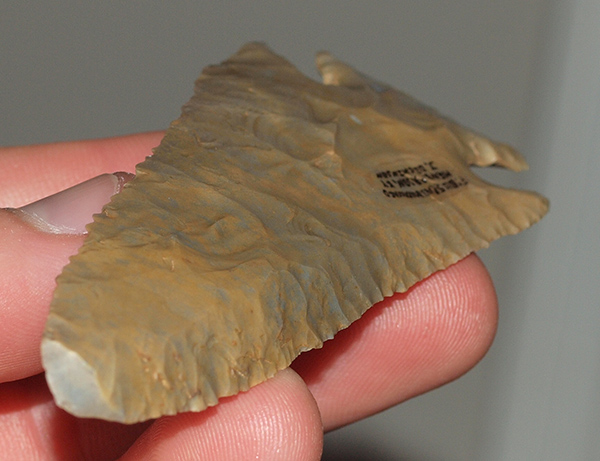 Flint Ridge Dovetail - #1-5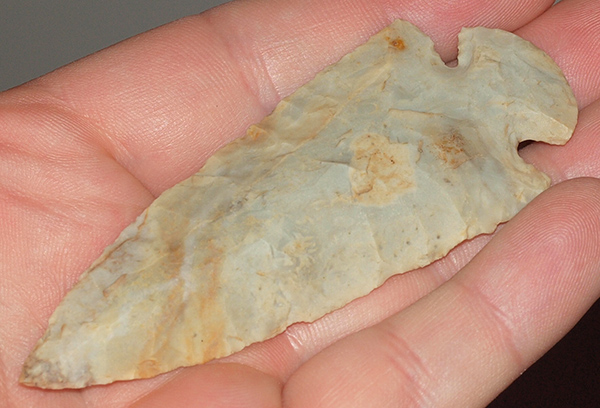 Size: 3 5/8" long x 1 5/8" wide.
Provenance: Found in Butler Township, Richland County. Collected by Dr. Gordon Meuser. Purchased from Doctor Meuser by Cliff Bauer as #35 in his collection on 12/11/1950 for $2.50. Cliff felt the piece was worth $3.50 at the time of purchase. Nice buy Cliff!!
Condition: Perfect. Muted out Flint Ridge with some colors (red, orange, purple) pushing through the deep patina. Can't do much better if you like to collect authentic relics.
Price: $1000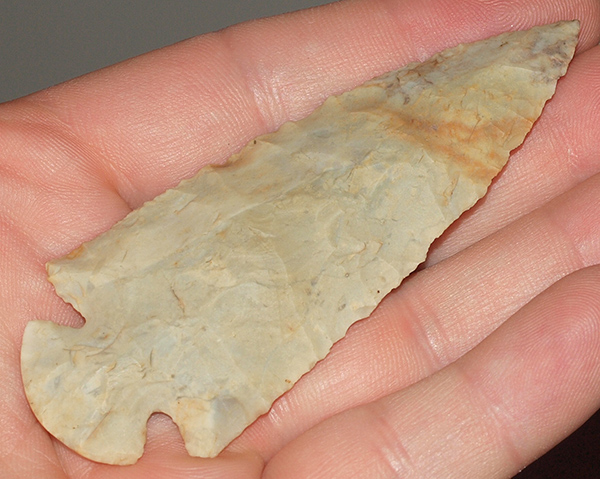 Bauer Catalog Page will be included with the piece.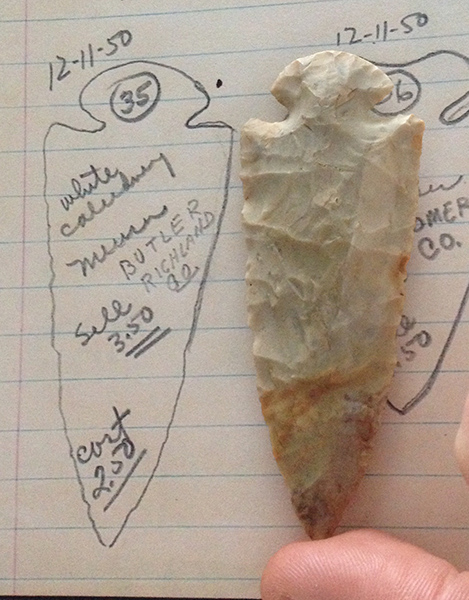 Ohio Thebes - #1-6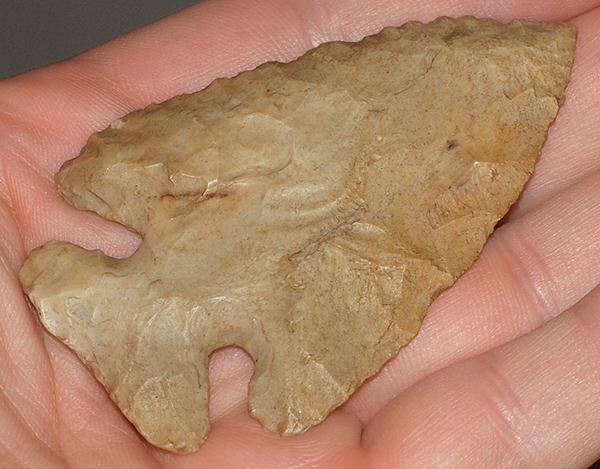 Size: 3" long x 1 7/8" wide.
Provenance: Ohio. Cliff Bauer Collection.
Condition: Killer. A classic Ohio flint. Material is a mystery to me. Many Ohio Thebes are made from local chert sources, and difficult to identify. This one is no exception, although the material is a much higher grade than most. It is waxy, and even translucent in some areas. Something about it says Carter Cave, but don't quote me on that. Wide form with big open notches. Classic for the type and area. Extra bonus is that you won't have to ever hear anyone question its validity. Oozing with authenticity.
Price: $SOLD> THANK YOU>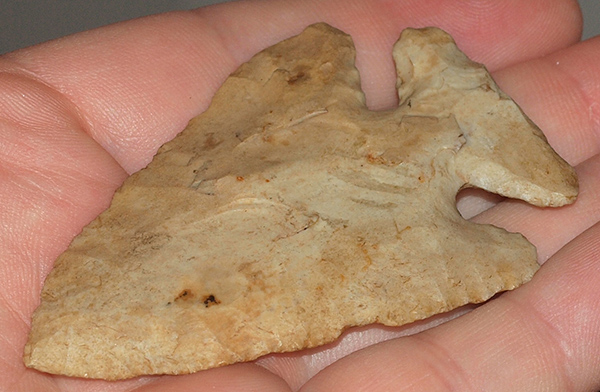 Stan Copeland Bullseye Hopewell - #1-7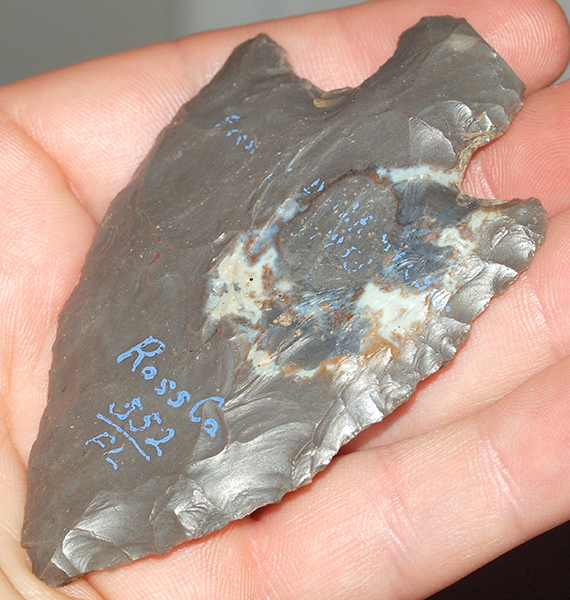 Size: 3 1/2" long x 1 1/16" wide.
Provenance: Found in Ross County, Ohio. This piece has a very special provenance. Dr. Stan Copeland labeled this piece in his famous blue ink as Ross Co 552/FL, and then he made a significant marking above it. It is almost completely obliterated, but it reads "From Dr. G.F. Meuser 1953". Yes, we have a flint here that is a gift from Ohio's most famous stone collector to Ohio's most famous flint collector. It simply doesn't get any better for collector history.
Condition: Good. This form is the Ohio version of a Snyder's. The base has a fracture that I really think is not damage. I feel it is made that way. Tip isn't perfect. There is a fire pop on base, but I still don't think it has anything to do with the straight line fracture along base that is often seen. Center cut Indiana Hornstone with wonderful bullseyed quartz inclusions on both sides.
Price: $SOLD> THANK YOU>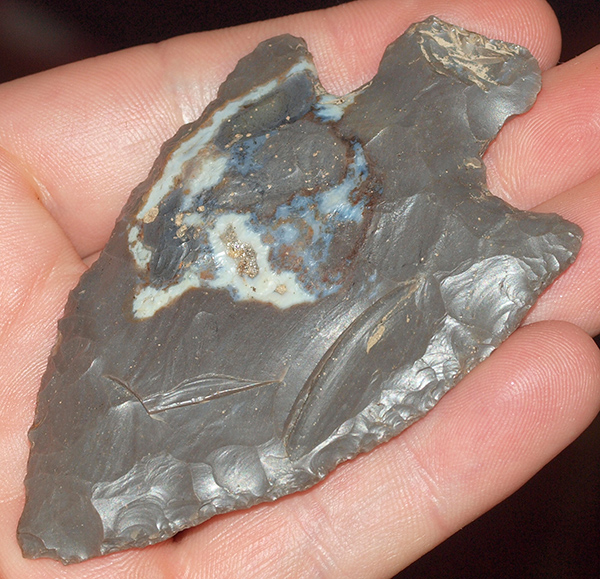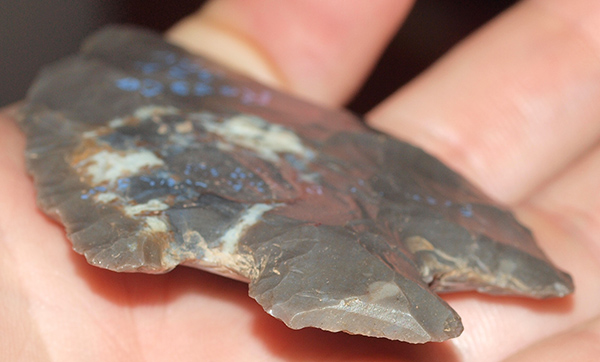 White Flint Ridge Dovetail - #1-8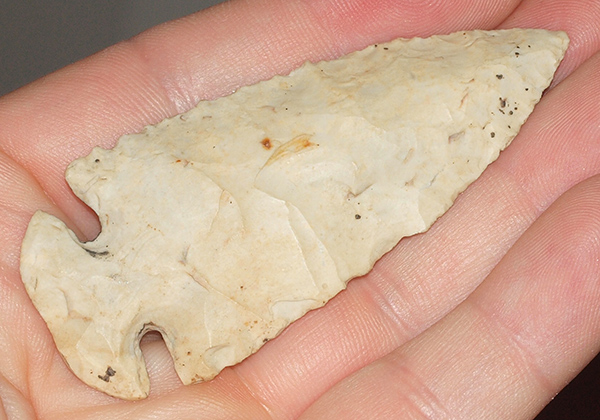 Size: 3 1/16" L x 1 5/16" W.
Provenance: Ohio. Cliff Bauer Collection. This piece came off one of the Bauer boards that contained some of the earliest pieces in Cliff's collection from the 1940's.
Condition: Perfect. Sides are not 100% perfect, but it is perfect in all the important areas, so I would rate it a 10. Excellent minerals, deep white patina. There is a little metal reminder from the wire from the board. This is the type of piece you need to go after to build a collection in this age of papered fakes dominating the market place if you want a collection that is actually old.
Price: $325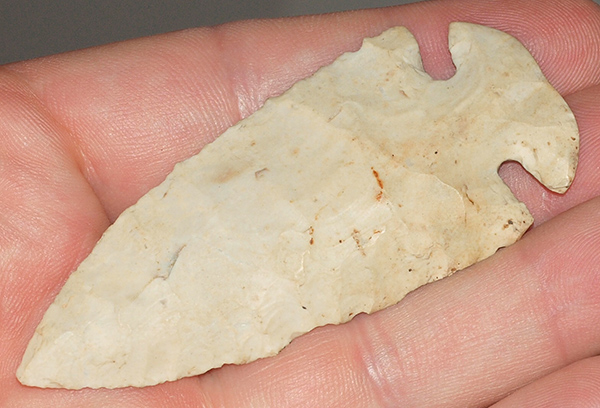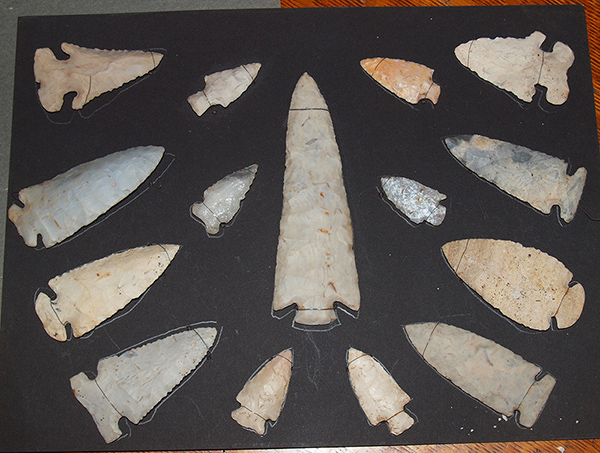 Stillwell - #4-9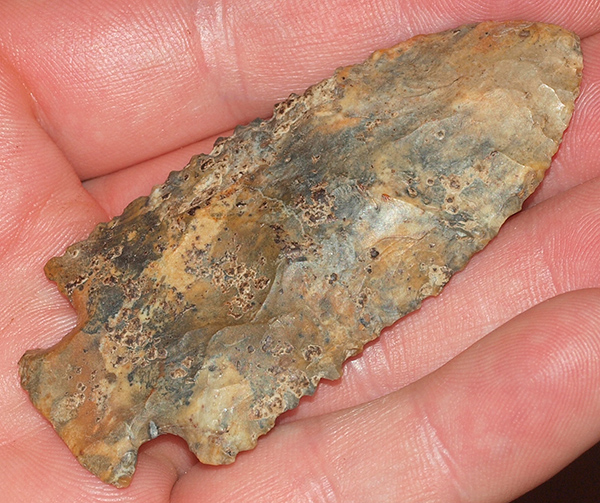 Size: 2 15/16" L x 1 3/8" W
Provenance: Ohio. Sold recently at a Bennet auction for $350. Consigned to me by a friend who purchased it, and needs a buck.
Condition: Super. This point may set the record for patina and mineralization. I was told that Bennet listed the piece as Flint Ridge, and it may be, but it is so patinated that I find it impossible to make any call on the material. Excellent color. I will also go along with the Stillwell typology, but it is Heavy Dutyish. Great chance to pick one up under a price it recently sold at.
Price: $SOLD> THANK YOU>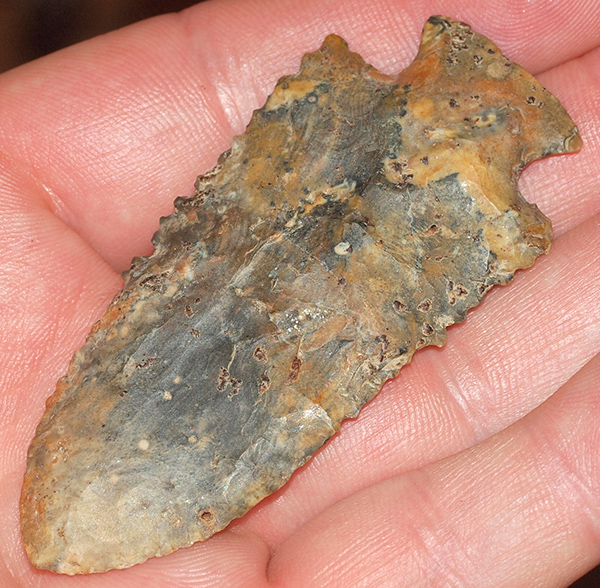 Slate Eyes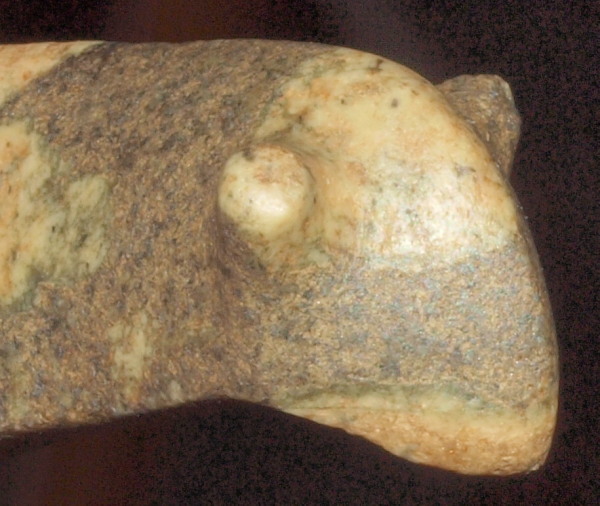 Sometimes we have stone eyes, and mouths, but we still know what you fakers are doing.
Jon Dickinson
Copyright 2004 (Dickinson Contract Marketing). All Rights Reserved.