Michigan Clovis - #1-1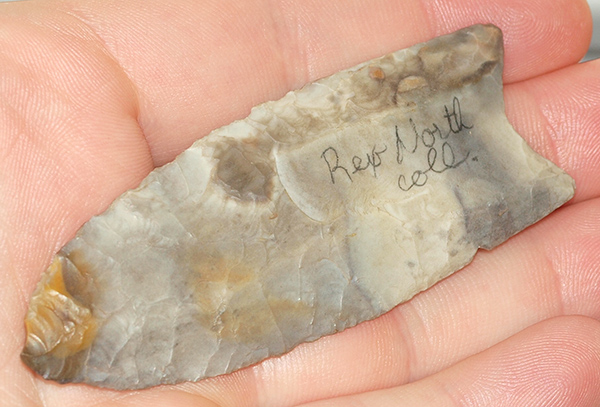 Size: 3 3/8" L x 1 1/4" W.
Provenance: Found in Kalamazoo County, Michigan. Rex North collection labeled 1/2/1950.
Condition: Excellent. An impact fracture in the tip area. Extreme patina that makes this flint un-identifiable. A wonderful haze over the entire piece with a couple areas of excellent color popping through. I consulted with several knowledgable Michigan collectors who tell me they don't know the material, but have seen it on Michigan Paleo. I feel this is related to the yet unknown Michigan Hornstone source. Obviously, an extremely desirable piece.
Price: $1150. Reduced.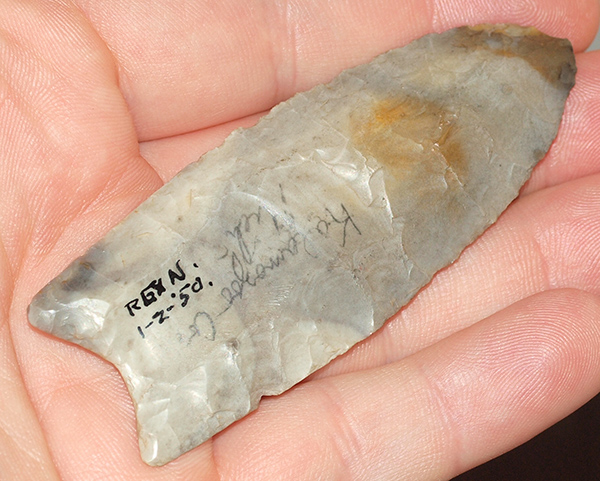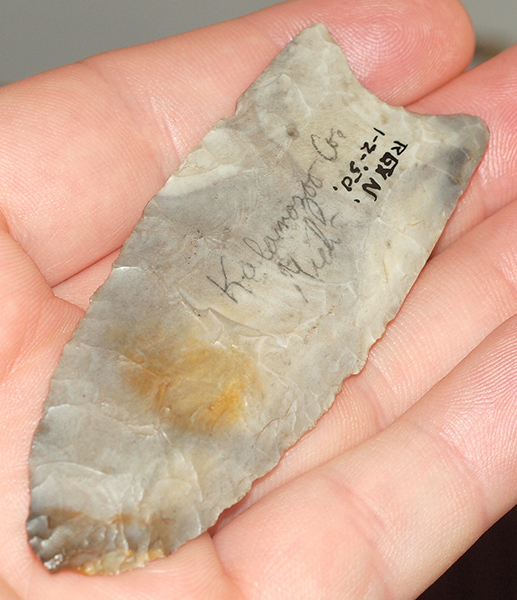 The "Squirrel" Heavy Duty - #1-2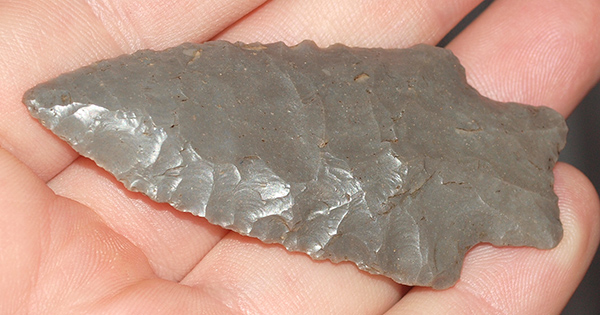 Size: 2 13/16" long x 1 1/4" wide.
Provenance: I purchased this piece from the finder at least 10 years ago. I didn't write down his name, but I did write down the story. He was hunting for squirrels on a hilltop that had a natural spring on it. The site was located near Xenia, Ohio. As has happened many times, he just looked down, and there it was. Only piece he ever found. My personal collection catalog card is included.
Condition: Super. I have found it extremely difficult to collect a good Heavy Duty over the years. This was the best one I ran into, and it resided in my keeper frame for many years. A recent bit of luck allowed me to collect another one, and this one is now available. Along with excellent everything, this piece exhibits my secret Heavy Duty trait, and it survived one heck of an impact at the tip. Look closely at the bottom picture on the right side of the tip. Those ripples are from an extreme impact. There is also a smaller ripple on the other side of the tip. Somehow, this impact did not damage the tip. Keeping with the squirrel theme, maybe this early archaic hunter saw some squirrels some at the spring, and gave it a rip slamming the point into a rock, and losing his weapon. Ok, now I have gone to far. Hunting squirrels with a Heavy Duty is like using a bazooka to bird hunt.
Price: $250- ON HOLD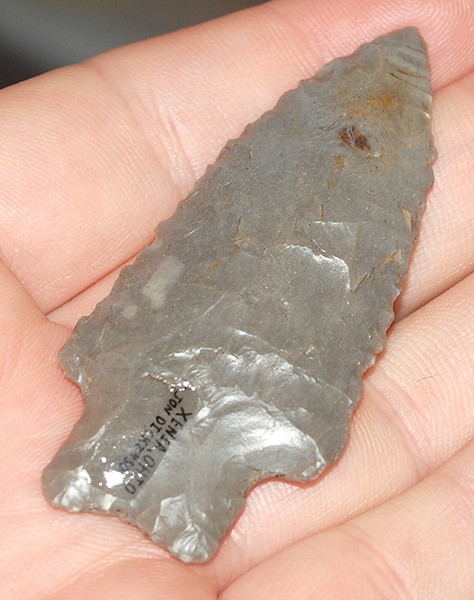 Fire Red Carter Dovetail - #1-3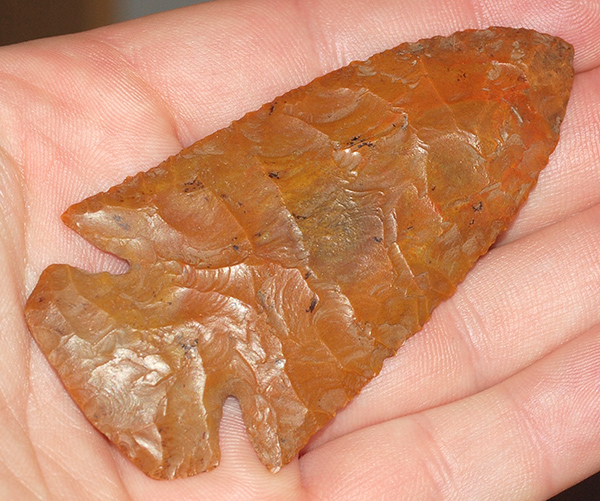 Size: 3 3/8" x 1 5/8" wide.
Provenance: 99% sure that the tag says Boyle County, Kentucky. further collector information to the buyer.
Condition: Super. Very hard to find any flaw in this piece. Material goes to 11. Kentucky wide base style with superior workmanship to a median ridge on one side.
Price: $SOLD> THANK YOU>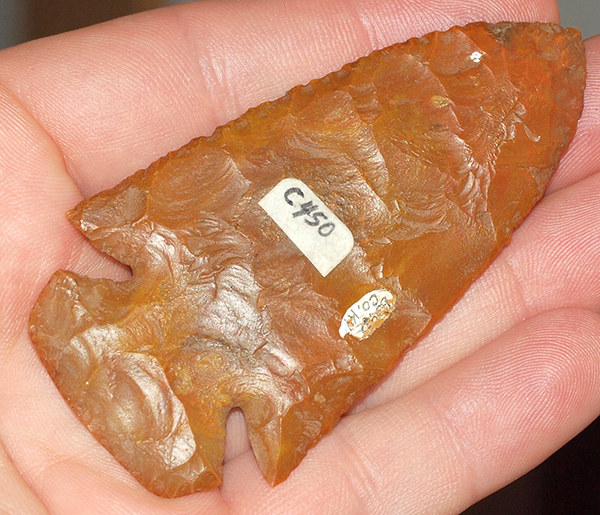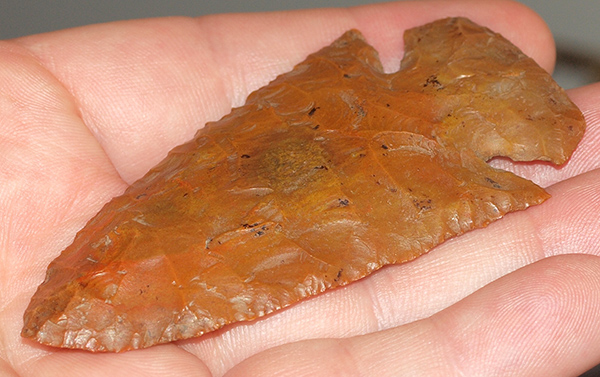 Giant Pig Sticker - #1-4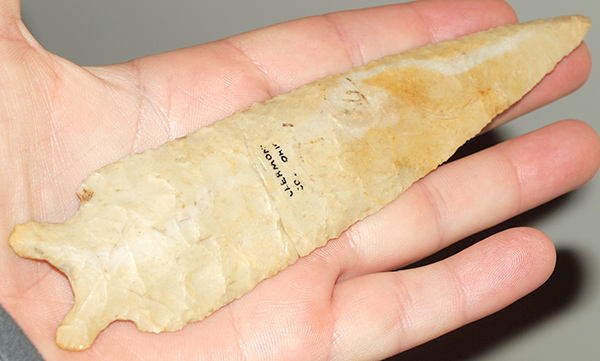 Size: 6 1/2" long x 1 11/16" wide.
Provenance: Labeled as found in Clermont County, Ohio. This is an old collector's ink that I recognize, but having a hard time placing. I did notice recently that the ink is the same as the ink on the famous Hill Spear (8" dovetail), and I know this piece was collected in that early 20th Century time period. Hopefully, I will learn more. Provenance is also interesting, b/c this piece does not fit into any category that I am familiar with in Ohio. It most closely resembles a Buzzard Roost Creek, which are found in KY and South. Is it mislabeled? Is it a unique item?
Condition: Clean break and reglued. I discussed above the typology question, but don't have a great answer. Instead, I will describe the traits that place it in the Middle to Early Archaic. Large bifurcated base, superior thinness for length, Archaic flaking with a bevel. Material is high quality and nearly on the Flint Ridge spectrum, but I don't want to call it Ridge. Piece is packed with patina and minerals. Base is 100% genuine, just unique.

Price: $SOLD> THANK YOU>
Note in bottom picture how I used a shadow to show the beveling.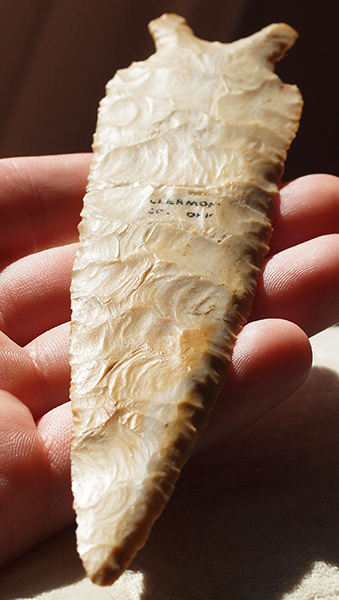 Copena - #1-5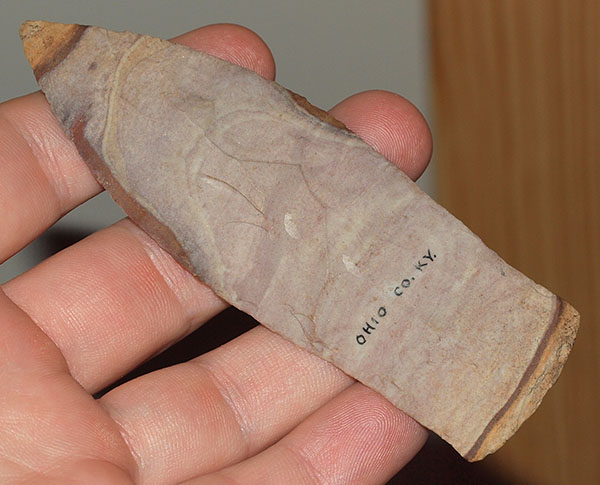 Size: 4 5/16" long x 1 3/8" wide.
Provenance: Found in Ohio County, Kentucky. Originally collected and labeled by legendary early collector Judge Claude Stone. Judge Stone passed this piece to Russ Thompson (Who's Who #1) in the 1950's. Although I don't know the exact context of the discovery of this piece, I have seen an Archaic shell midden bannerstone that Judge Stone owned with identical labeling. The shell midden's of Ohio County produced some of the finest artifacts ever discovered, and sites like Indian Knoll taught us more about the Archaic tool kit than any other.
Condition: Museum. One look is all you need to know this is a special flint. Been in my personal collection for close to 10 years. Rind present on the tip and the base. Flint is Buffalo River in a light pinkish / purple and gray swirl with some highly contrasting brown and tan. Condition is top notch. I will venture that this is one of a small handful of the best Copena's known.
Price: $Need to inquire through email or phone.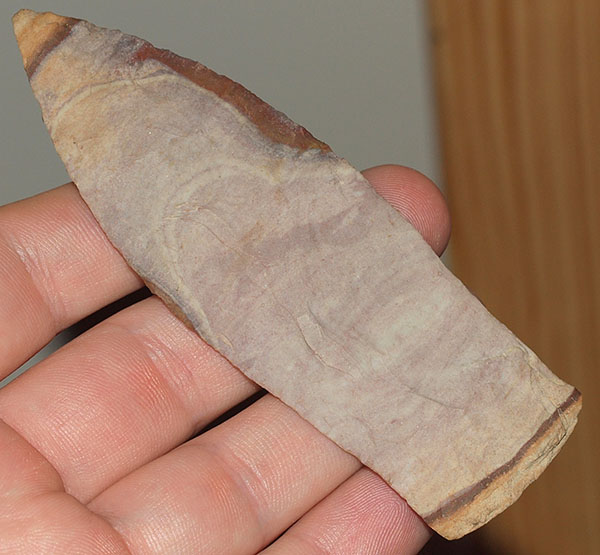 "Flying Bat" Lost Lake - #1-6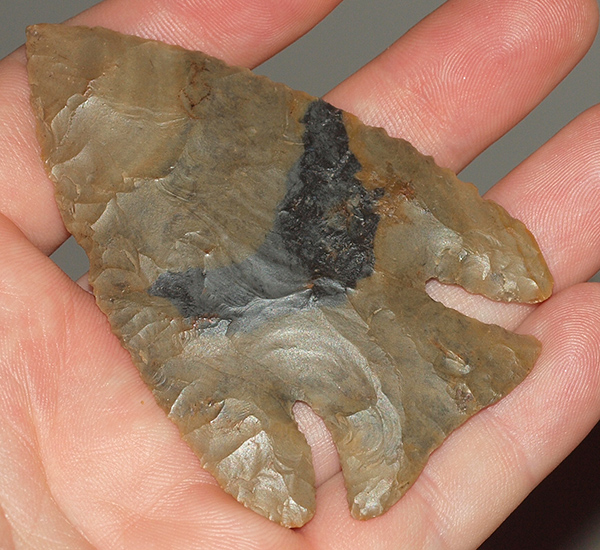 Size: 3 5/16" L x 2 3/16" W.
Provenance: Collector history provided to the buyer.
Condition: Museum. There is a small side nick, but you won't even notice it. Even if this was just a flint shard, you couldn't ask for a better patination scheme, high quality Hornstone, and wonderful banded bullseyes with the incredible "flying bat" inclusion. This piece is also very close to first stage. I don't think anymore than 1 resharpening. Note the huge ears, deep notching, and highly developed base. One of the better flints I have ever listed on the site.
Price: $SOLD> THANK YOU>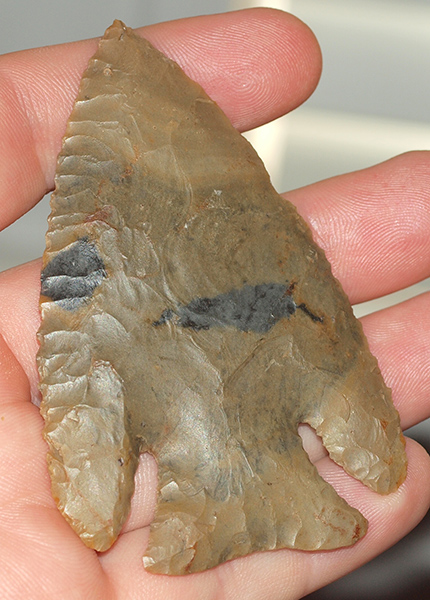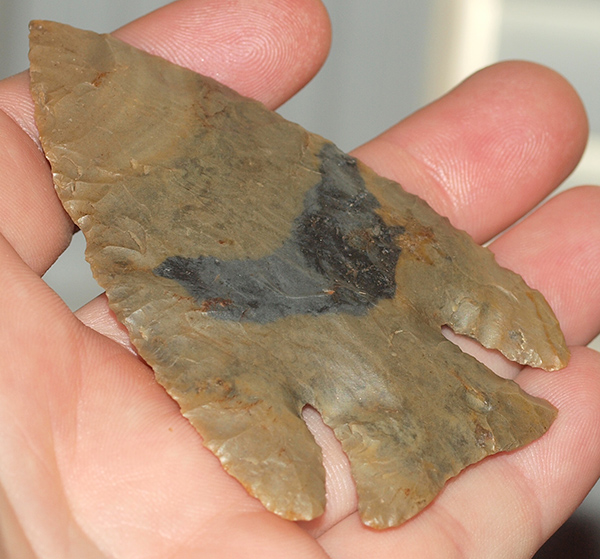 Flint Ridge Dovetail - #1-7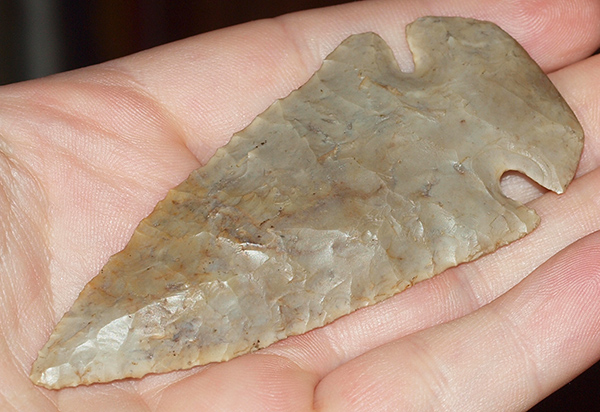 Size: 3 3/4" long x 1 11/16" wide.
Provenance: Licking County, Ohio. Additional old India Ink #O-323. Does anyone know this collector mark.
Condition: Super. Two sided patina (note how the whiter frosting slightly wraps around the other side of the piece). Great Flint Ridge Large Base dovetail. Form, flaking, minerals, all what you want to collect. One of those pieces that you don't have to think about the authenticity question, it is self evident. Comparing pieces like this to modern garbage in collections, could really open up some eyes. A perfect example of why I say that authentication is not all that hard. Problem is, very few of these good ones are available to compare with the modern examples.
Price: $SOLD> THANK YOU>
Mega Intrusive Mound Culture Burinated Blade - #1-8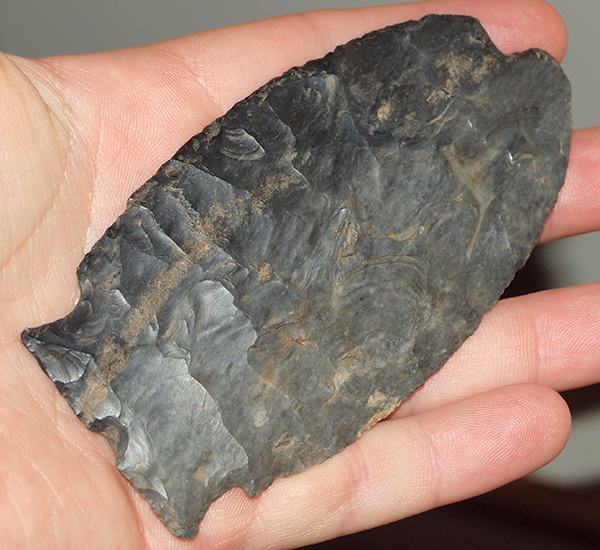 Size: 4 1/2" L x 2 3/8" W x x 3/8" at thickest and 3/16" at thinnest!
Provenance: Found in Ohio. Old collector information to buyer.
Condition: Excellent. Obviously there is a "can opener" shaped piece off the tip. If this was damage, it was prehistorically turned into a burin. This is just about the biggest Jacks Reef / Intrusive Culture flint I have seen, and was most likely a very special item. Super thin, wide, and long. Interesting notch base. If you have a frame of Jack's Reef's, here is your undisputed center piece.
Price: $400. Reduced.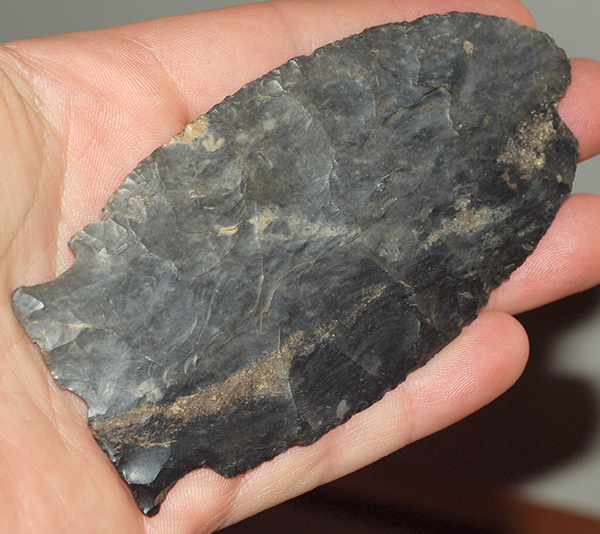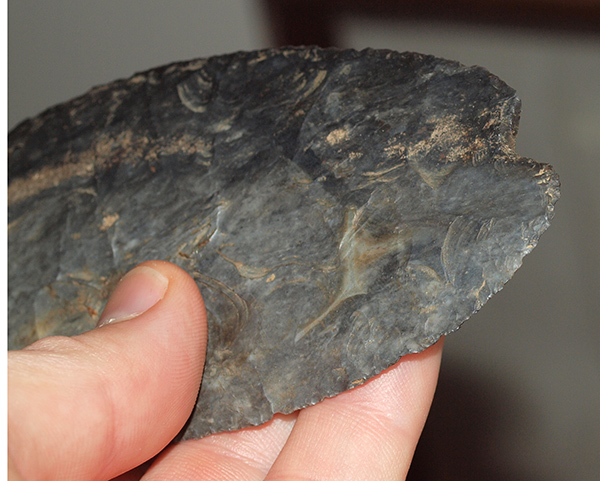 Carter Cave Dovetail - #1-9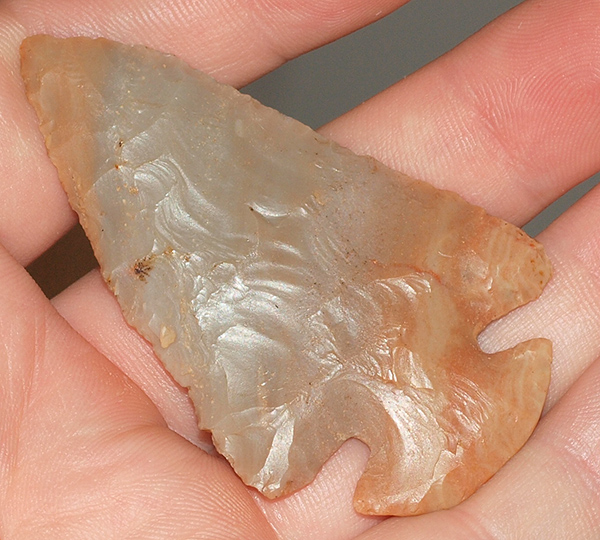 Size: 2 11/16" L x 1 5/8" W
Provenance: Found very near Pymatuning Lake on the Ohio side Ashtabula County, Ohio. This point was one of my earliest keeper's. It survived many picks, but it is time to find it a new home.
Condition: Super. Has one of the nicest dovetail bases I have seen. Blade edges exhibit some use wear and a small bevel. If you collect Carter Cave (many do), then you will instantly recognize this is one beautiful piece of the material. I don't have anything else to say, one of my favorites for many years, and you know I will try to buy it back after I come to my senses.
Price: $400 - ON HOLD>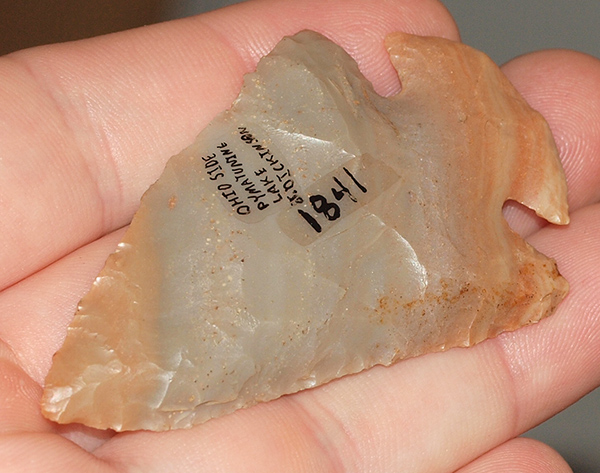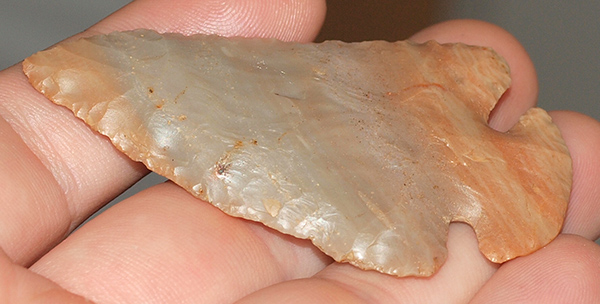 Flashback: I took this picture 10 years to the day ago. The dove and the heavy duty are both in the picture. Many of you viewing this page, probably own one or two from this frame.

Quadraconcave Gorget - #1-10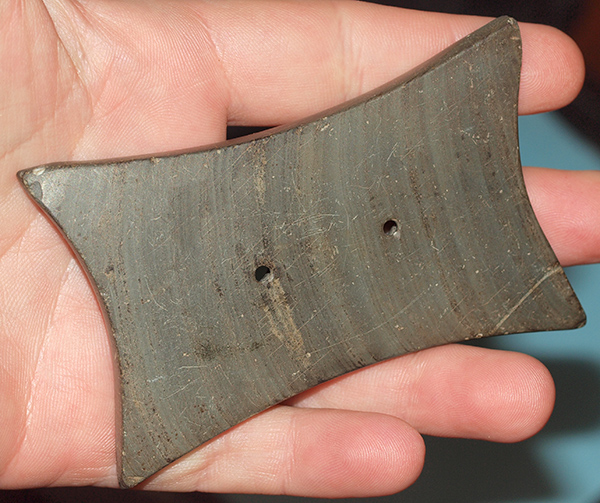 Size: 3 7/8" long x 2 1/2" wide.
Provenance: Found in Fayette County, Ohio. Collected by noted South West Ohio old timer Merwin Noe.
Condition: Super. Many of these have chatter on the points. This one is no different, but no breaks or damage that reduces the overall form. Even if you know nothing about slate, this piece should instantly give you an understanding of how special these objects were to the Adena people. Slate is vertically banded, holes are conically drilled, patina is plentiful. A rare offering.
Price: $SOLD> THANK YOU>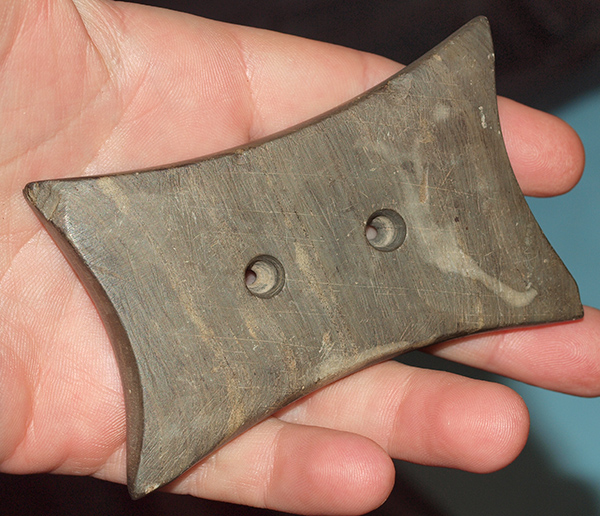 Colorado Clovis - #1-11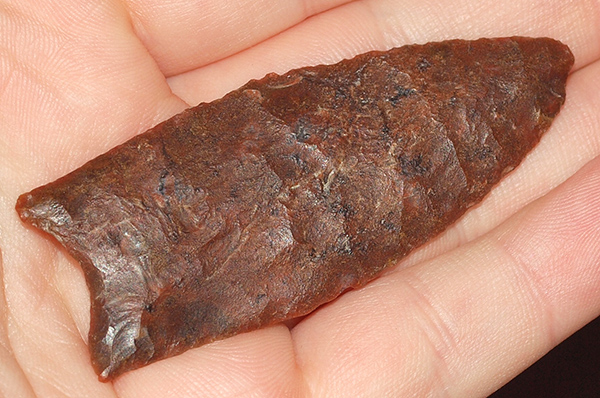 Size: 2 15/16" L x 1 3/16" W.
Provenance: Colorado
Condition: Super. Tip has a little ding, everything else is just about perfect. I had several very experienced High Plains Paleo guys look at this piece, and they were very impressed. They appraised the piece at a level that I do not need on the piece, so there is dealer potential on the item. Neither collector knew what to call the material, but both recognized it as being seen on Colorado Paleo. As for the material, it is stunning. Almost blood red, with amazing clear quartz inclusions that you don't even notice until backlighting it. When backlit, it produces an amazing effect that almost looks like a target that was hit by a shotgun. Maybe not the best analogy, but check out the photo below. Colorado Clovis are extremely rare, and you may not see another.
Price: SOLD> THANK YOU>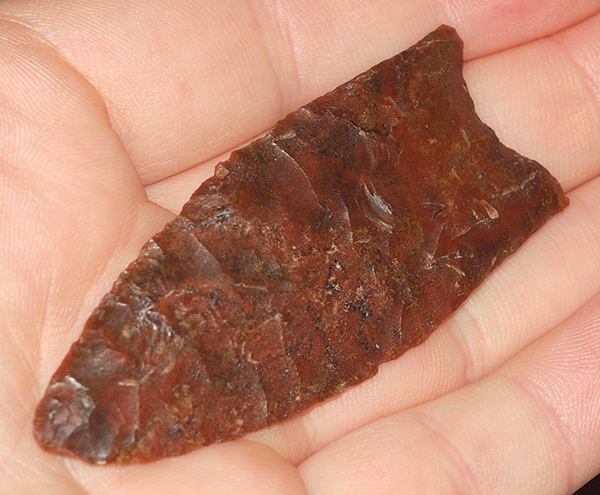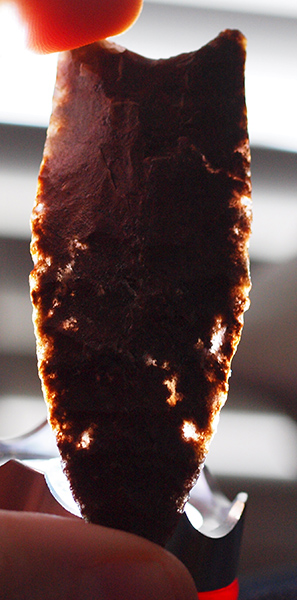 Slate Eyes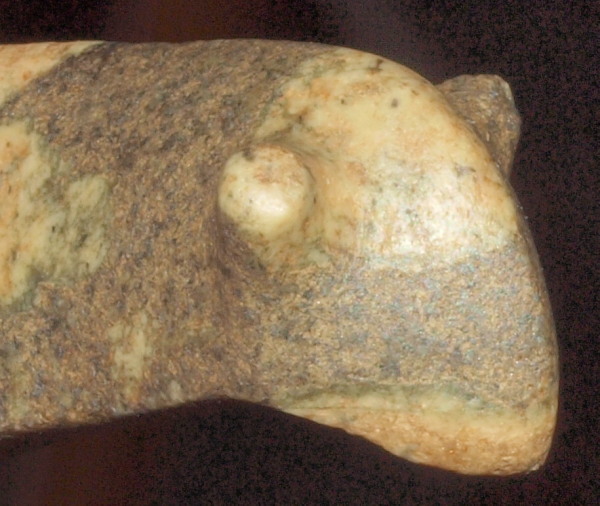 Sometimes we have stone eyes, and mouths, but we still know what you fakers are doing.
Jon Dickinson
Copyright 2004 (Dickinson Contract Marketing). All Rights Reserved.