Stone Tool Page
8/2/17
Beautiful Hohokam Axe - #9-1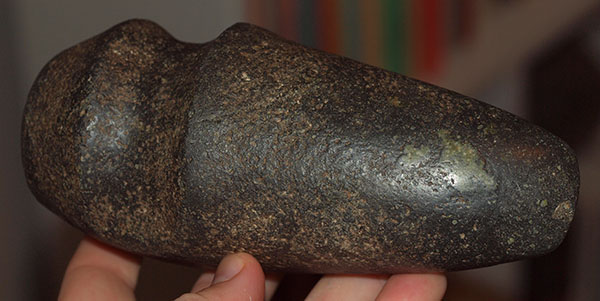 Size: 6 5/8" L x 2 5/8" W x 3" tall.
Provenance: Found in Arizona. Collector history to the buyer
Condition: Killer. One extremely small chip near the bit (not on the bit). Material is an extremely dense and heavy basalt with porphyritic light green quartz inclusions. Absolutely superior form that should show up in the pictures. One of the best South West axes I have seen. If Eastern, this would be a $2500+ axe.
Price: $600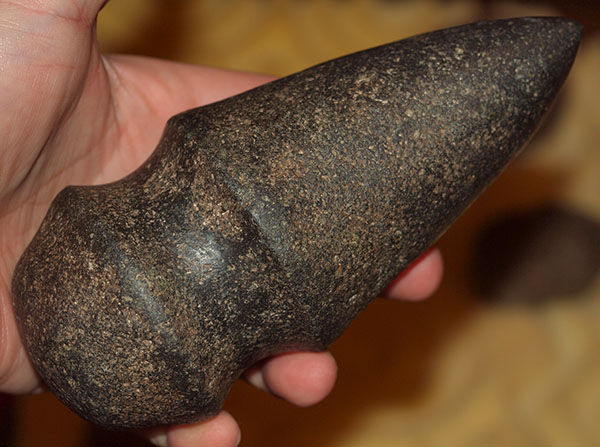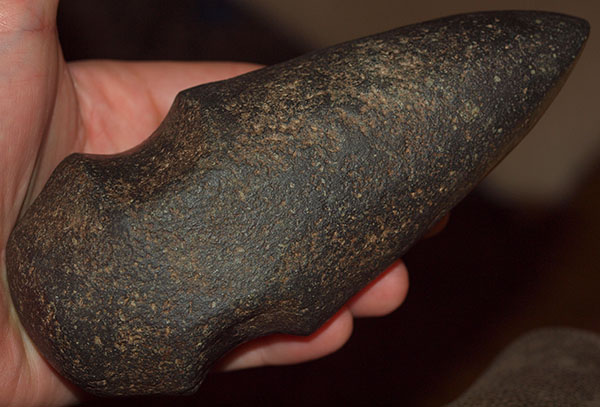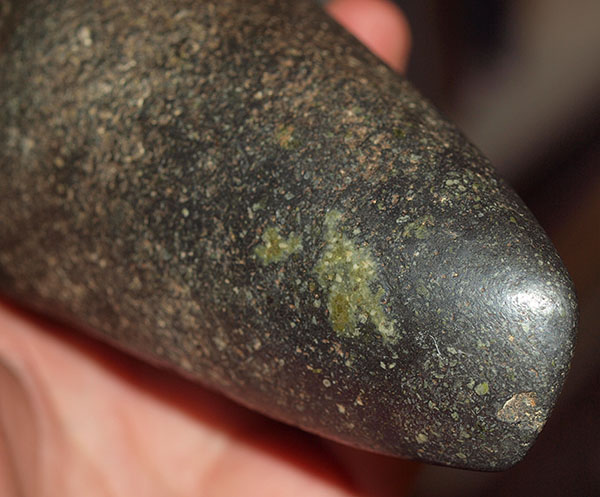 Wirey Granit Adze - #9-2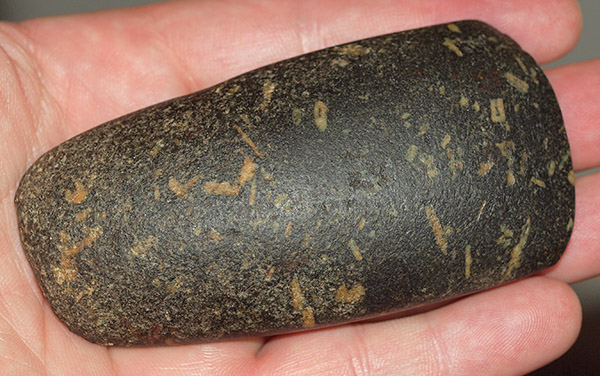 Size: 3 7/8" long x 1 15/16" wide.
Provenance: Ohio. Labeled C-84 on back.
Condition: Excellent. Almost socketed on the side. Material is a 10+. I believe this piece was lost during an imcomplete resharpening, b/c the bit is purposefully blunted. This is often seen as the first step to resharpening.
Price: $100.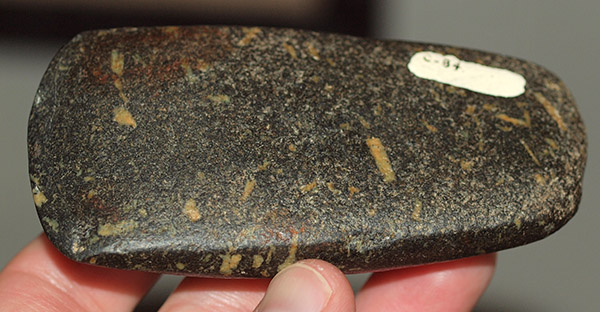 Porphyry Iowa 3/4 Grooved Axe - #9-3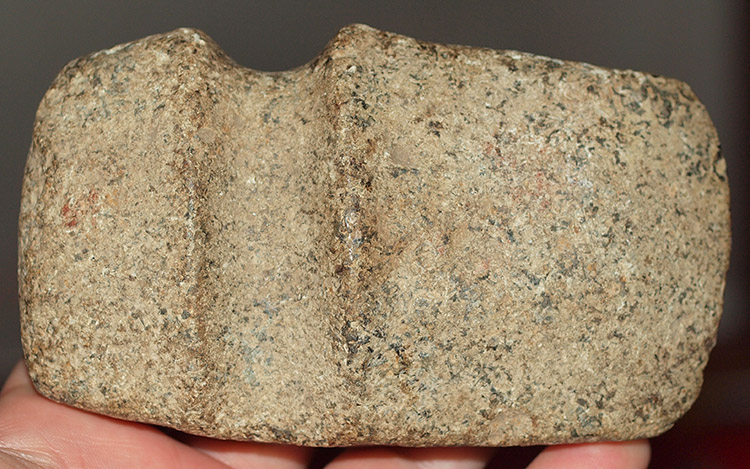 Size: Maybe a hair under 5" long x 1 5/16" W x 2" tall.
Provenance: Iowa (guessing South Central). X: Rob Carter.
Condition: Excellent. There is a reason why Iowan's claim to have the best axes. Form is incredible, and classic for the State. Great porphyry. Fluted bottom. Bit is decent, but shows wear damage. Overall, the axe shows use and age, which doesn't create the finest lines.
Price: $SOLD> THANK YOU>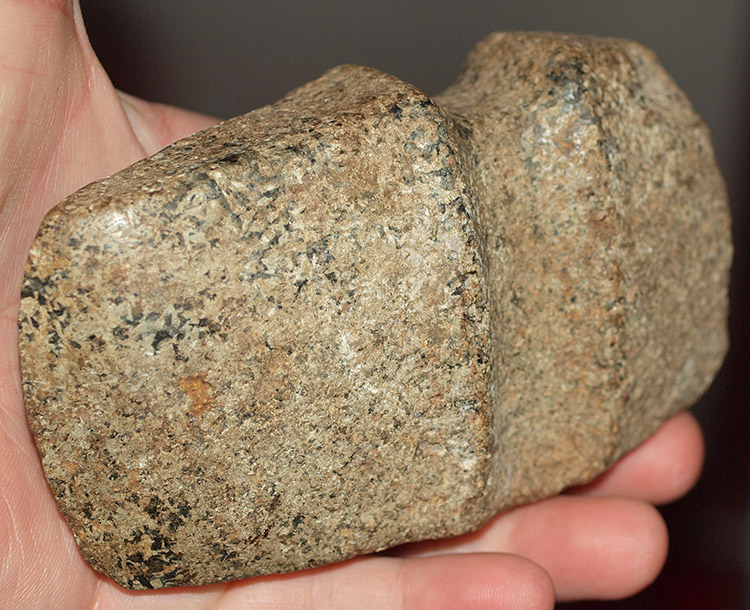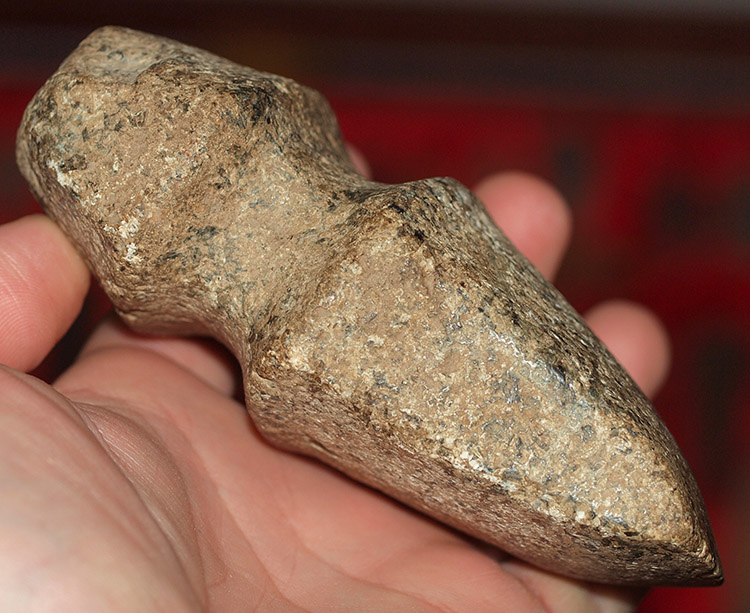 Chisel - #9-4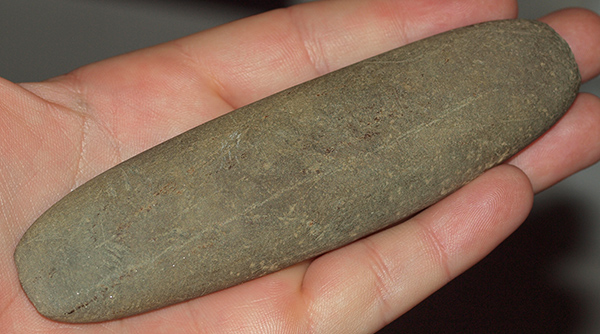 Size: 5 1/4" L x 1 7/16" tall.
Provenance: Chester County, PA.
Condition: Super. Bit is not quite perfect, but no damage. Good size for a chisel, and from an area you don't see too many come from. Always a respected and well collected rarer stone tool form.
Price: $75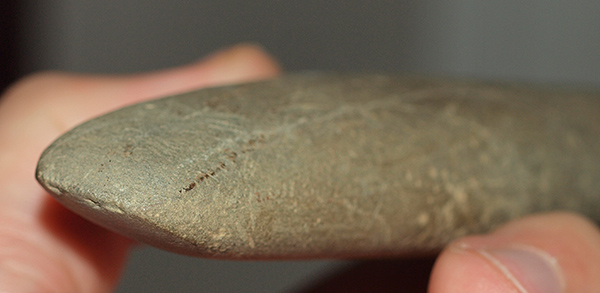 Grooved Celt - #9-5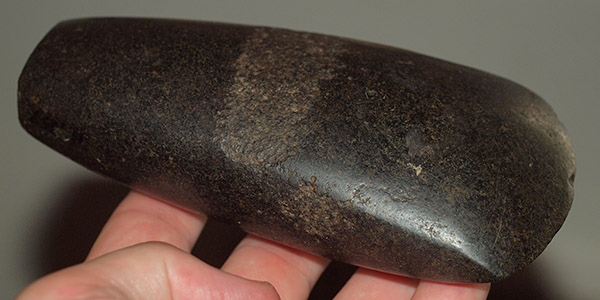 Size: 5 7/8" long x 2 5/8" wide x 1 3/4" thick.
Provenance: Unknown. Jim Hovan collection. I wish I knew, b/c this is a seriously fine item, and it desserves a find location.
Condition: Killer. Extremely dense and heavy black diorite with green and brown tiny speckles. Polish is 100% and heavy except for the pecked groove and the pole top. There is also a what I believe is a small nutting stone depression on the non-grooved side. There are two very small chips to the side of the bit, but neither detract (in my opinion), and I would still call the bit very close to perfect. Rare and fine are a tough combo. I will not give this one away.
Price: $200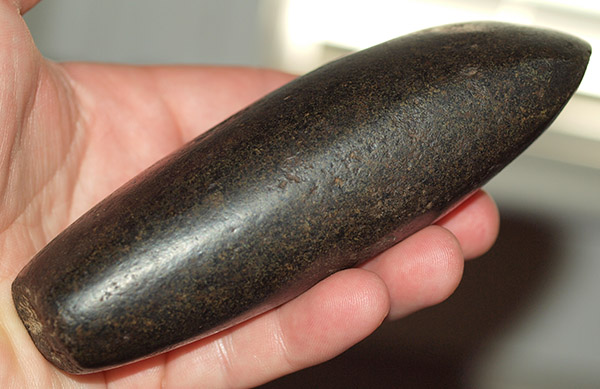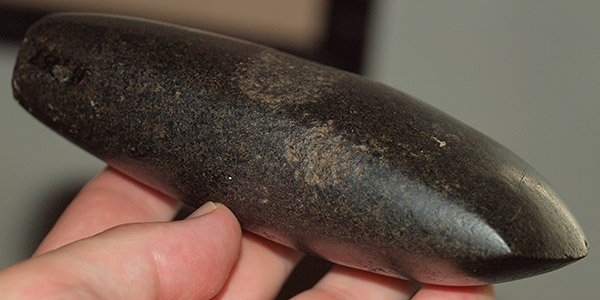 Large Celt- Bob Converse collection - #9-6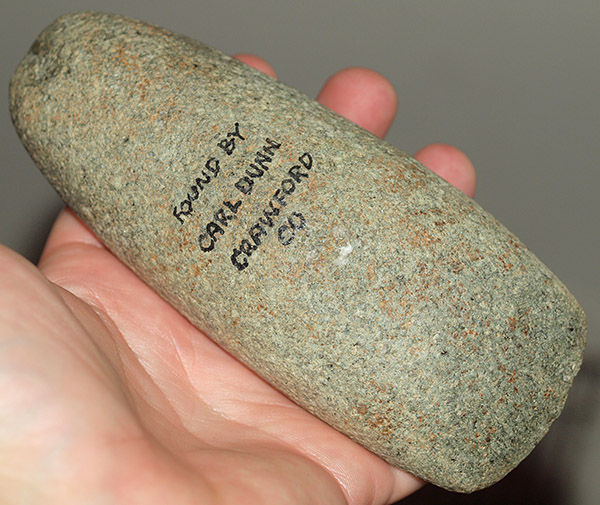 Size: 6" long x 2 7/16" wide x 1 3/4 thick.
Provenance: Found by Carl Dunn in Crawford County. Collected and labeled by Bob Converse.
Condition: Excellent. Great size and heft. Pleasing light green hardstone. Bit is not perfect, but still would rank bit as a 6-7 out of 10. Great find and collector history. I will never understand why this type of relic does not bring 10x the money as common flint. Even if you just look at it with the amount of time and skill needed to produce a celt compared to an arrowhead.
Price: $100.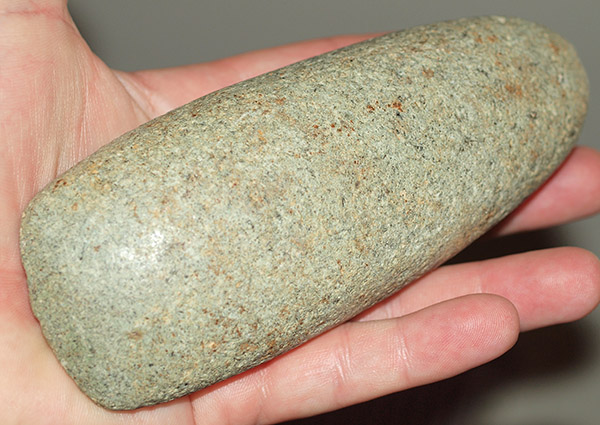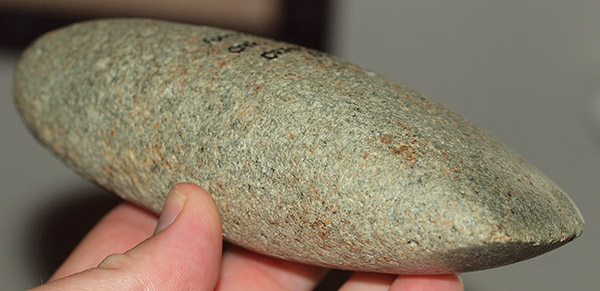 Quality Celt - #9-7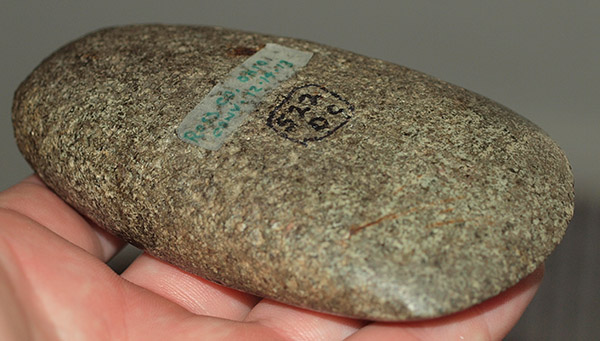 Size: 4 3/8" long x 2 3/8" wide.
Provenance: Found in Ross County, Ohio. #522 in the Don Casto collection. Purchased from Bob Converse auctions on 12/14/2013.
Condition: Perfect. Any minute flaws are too minor to list or downgrade the condition. Superior bit polish that slowly turns to pecking as you move towards the poll.
Price: $100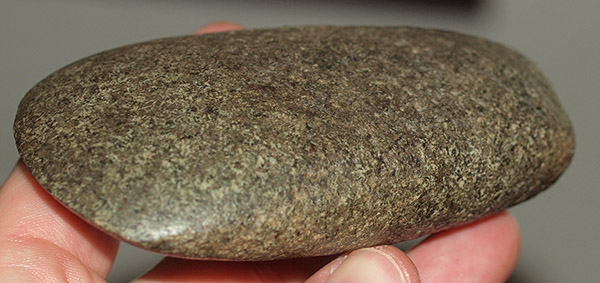 Thin and Fine Celt - #9-8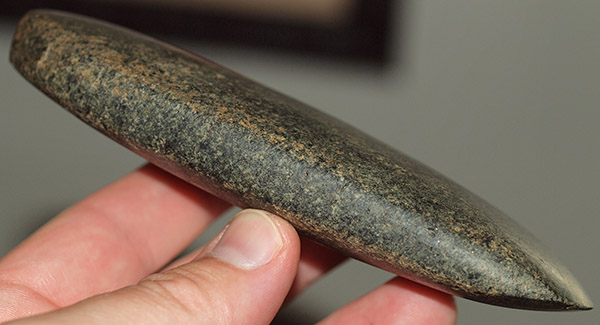 Size: 5 5 /16" long x 2 1/16" wide x 7/8" at thickest.
Provenance: Franklin County, Ohio. I am almost sure that the piece is labeled by Dr. Stan Copeland. There are also 3 sets of numbers on the piece. One is a very old India ink "6", then a crossed out "1201", which is in character with similar numbers I have seen on AT Wehrle's flint and stone tools. The last mark is H1612, and is from Jim Hovan.
Condition: Super. Only thing that keeps piece from perfect is the poll end has bad symmetry. It is not damaged on the poll, and even appears to be faceted on purpose. I am calling this a celt, b/c both sides are evenly raised even though it is very thin. Bit is super and very sharp. Great polish.
Price: $100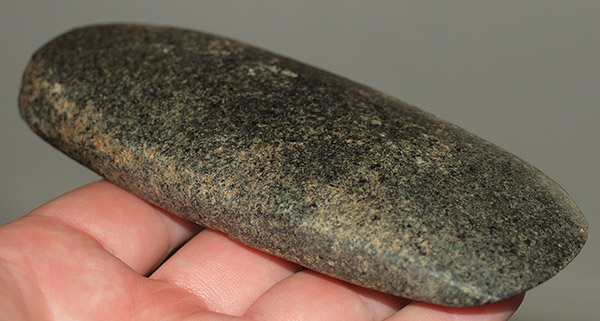 Limonite Celt with higher grade hematite bit - #9-9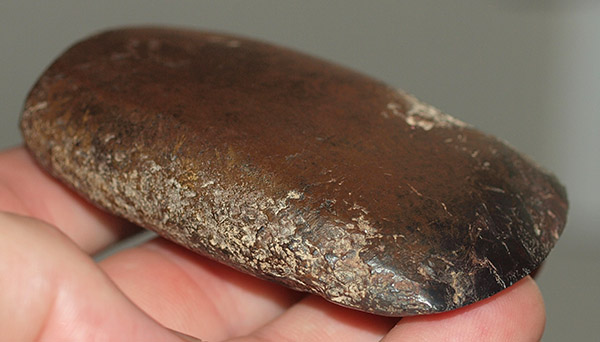 Size: 3 3/16" long x 1 7/8" wide.
Provenance: Illinois.
Condition: Excellent. This piece does not picture well, but shows great skill and smarts. The brownish end is limonite (low grade hematite). It is not particularly heavy, and shows large areas of pecking on the sides. However, the maker saw a higher grade hematite in the stone, and utilized the stone to make the bit out of the higher grade iron. The bit is perfect by my picky standards.
Price: $75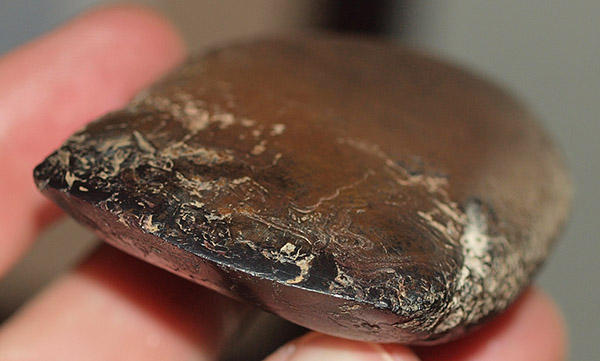 Celt or wide Chisel - #9-10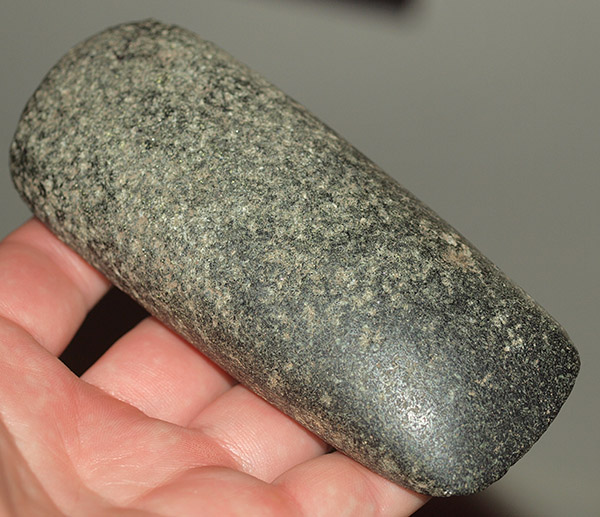 Size: 5" long x 2" wide
Provenance: Hamilton County, Ohio. Found by John Diehl, who was an original ASO member (1940's), President of the Cincinnati Historical Society, National President of the Covered Bridge Society, kept a journal for 80 years, a neighbor of mine. Mr. Diehl passed away at age 97 in 2015.
Condition: Excellent. Probably classed as a celt, but the overall look and feel are very chisel like. Is there a width where a tool cannot be considered a chisel? Super bit polish tapering to pecking.
Price: $SOLD> THANK YOU>
Small Kentucky Celt - #9-11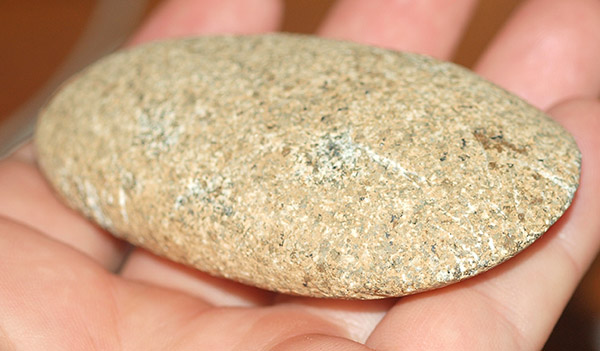 Size: 3 1/4" long x 1 5/8" wide.
Provenance: Found in Germantown, Kentucky.
Condition: Excellent. Few plow scrapes, polish is decent on bit, but not elsewhere. A bargain.
Price: $SOLD> THANK YOU>
Super Fine Celt - #9-12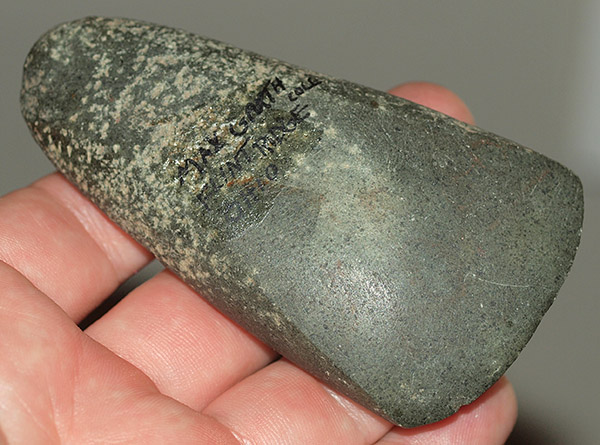 Size: 3 3/4" long x 2" wide.
Provenance: Found at Flint Ridge in Ohio. Max Garth Collection.
Condition: Super. This piece is finely made. Bit and sides are almost squared off. Polish is an 11 moving into pecking on the poll end. Very fine.
Price: $reserved.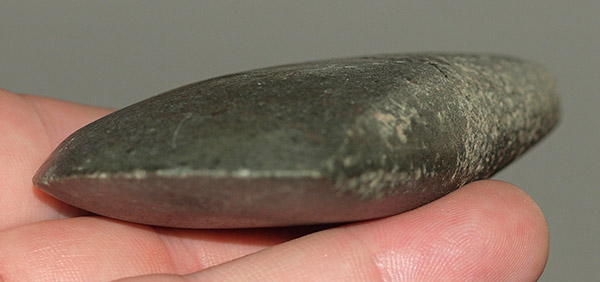 NOT FOR SALE SECTION:
I like artistry in slate.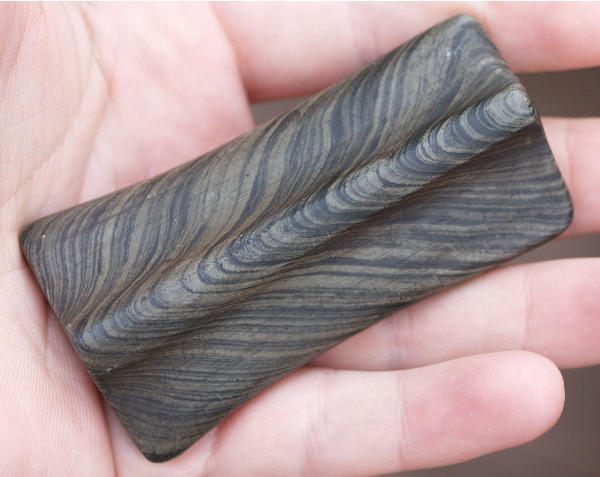 I like Porphyry.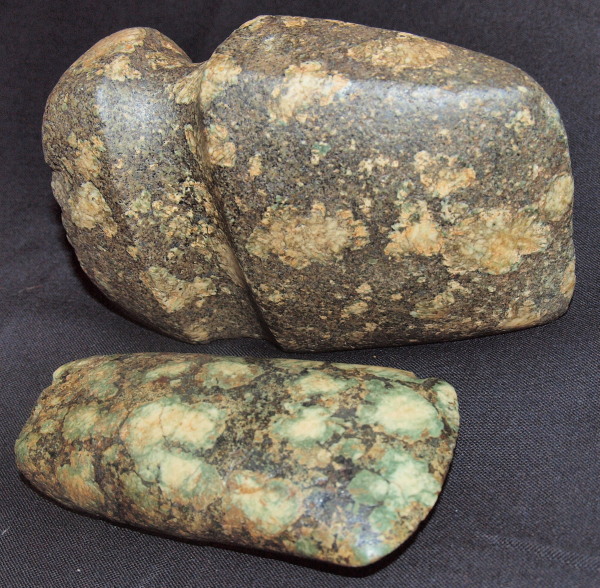 I like bullseye banding on slate: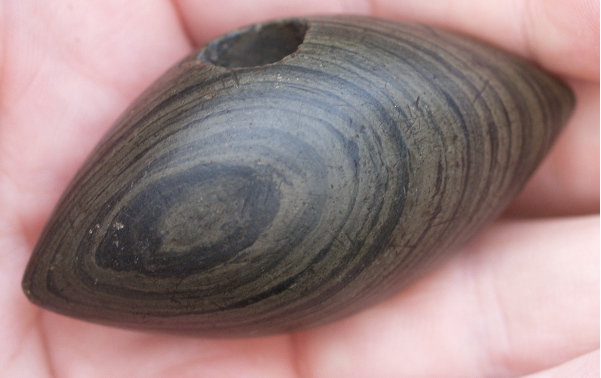 I like things I can't have: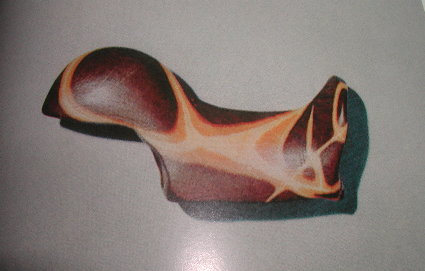 I like Flint Ridge Flint: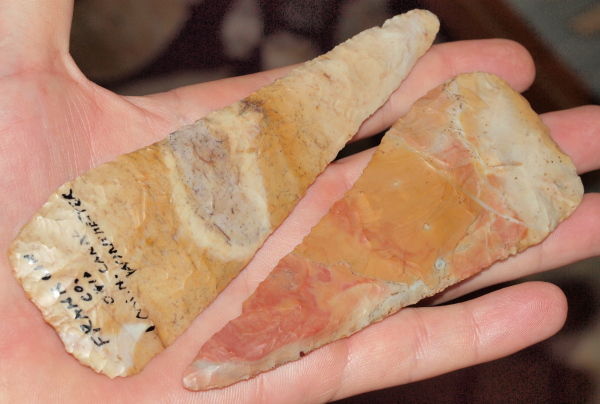 I like Bullseye patterns on flint pieces: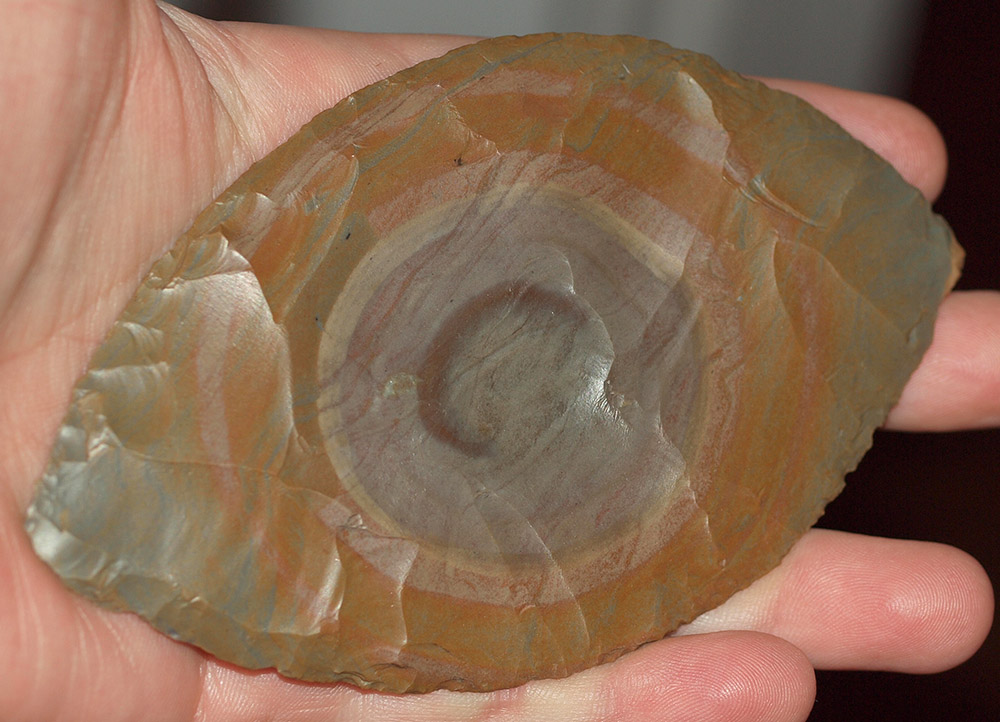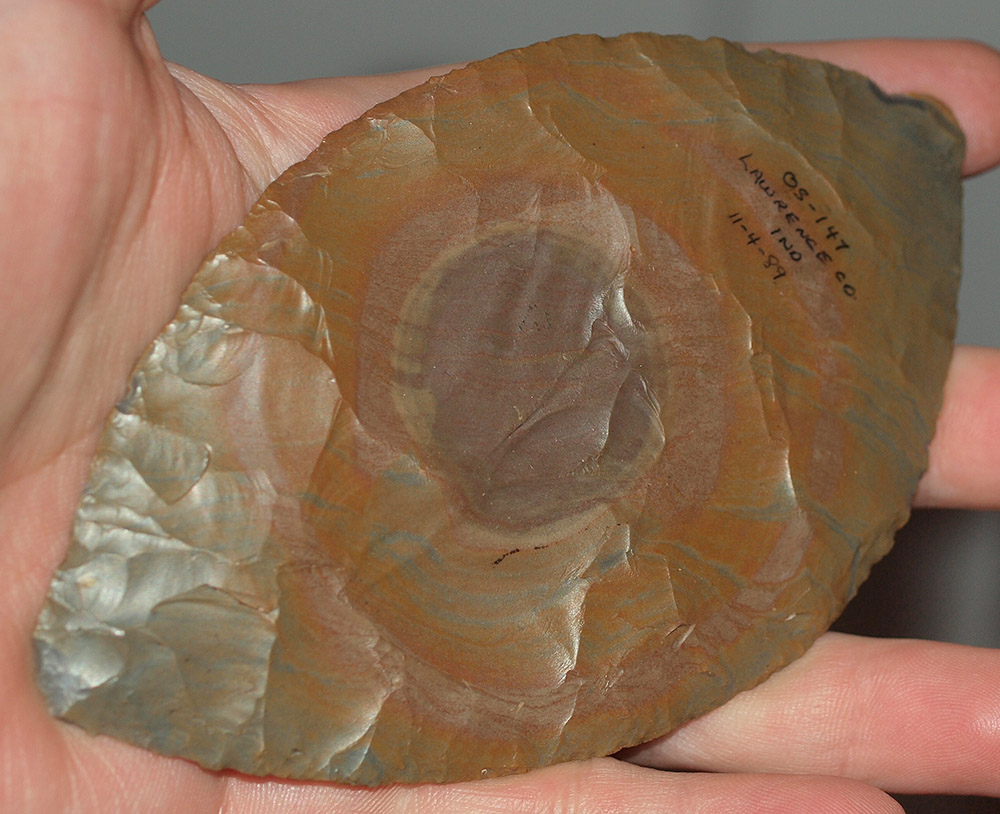 Jon Dickinson
Copyright 2004 (Dickinson Contract Marketing). All Rights Reserved.