Stone Tool Page
8/29/18
Porphyry 3/4 Groove Axe - #9-1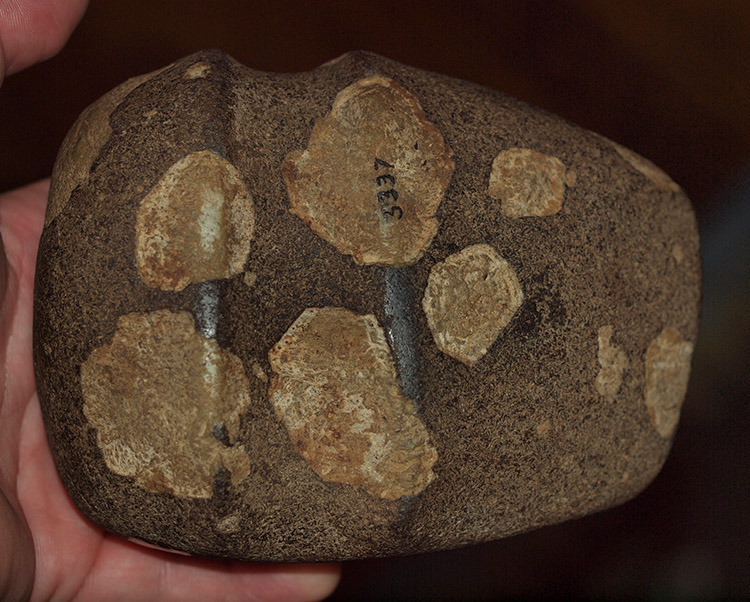 Size: 5 5/8" L x 4 1/8" T.
Provenance: Although I don't have a find location for the axe, it is safe to say Illinois/Indiana. Originally collected by Roland Bunch, Dr. T. Hugh Young, and Clem Caldwell. I have a photo of this axe in the Caldwell collection that the buyer will recieve.
Condition: Museum. This is special, and the best axe I have ever offered for sale on this website. Selling it out of my collection to keep another. Within the collecting heirarchy of material, porphyry is the undisputed king of axe materials. This axe is also very unique in the form of porphyry. Instead of the phenocrysts being raised above the host material, these are recessed into the stone. Axe is a good stander, and looks largerand weighs more than it's dimensions would dictate. There is a reason why this axe graced the finest collections of all time.
Price: $SOLD> THANK YOU>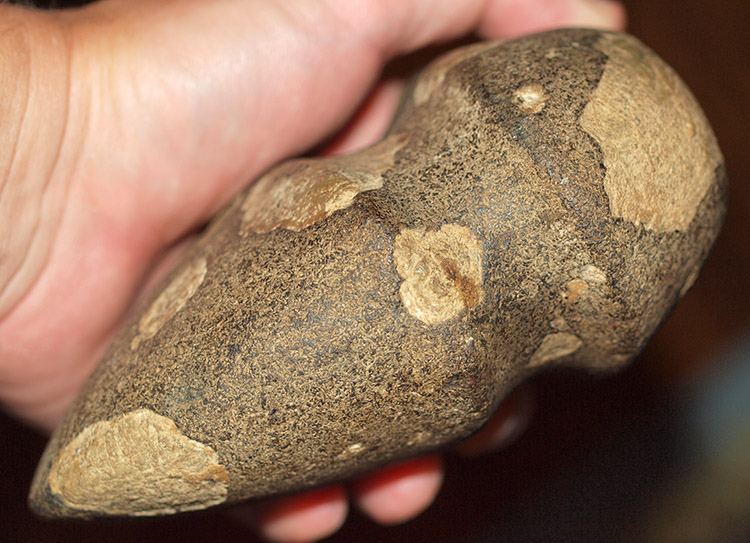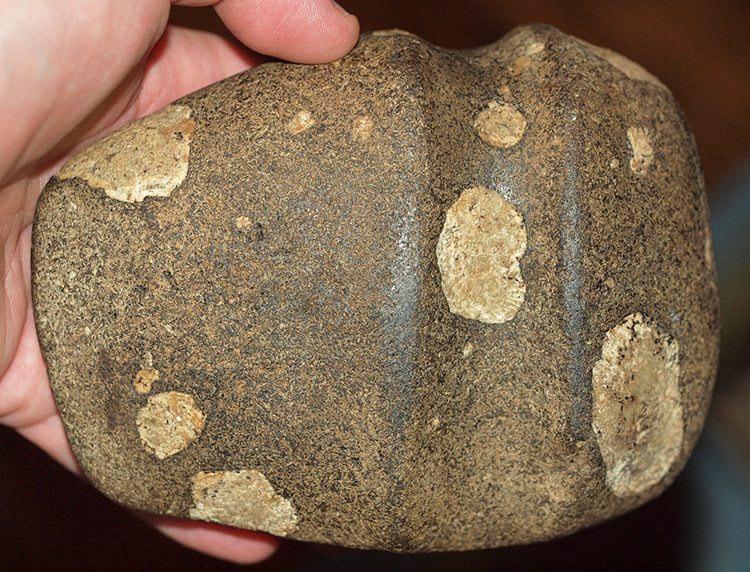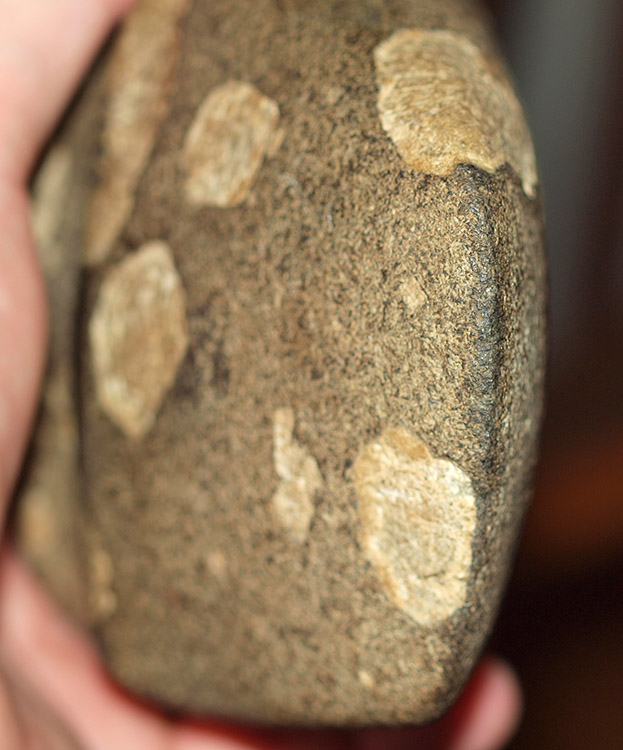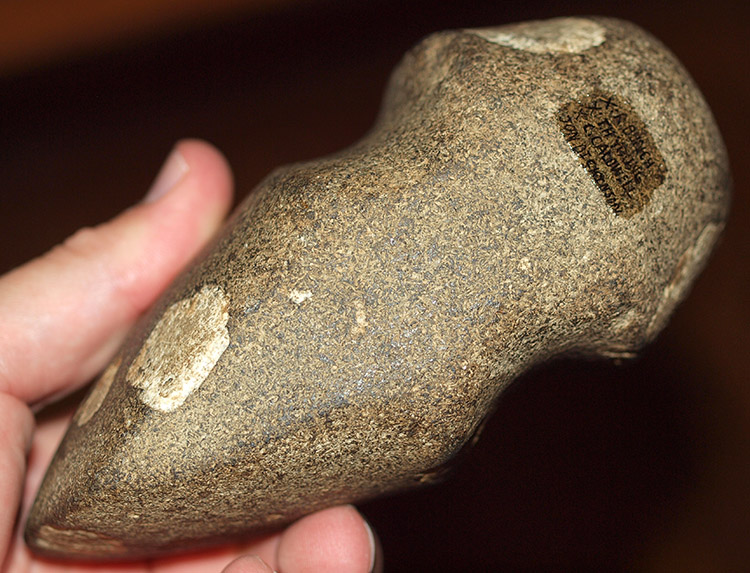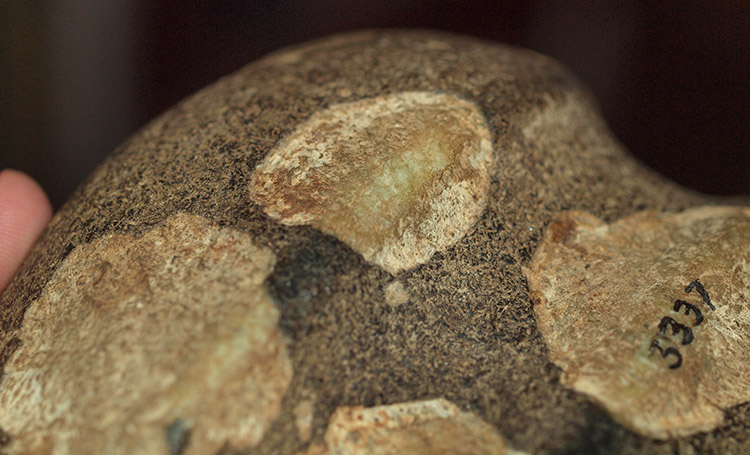 Improved Order of Red Man Ceremony Axe - #9-2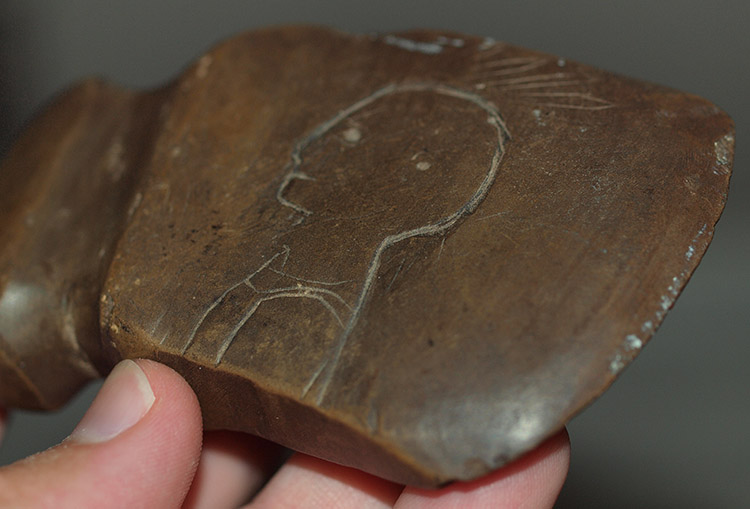 Size: 4 3/8" long x 2 1/2" wide.
Provenance: Piece was in the Cliff Bauer collection. No history.
Condition: Special. This is not a prehistoric axe. This axe was made for a ranking member of the "Improved Order of Red Men". This fraternal organization was founded in 1834, and claim direct lineage to the Son's of Liberty who dressed as Indians during the Boston Tea Party. I have seen wood and metal axes from this group with similar style, but never one made from stone. My guess is that this points to an early date within the organization. The manufacture was accomplished using a metal file that shows faceting across the faces of the piece. The underside of the axe shows a good amount of wear from movement in the haft. The most exciting feature is the wonderful folk art Indian carved into the face of the axe. While simple, the engraver was clearly skilled, and captures the form extremely well. Having some knowledge in folk art styles, I am fairly confident the art work points to pre Civil War work. This is a unique item, and a personal favorite for the last 5 years.
Price: $150
Ohio "Poll" Axe - #9-3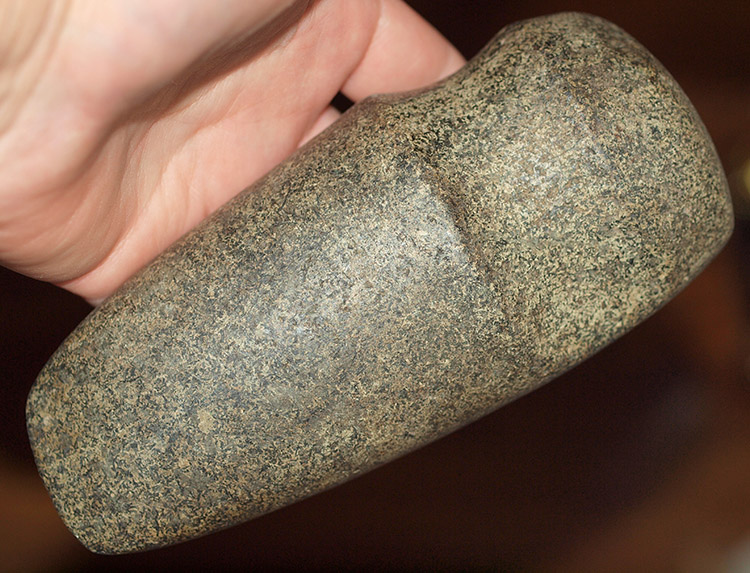 Size: 6 1/2" long x 2" wide x 2 3/4" tall
Provenance: Found North of Upper Sandusky, Ohio. I can't say for sure, but the writing (which is almost gone) looks like the Ed Payne collection writing. From my personal collection.
Condition: Perfect. Without flaw that I can find. Everything about this piece says old find, old collection, which leads me to believe the Payne connection. Bob Converse calls the poll axe in Ohio Stone Tools "one of the rarest in Ohio." Material is outstanding with a high overall polish. Something very interesting that I have noticed looking at this piece on shelf over the last several years is that it almost appears to have a blue coloration.
Price: $650 - Reserved.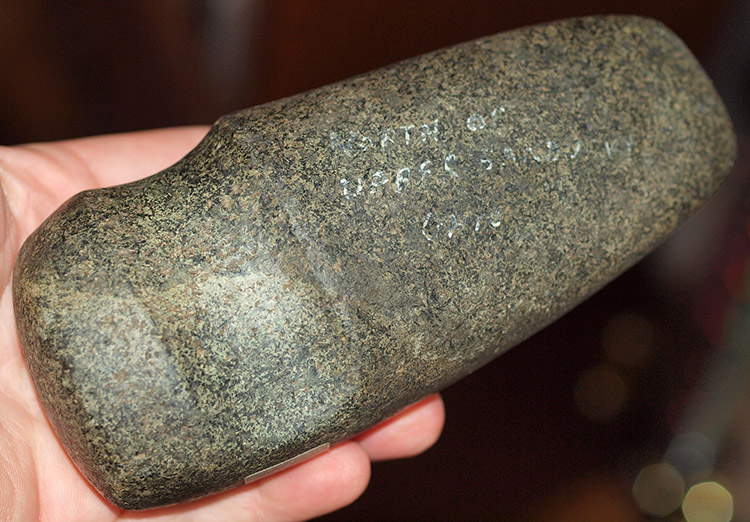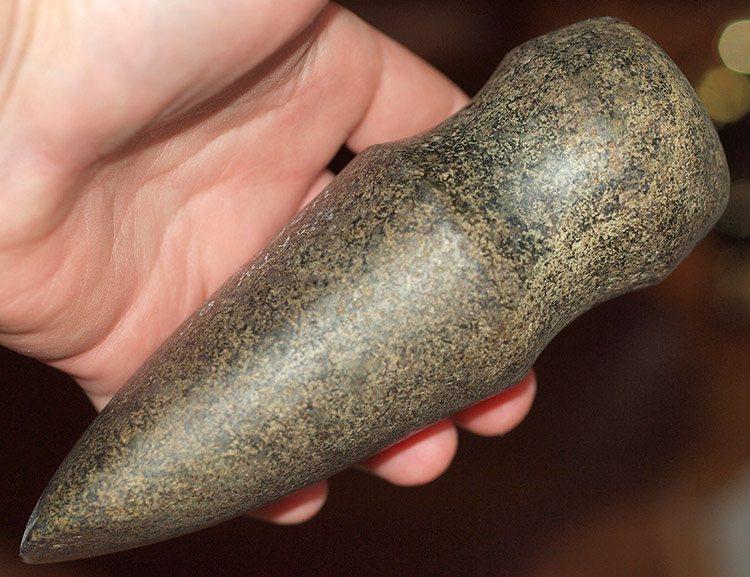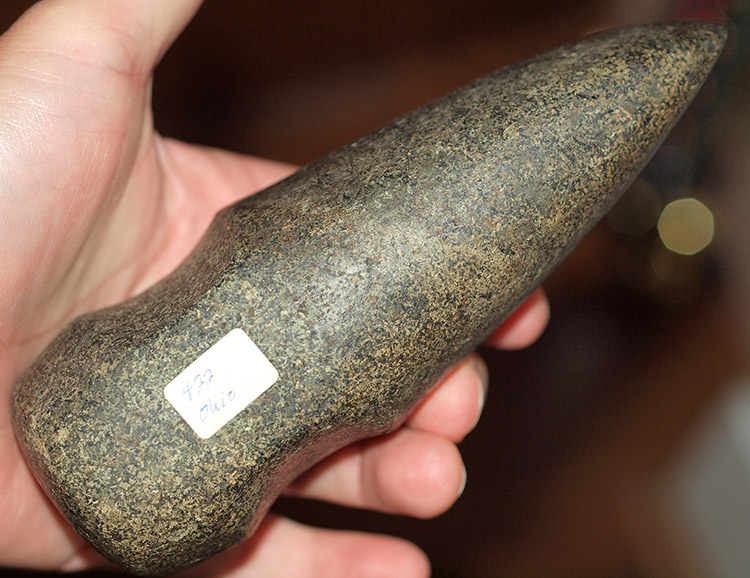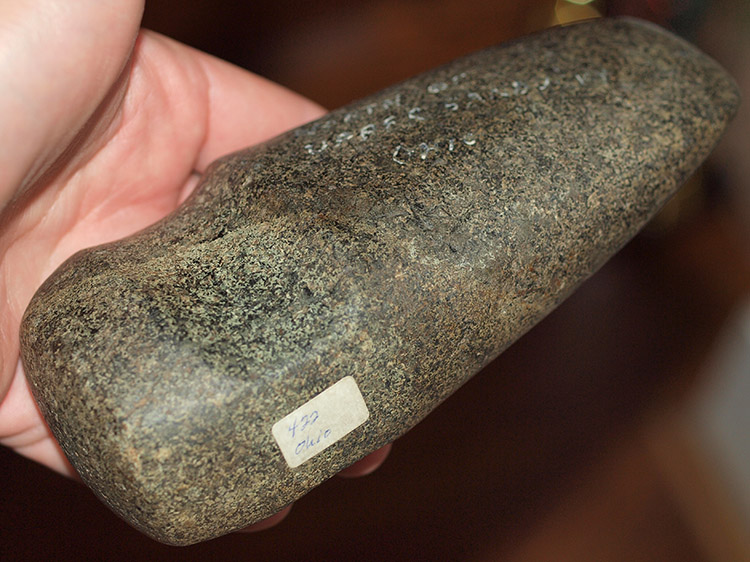 Lamoka Beveled Adze - #9-4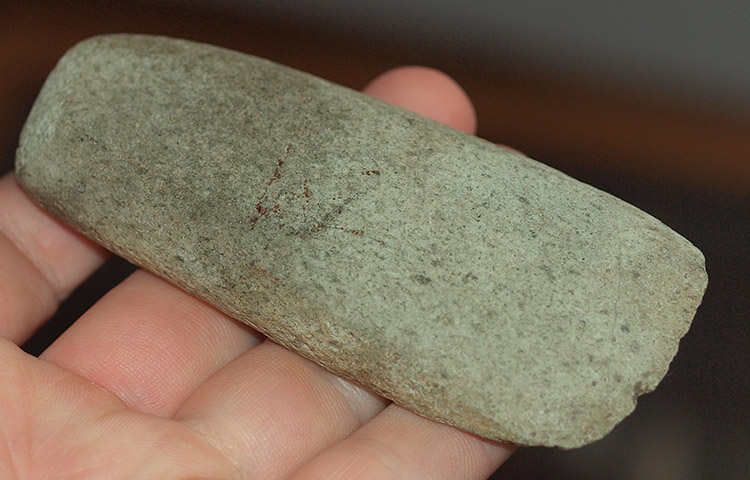 Size: 4 1/8" L x 1 3/4" W.
Provenance: North East.
Condition: Excellent. There is a bit nick, and overall the bit is not particularly sharp. I count 6 facets, and tried to capture them in the shadow picture. Nice light green material that I cannot identify.
Price: $50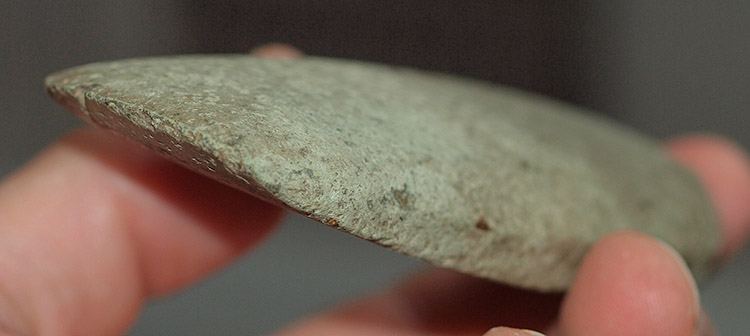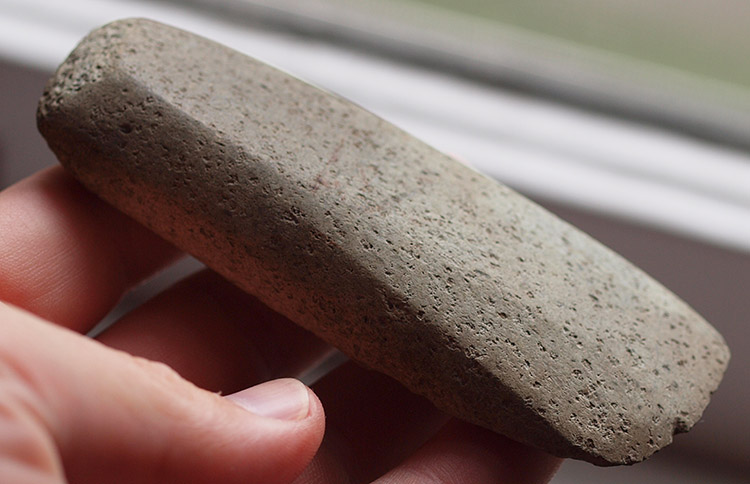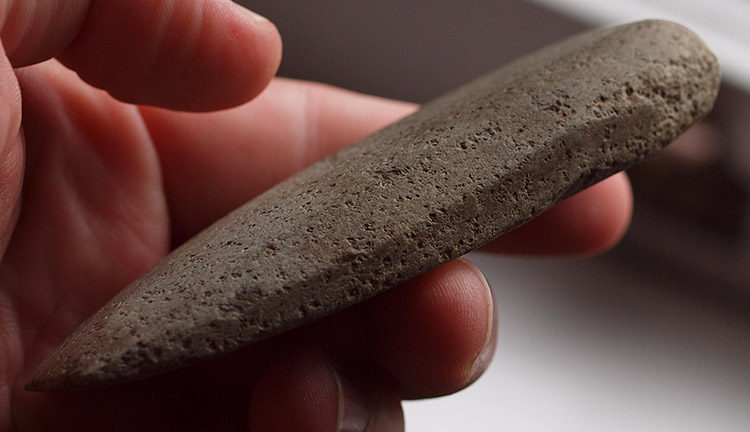 Celt - #9-5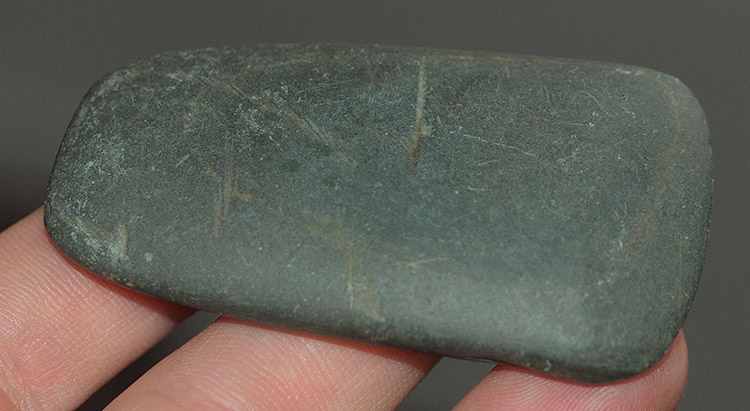 Size: 2 3/4" long x 1 1/2" wide.
Provenance: Found in Ohio.
Condition: Super. Superior and almost perfect bit. Great overall polish. Small size is nice.
Price: $40. Reserved.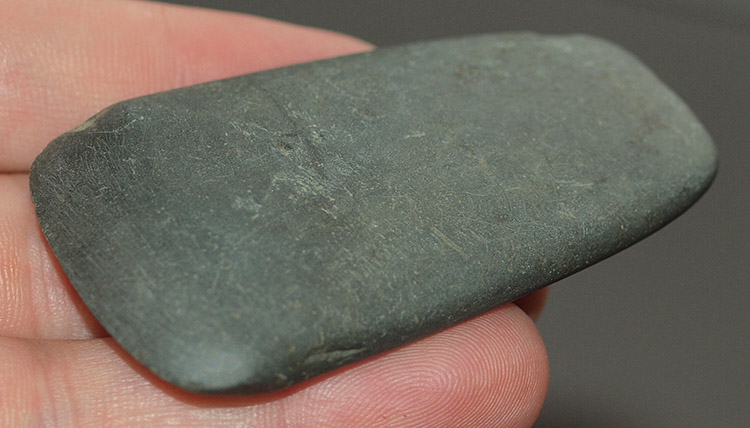 Top Shelf Adze- #9-6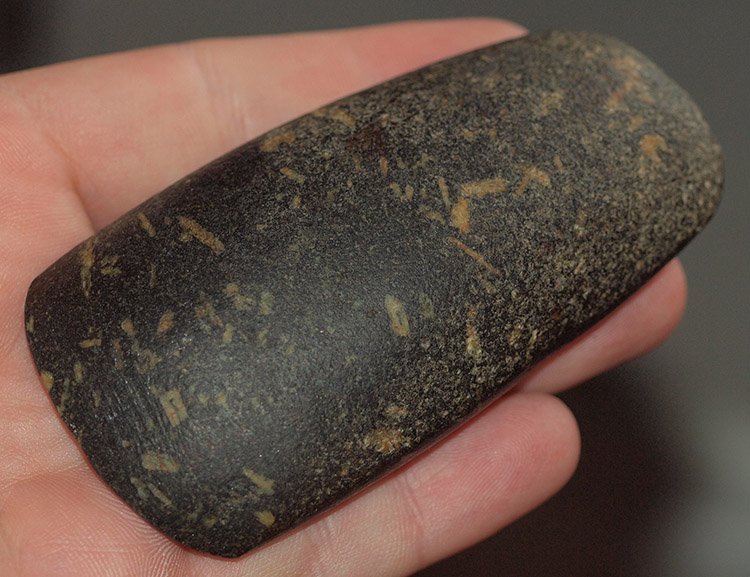 Size: 3 7/8" long x 1 15/16" wide.
Provenance: I have no idea, and it is really bothering me. At one point, I did know. Anyone recognize the C-84 tag? Must have been a big collection to have at least 84 celts.
Condition: Super. Bit isn't quite perfect. Very picky not to call it perfect. Material is superior, and ranks an 11. I think the base is diorite with porphyritic orange and light green inclusions. There is a chance this piece was lost during a re-sharpening, b/c there is wear that runs parallel to the bit. A great piece of stone.
Price: $150 - Reserved.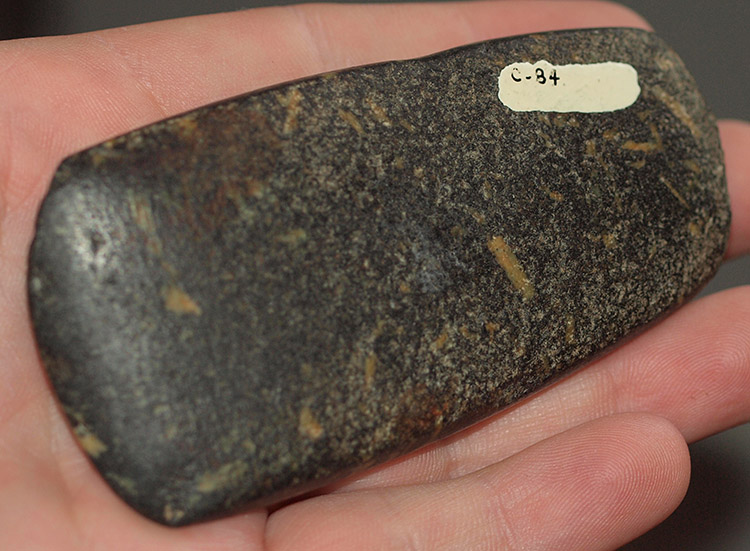 Pestle - #9-7
Size: 3" tall x 2 7/8" wide.
Provenance: Found in Ohio.
Condition: Excellent. Good shape, polish, and a nice dimple on the bottom. Stands well.
Price: $SOLD> THANK YOU>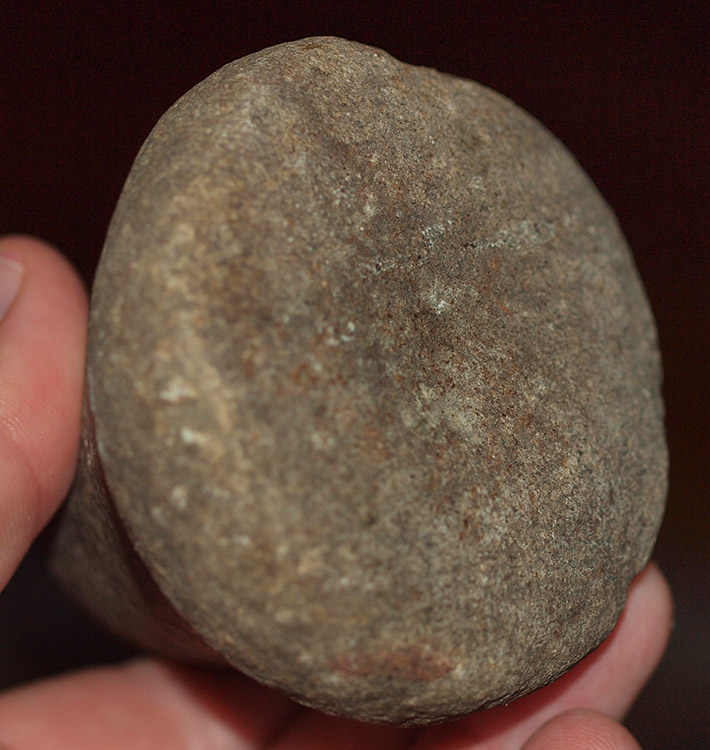 Side Grooved Adze- #9-8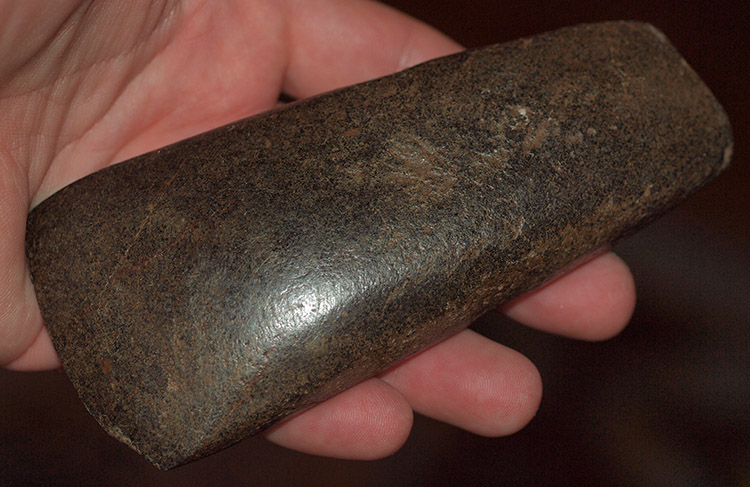 Size: 5 7/16" tall x 2 3/8" wide.
Provenance: Story is that piece was found with an axe in Allegheny County, PA. I can believe that an axe and this adze were found in the same general area, but they would not be found in context with each other.
Condition: Excellent. There is a 3/8" ding on one side of the bit. First picture below is other side of bit. Bottom picture shows the damage. Note how the piece is grooved only on the sides. I have owned 3 of these tools over the years. The last one I had was a museum quality example. This one is not of that calibre, but it is still a great piece. There is a coating applied to the piece that I did not try to remove.
Price: $75 - Reserved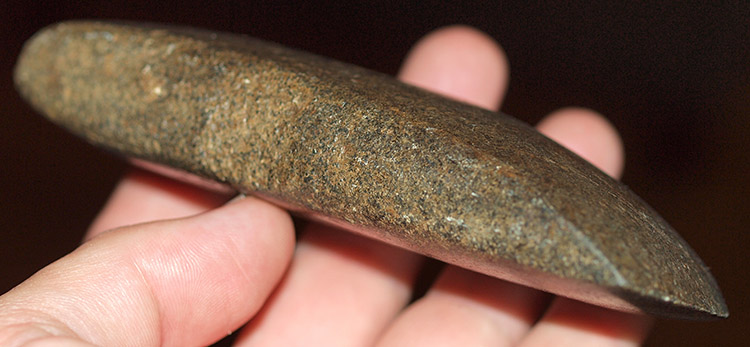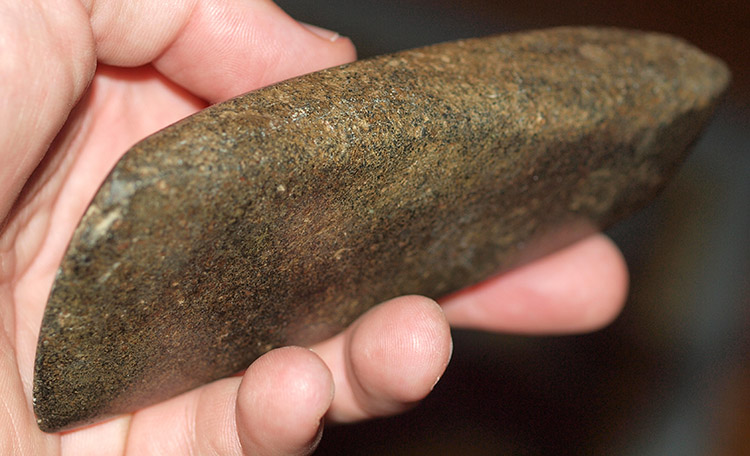 Trophy Like Axe - #9-9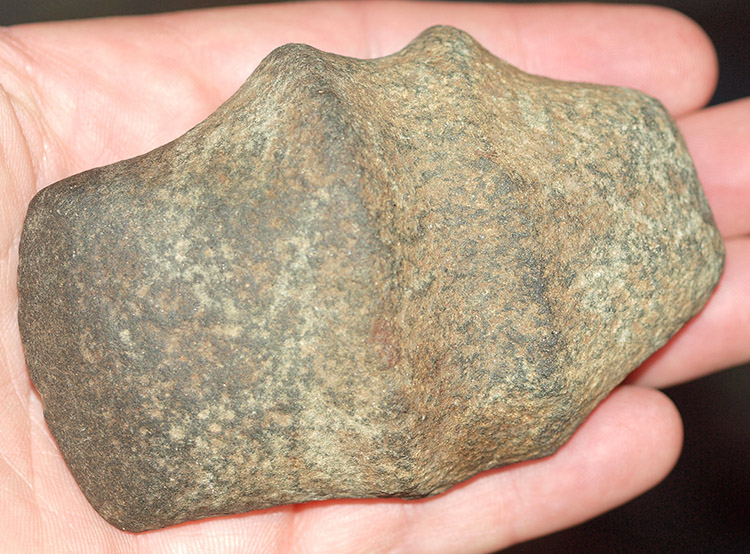 Size: 4" long x 2 5/8" wide.
Provenance: Unknown. I purchased from Mitch Lewis, who purchased from Rocky Hall the day he bought the collection it was in.
Condition: Excellent. Call it 7/8 groove. Poll is very much trophy like. Interesting twist between bit and poll. Bit is used, and shows the process of resharpening and polishing.
Price: $250 - Reserved.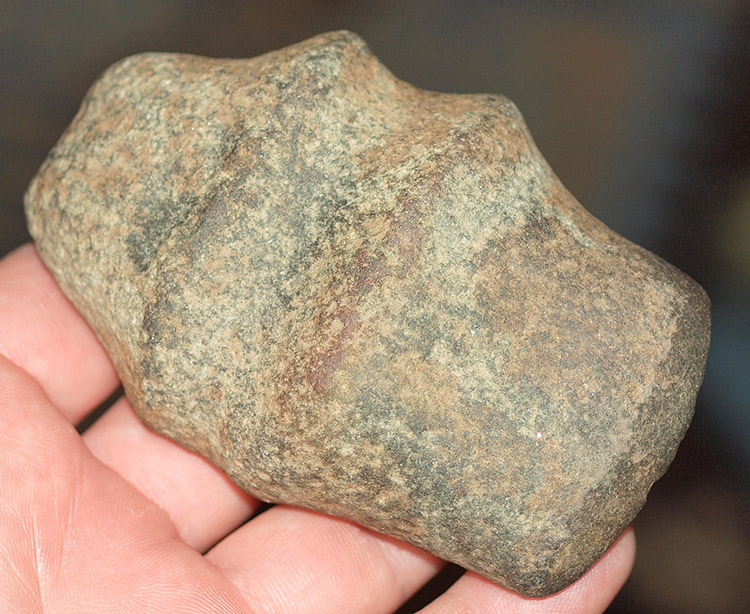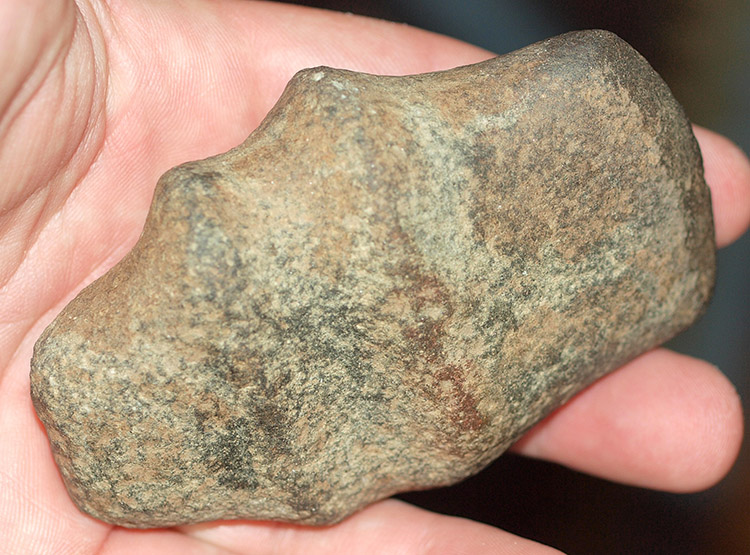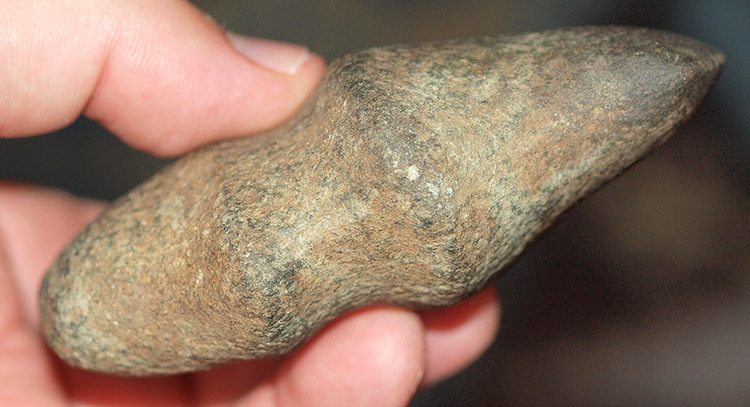 3/4 Grooved Hammerstone - #9-10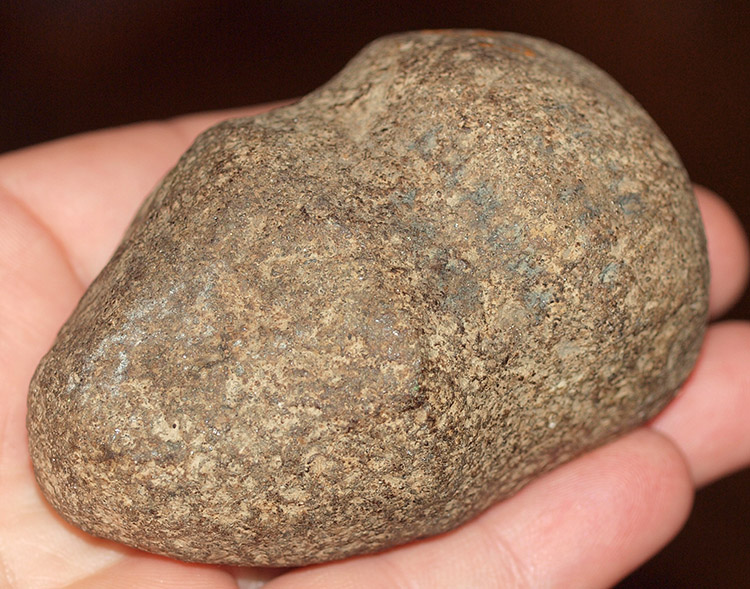 Size: 3 3/8" long x 2" wide
Provenance: Exact find locaton unknown. It is surely from Western Ohio, where 95% of these come from. There is old writing on the piece, but it is faded away beyond my ability to read it.
Condition: Good. A well used and staple tool in the Ohio Archaic tool kit.
Price: $SOLD> THANK YOU>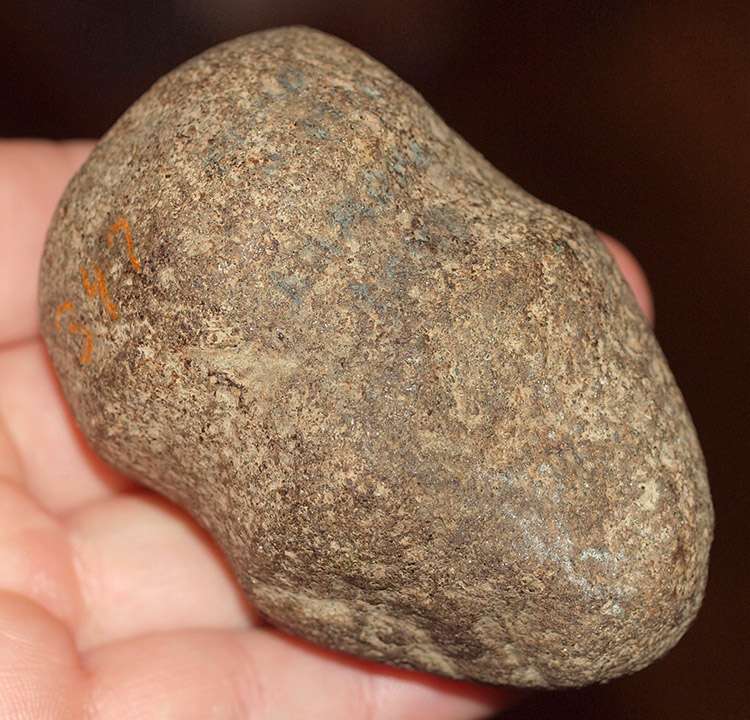 Adze - #9-11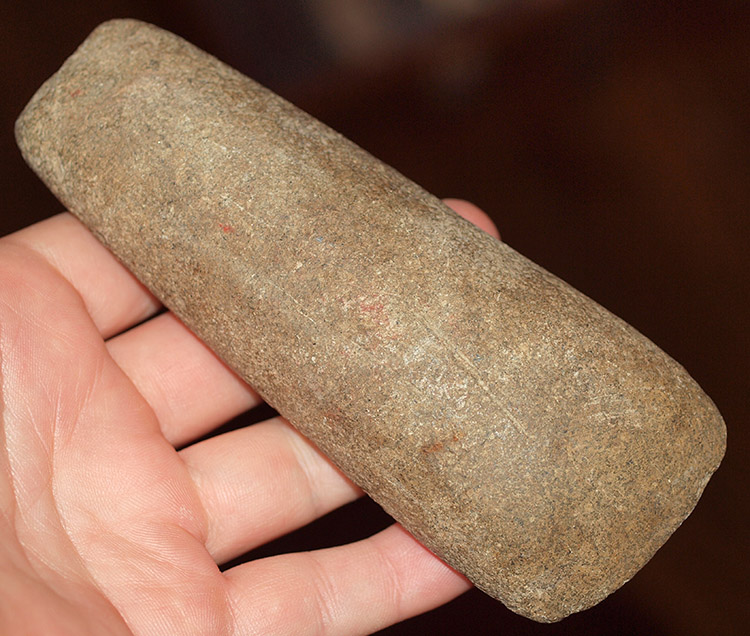 Size: 5 5/8" long x 2 1/8" wide.
Provenance: Ohio. X: Sedgwick.
Condition: Excellent. Well made with great polish from bit to about 1/3 up the piece. Remainder of piece has decent polish. Bit is nice, with one small chip on it. Would rate the bit as a high 7 of 10. Nice size for tool shape.
Price: $SOLD> THANK YOU>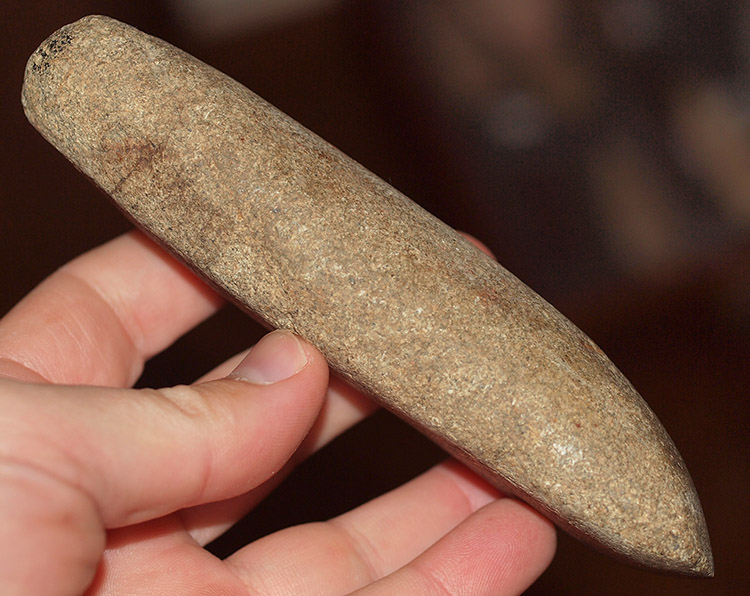 Two Iron Axes - #9-12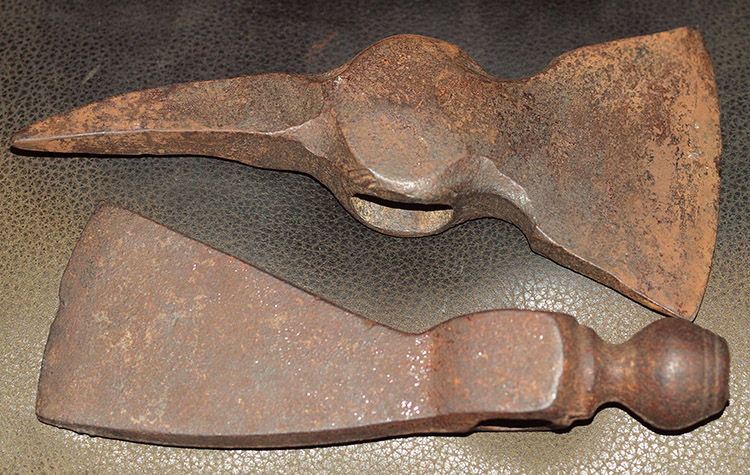 Size: Top piece is just under 7" long x 2 1/2" wide.
Provenance: Unknown.
Condition: Super. Neither piece exhibits damage. Let me be clear: I have no idea about these pieces as to age, and make no assertions. In fact, consider them as being made yesterday. As a guess, I would say the top example is older, b/c the bottom example has a seam running across it.
Price: $SOLD> THANK YOU>
Trophy Poll Axe - #9-13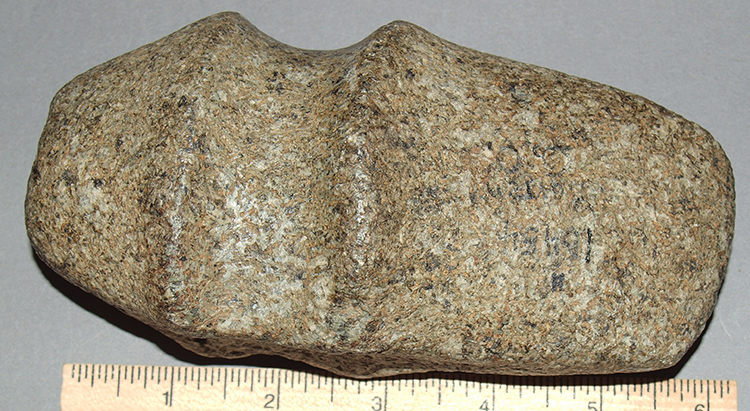 Size: 6 1/2" L x 3 1/4" tall
Provenance: Found in Warren County, Ohio. From and labeled #15454 in the old F.P. Hill collection Delaware, Ohio. Also, in the A.T. Wehrle collection. Cliff Bauer purchased axe at Wehrle estate Sale on 4/11/1956. Catalog page included.
Condition: Super. Made from a very unique speckled hardstone. I do not think this axe is a true Ohio Trophy Axe, although in today's collecting world, it will be called one down the line. It does have a trophy axe's poll style, which is how I describe the axe. "Trophy Poll". Hard to get a better lineage on an axe, and a true Ohio top shelf piece of hardstone.
Price: $SOLD> THANK YOU>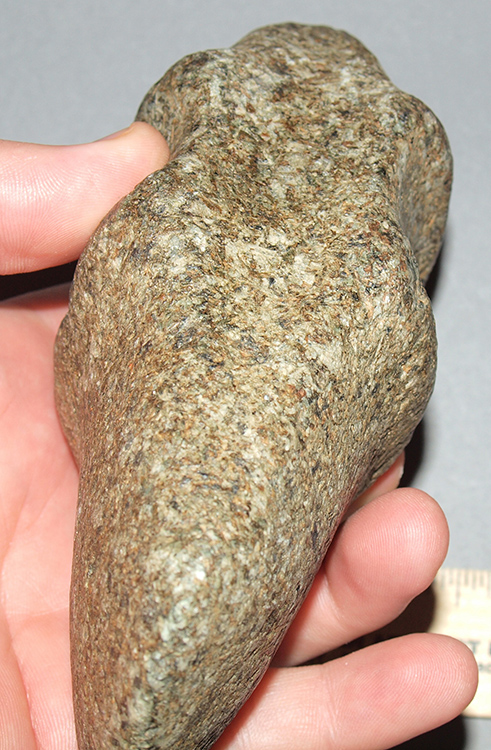 NOT FOR SALE SECTION:
I like artistry in slate.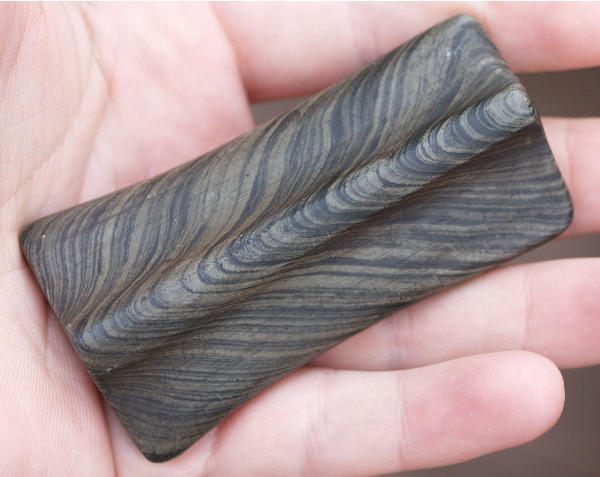 I like Porphyry.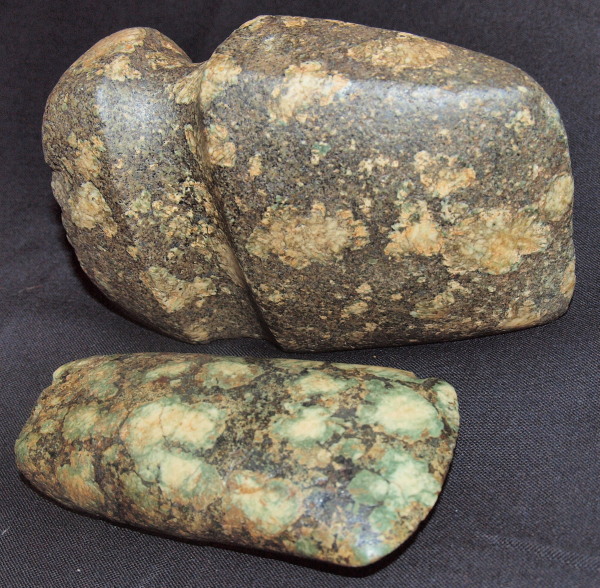 I like bullseye banding on slate: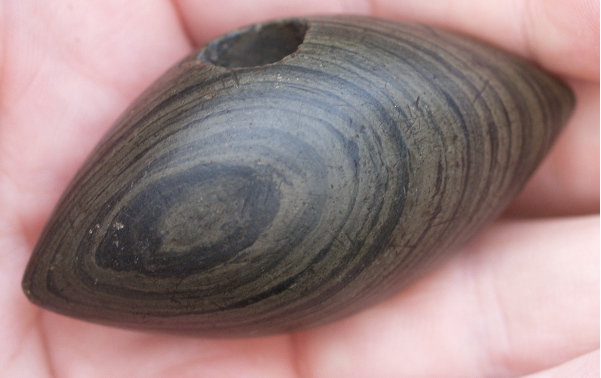 I like things I can't have: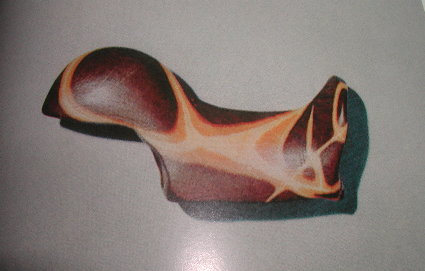 I like Flint Ridge Flint: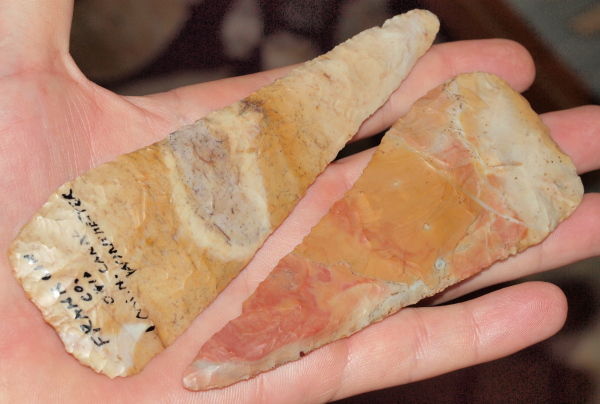 I like Bullseye patterns on flint pieces: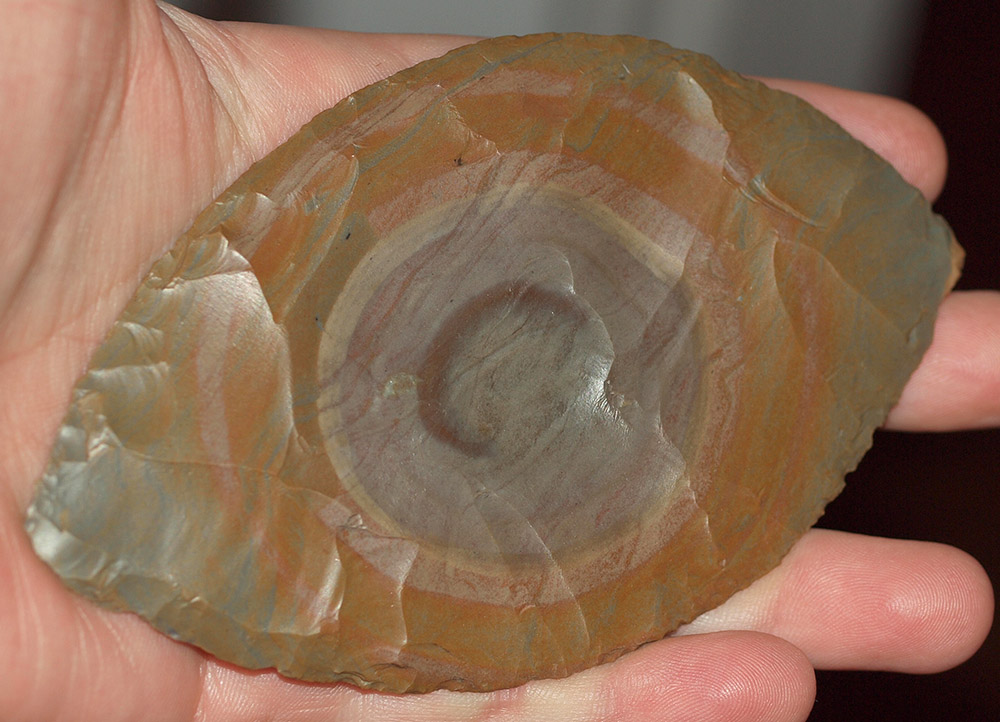 I like Hematite Axes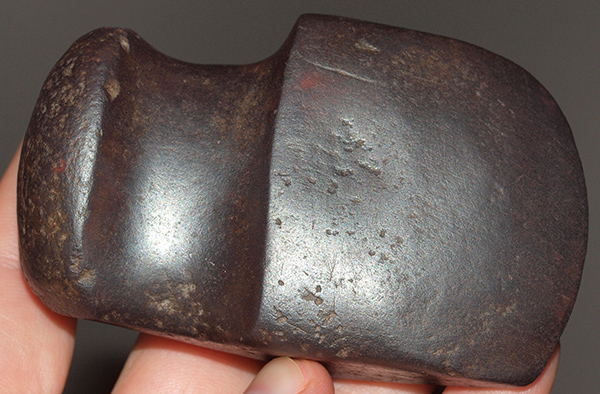 Jon Dickinson
Copyright 2004 (Dickinson Contract Marketing). All Rights Reserved.