8/2/17
Group Lot Page
38 Piece Cache - #7-1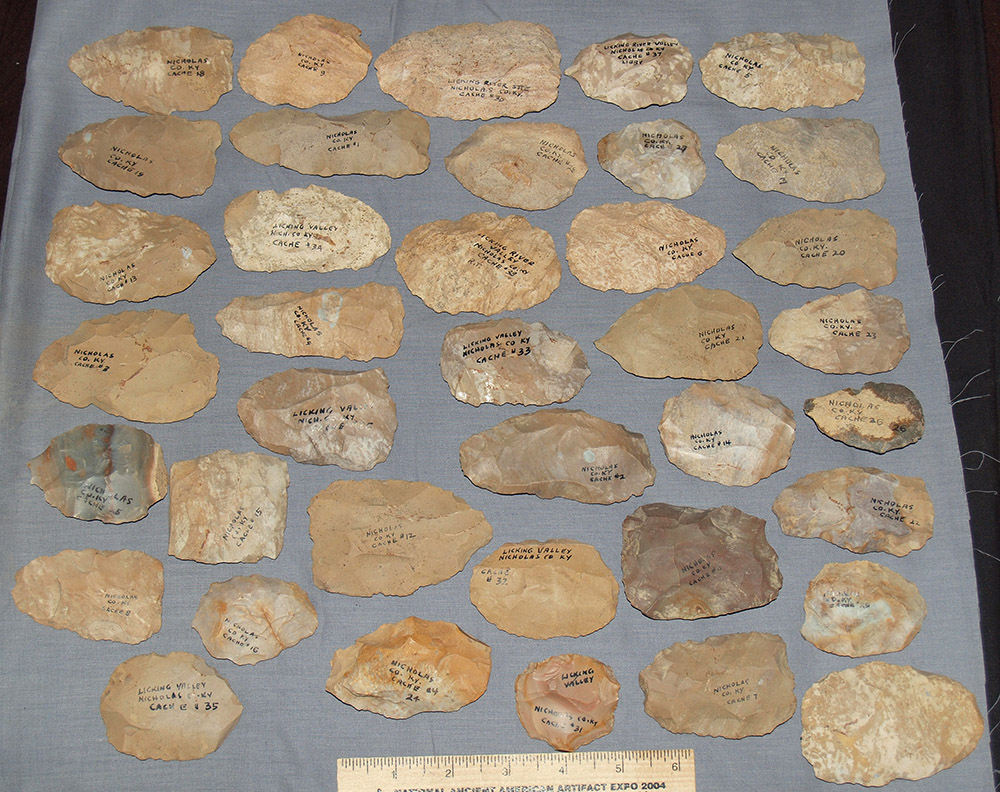 Size: Pieces average in the 2-3" range. Refer to scale, or ask me questions about individual sizes
Provenance: Found in the Licking River Valley, Nicholas County, Kentucky. All the blades are labeled with find location and a number except for piece in lower right. It was with cache when I received it. I have owned this cache for at least 10 years.
Condition: Good. These blades are all preforms, and I really don't even want to guess as to their cultural affiliation. Many show unifacial characteristics. All found together in a cache. This cache is very nice for many reasons, but my favorite aspect is that a wide diversity of materials are represented. The majority material is Fort Payne, and you can match multiple pieces to the same piece of flint. Represented also in the cache is Sonora, Carter Cave, Boyles, and Breathitt. Throw in a few unidentified local cherts, and you have something very special. It is very unusual for a cache to contain so many different materials, and this group is direct evidence of extensive trade routes in prehistory. For one prehistoric flint knapper to have access to so many different materials from such a large geographic area, is important to archaeologically. Someone needs to write this up for a journal. Time to let it go.
Price: $SOLD> THANK YOU>
North Carolina Collection - 28 Pieces - #7-2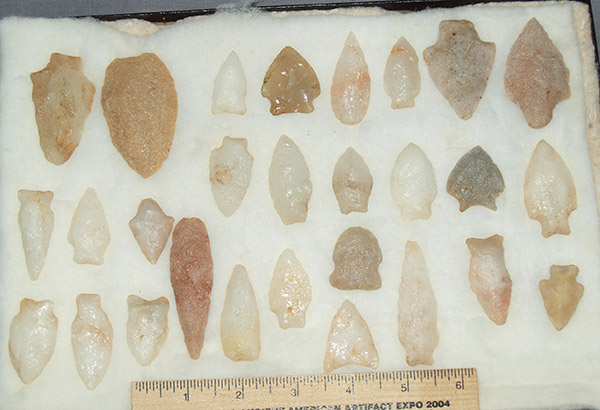 Size: Upper Left is 2 1/4" Long.
Provenance: Came with a collection that included a decent number of North Carolina pieces. I can't guarantee find location is correct.
Condition: Excellent. Collection with a single purchase. Note a couple that look Paleo, and the great little Hardaway.
Price: $150
Watt's Cave Collection Found By Ernie and Dorothy Good - #7-3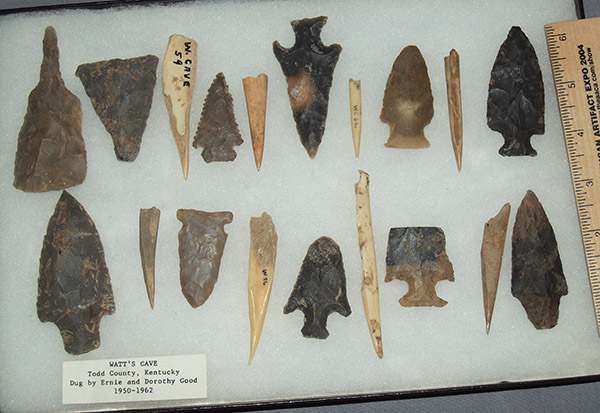 Size: Drill in Upper left is 3 1/4" long.
Provenance: These were all found by noted Ohio old timers Ernie and Dorothy Good. Watt's Cave is located in Todd County, Kentucky, and these finds were made 1950-1962. Watt's Cave is heavily documented, and I am almost sure the drill is pictured in a 1950's Ohio Arch. There is a good chance multiple pieces in the frame are pictured.
Condition: Historic. This is a great group with perfect provenance.
Price: $300
Group of South Eastern Triangles - I think 52 total - #7-4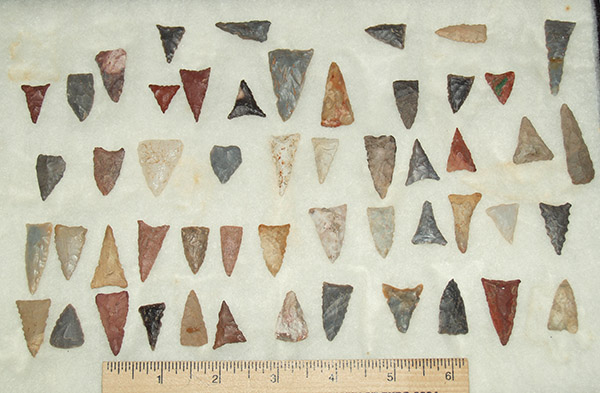 Size: These guys are small. Mostly in the 1" range.
Provenance: Southern states. Mostly Alabama, Mississippi, Tennessee. I don't have find locations, just the general area.
Condition: Excellent. Many great examples. A collection with one purchase.
Price: $SOLD> THANK YOU>
Lafayette County, Indiana Cache - 40 Pieces - #7-5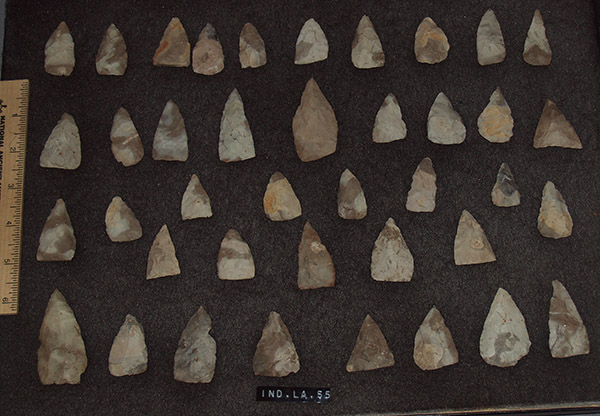 Size: Most all are at or under 2"
Provenance: This is a cache found in Lafayette County, Indiana.
Condition: Excellent. Another strong grouping all found together. Single flint source cache, maybe all from a couple nodules.
Price: $SOLD> THANK YOU>
8 Piece group from the Verba Collection - #7-6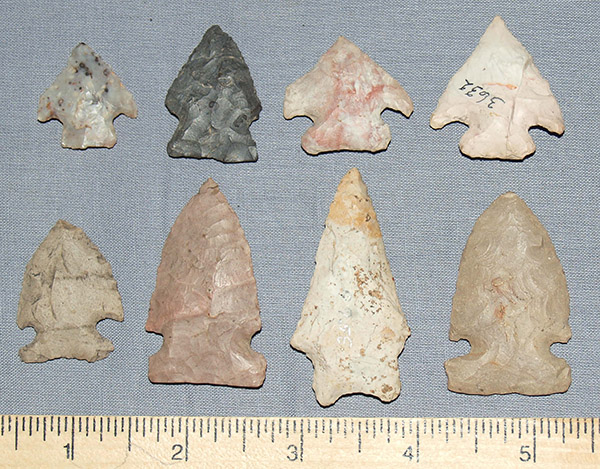 Size: Bottom Right Big Sandy is 1 7/8"
Provenance: All Ohio. Many are labeled on the backsides.
Condition: All are at least Excellent. This is a very nice grouping.
Price: $75
19 Kentucky points - #7-7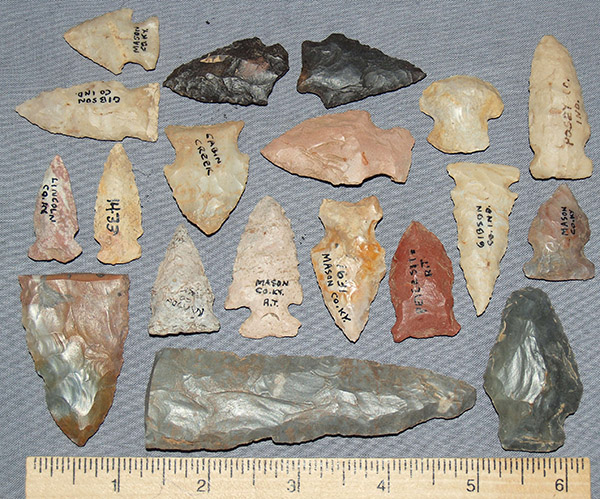 Size: Long broken piece bottom center is 3 3/4" long.
Provenance: All Kentucky. Many are labeled.
Condition: Varies. Some have glue on the back.
Price: $60
Intrusive Mound - 15 points - #7-8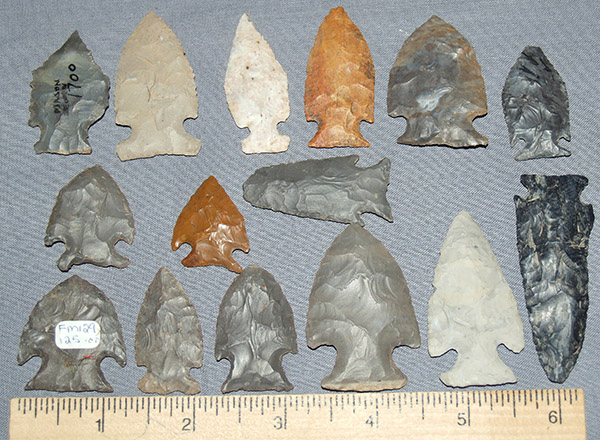 Size: Lower Right is 2 7/16" Long.
Provenance: If not labeled, I don't have the find location. Ohio and Kentucky centered.
Condition: Super Group! Don't think twice. It will be gone.
Price: $250
8 piece group - Southern Kentucky - #7-9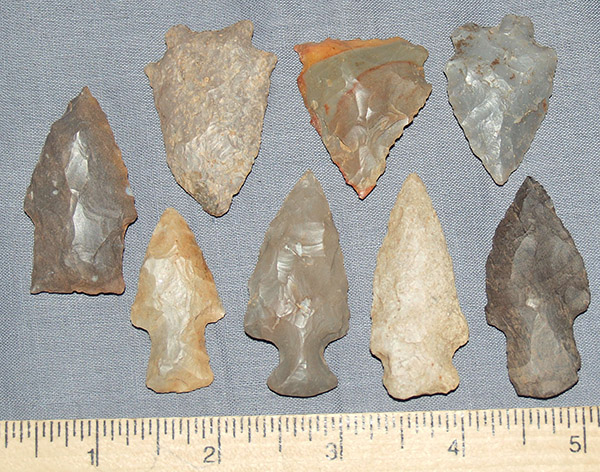 Size: Far Left is 1 13/16" long.
Provenance: Southern Kentucky finds.
Condition: Varies. A good deal.
Price: $30
Jon Dickinson
Copyright 2004 (Dickinson Contract Marketing). All Rights Reserved.