Slate, Stone, Bone Page

8/2/17
Killer Hematite Cone - #3-1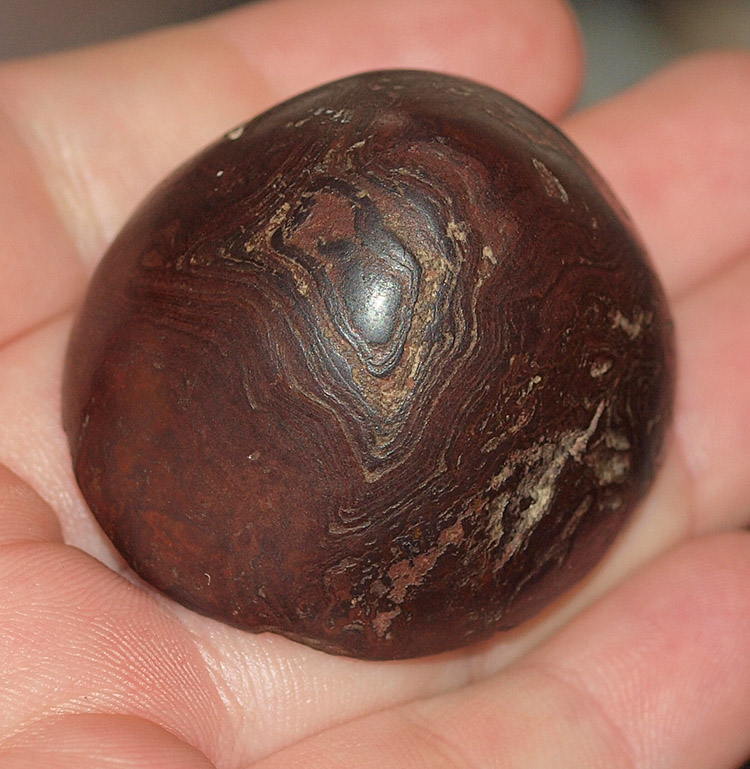 Size: Slightly oval shaped. 2" diameter at widest and 1 3/4" diameter at thinnest. 1 3/16" tall. I have handled many hematite plummets, and this one is very large and heavy for the type.
Provenance: Ohio. Phil Keintz.
Condition: Super. Some extremely minor nicks. Edges are highly refined. The special feature is the swirled pattern within the hematite. Not only a rare natural feature, but also artistically pleasing. I consider this a top shelf hematite cone.
Price: $250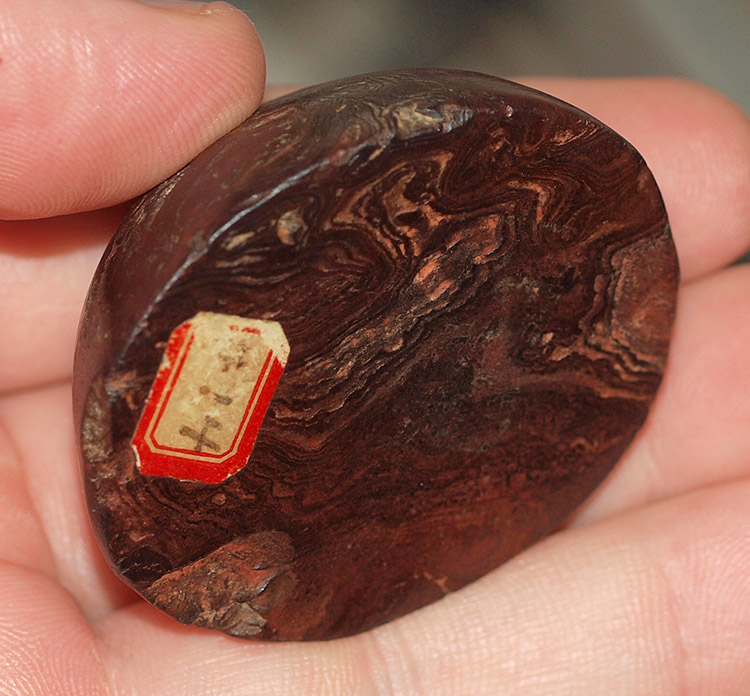 Caddo Pipe - #3-2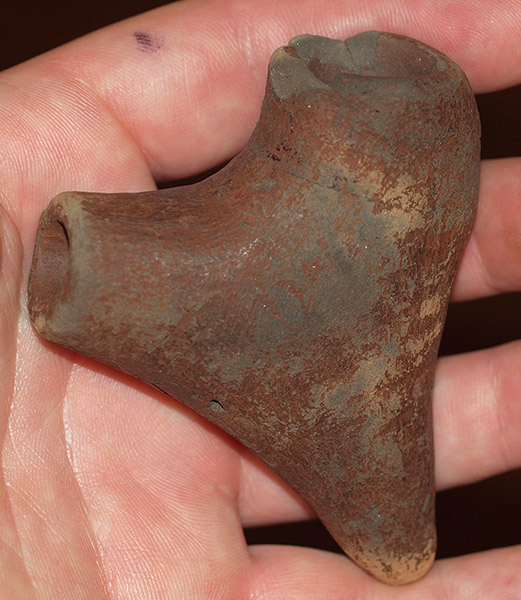 Size: 3 1/4" long x 2 1/2" wide.
Provenance: I purchased this pipe at the Jim Hawks auction held by Ron Helman. It came in a grouping listed as Caddo Pipes. I lost this pipe in a drawer, and just recently found it again.
Condition: Good. There is a piece that is broken and glued back on. I would estimate the piece as the size of a half dollar. Shouldn't be any doubt if it is old from the pics.
Price: $SOLD< THANK YOU>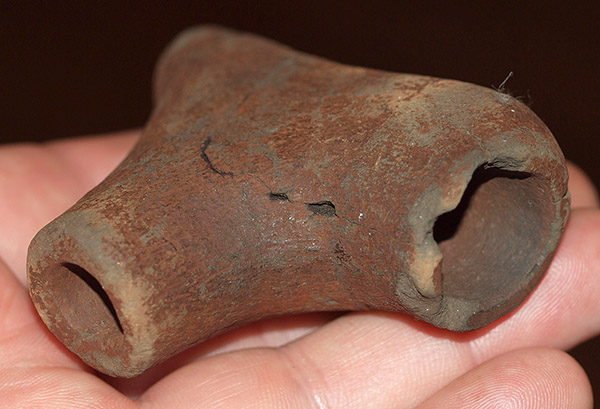 Beautiful and Thin Red Slate Gorget- #3-3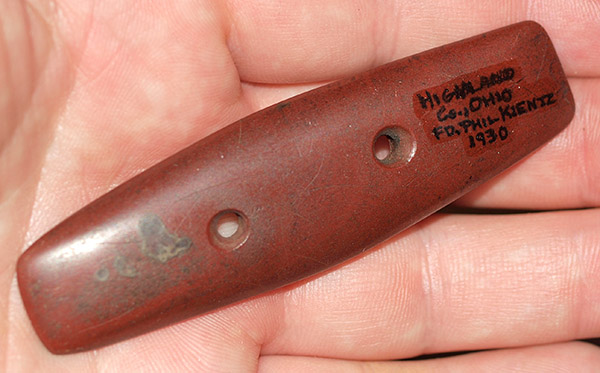 Size: 3 5/16" long x 15/16" wide x 3/16" at thickest. Super thin!
Provenance: Found in Highland County, Ohio by Phil Keintz in 1930. I cannot verify this label, but it does make sense for time, person, and area. Phil Keintz was an original member of Ohio Arch, and still considered one of the collecting communities finest gentlemen collectors.
Condition: Perfect. Material is high grade blood red and black banded slate. Material was able to be polished to a high sheen, which makes me wonder if the stone isn't close to what we class as ferruginous slate. Bi-conical drilling that shows a very interesting wear pattern in the holes. The underside holes show wear towards each other, and the top holes show wear away from each other. I consider this interesting, and consistent with wear patterns I have studied on authentic slate. Almost forgot that this is about as thin as you will ever see a gorget.
Price: $SOLD< THANK YOU>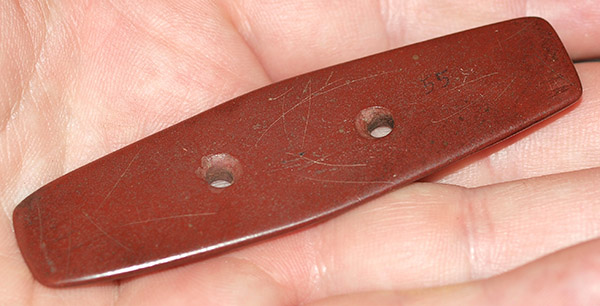 Documented Site Shell Gorget - #3-4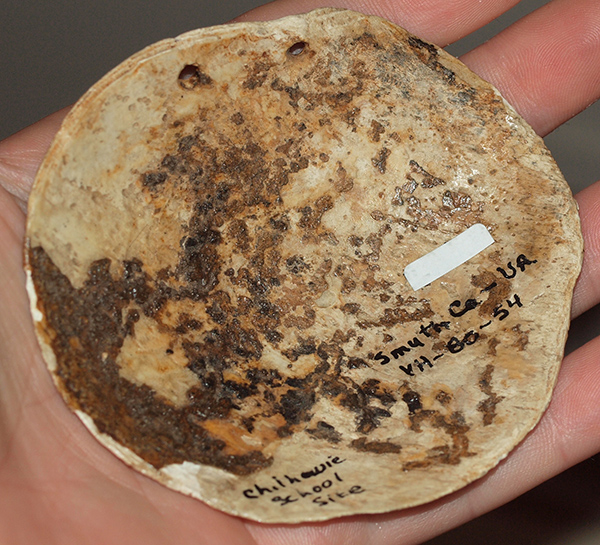 Size: Circular with a max width of 3 3/4" and min width of 3 1/4".
Provenance: This piece was found at the famous Chilhowie School Site in the 1950's by a pair of brothers known to collect the site. Site located in Smyth County, Virginia, and designated as "VH-BO-54". This collection was purchased by known collector Phil Foley many moons ago.
Condition: Super. Piece is completely intact, and the edges are still crisp. Only minor drawback of some of the organic deposits chipped off the backside. The finder's then fixed the piece with a glue or lacquer solution to stop any future detoriation. Obviously, this is a no brainer, and extremely well documented to one of the premier shell sites in the USA.
Price: $600. Might end up keeping this unless it sells soon.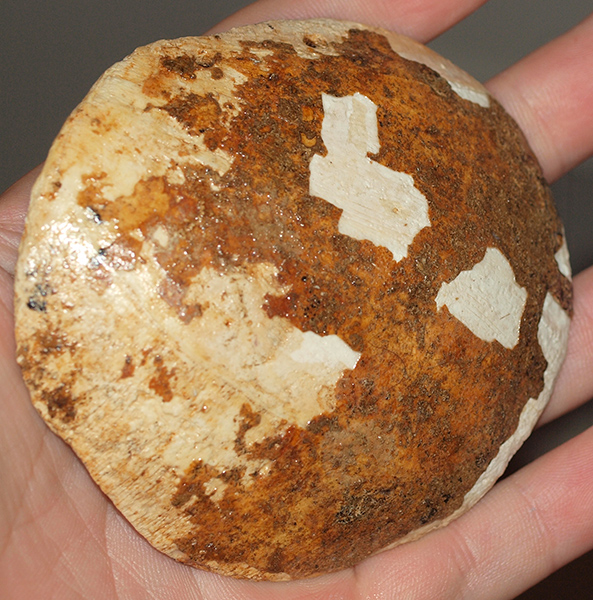 Memo to Fakers: These eyes have been around a long time, but still can see.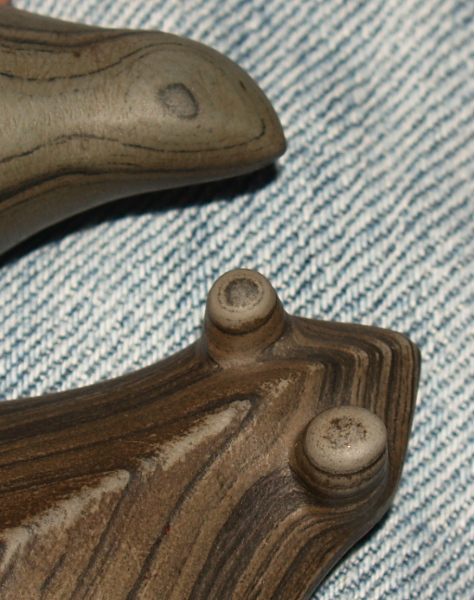 Pottery Water Bottle - #3-5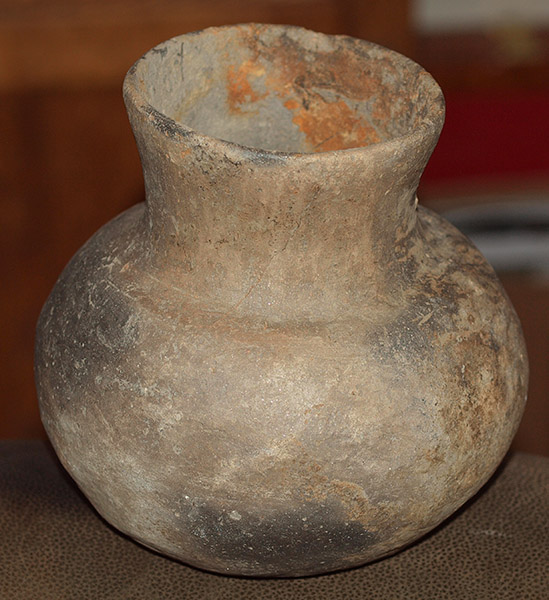 Size: 6 1/4" tall x 6 1/4" diameter at widest x 4" diameter opening.
Provenance: Found 50+ years ago in Missouri. Collector name to buyer.
Condition: Perfect. Vessel is completely solid, and shows no chips or cracks.
Price: $SOLD< THANK YOU>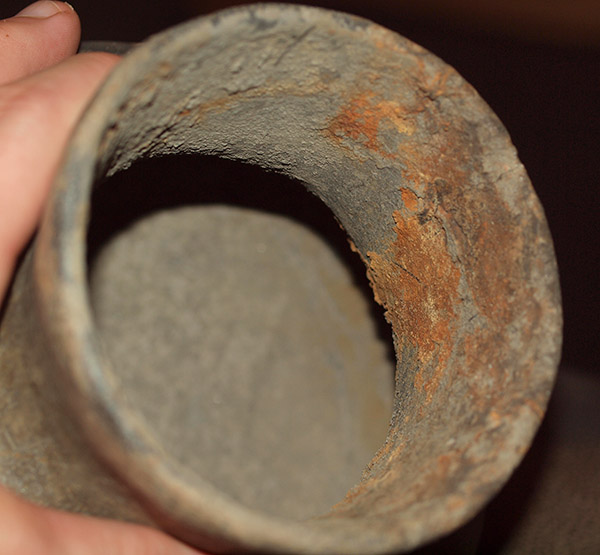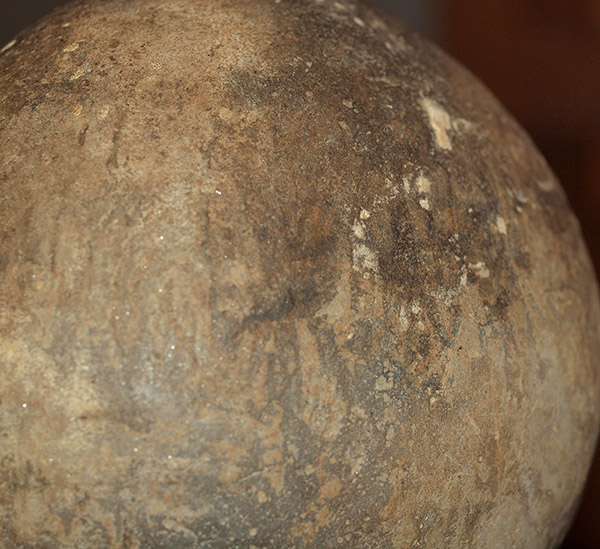 Quartz Discoidal - #3-6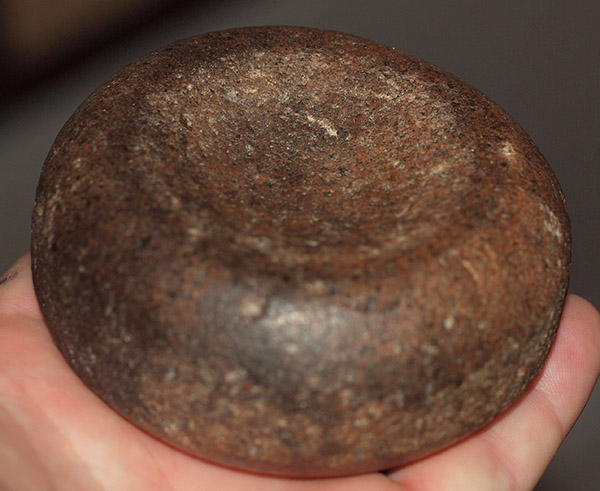 Size: 3 7/16" diameter x 2 1/2" thick.
Provenance: Unknown. Was in a collection I purchased, and was not labeled.
Condition: Excellent. No damage, just not super fine. Cupped on both sides, and shows good wear in the right places.
Price: $SOLD< THANK YOU>
Hematite Plummet - #3-7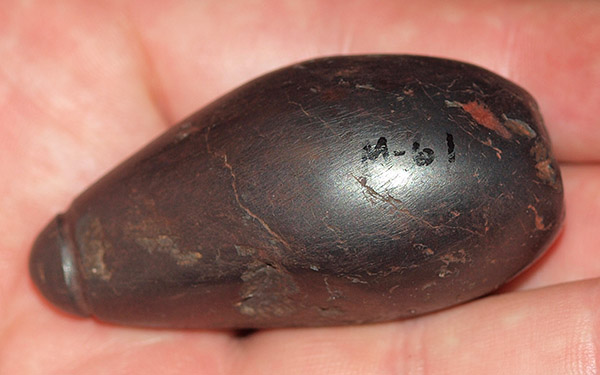 Size: 2 1/2" long x 1 1/4" wide. Very heavy
Provenance: This was collected by Ansil Chadwick many decades ago, and listed as a Missouri find.
Condition: Excellent. There are a few use nicks, and the bottom almost looks like it was used for hammering. The fault line you see in the pic is not a break, just a line in the material. Nicely grooved top, and obviously old. Request more pics. Just so many angles to this piece.
Price: $150
Hardstone Tube Pipe - #3-8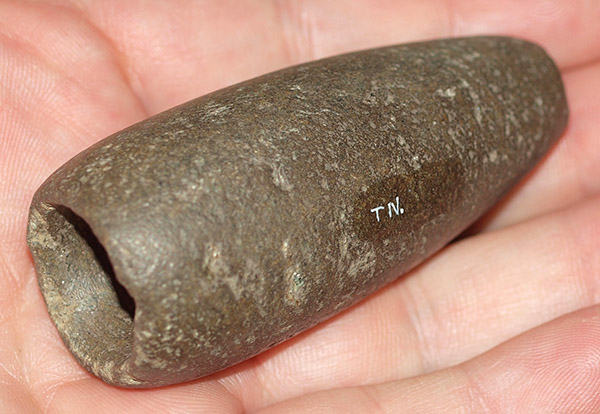 Size: 2 7/8" long x 1 1/8" wide.
Provenance: Labeled twice with TN (Tennessee). The white label is fairly new, and I think it belongs to Pete Allen. The other label is very old India ink and has a catalog number I can't decipher. Further collector history to buyer.
Condition: Excellent. A rare piece that doesn't need a long examination to get a good feeling about authenticity. Hardstone makes it even rarer.
Price: $400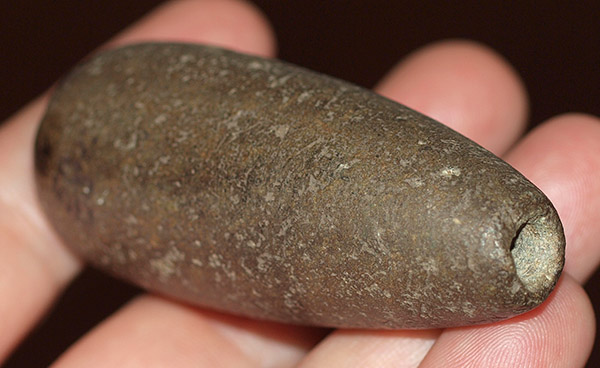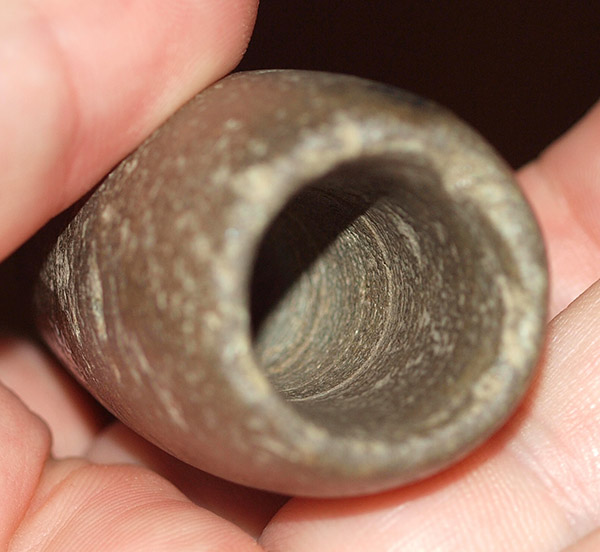 Pink/Orange Quartz Pipe Preform, or Pestle, or Eggstone "a cool mystery"- #3-9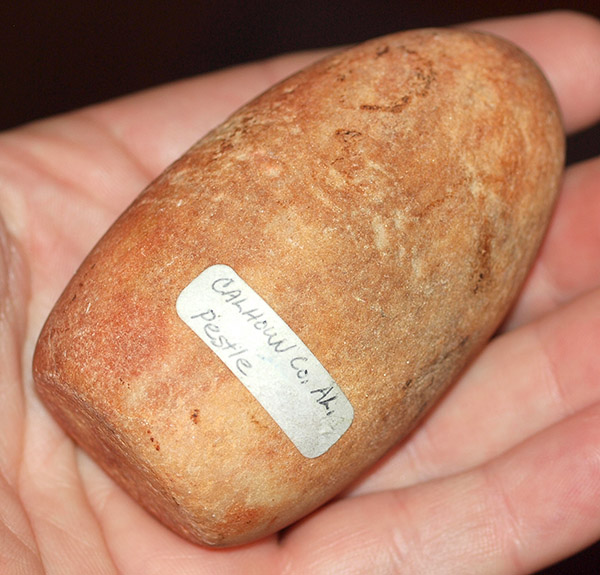 Size: 3 1/4" Long x 2" wide.
Provenance: Found in Calhoun County, Alabama.
Condition: Perfect. No damage. First, the material is a vivid orange/pink quartz. The entire surface has a nice medium polish with the base showing the most polish. It really stands out on a shelf. The best feature of this piece, is the great conversation's you will have with friends trying to decide what it is. The case for Pestle: Overall shape fits ok and there is a flat base. Eggstone: Flat bottom with tapering body, and material is almost always quartz. Pipe Preform: Shape is perfect for a vase pipe. Flat bottom could be made before drilling starts. My money is on Pipe Preform.
Price: $SOLD< THANK YOU>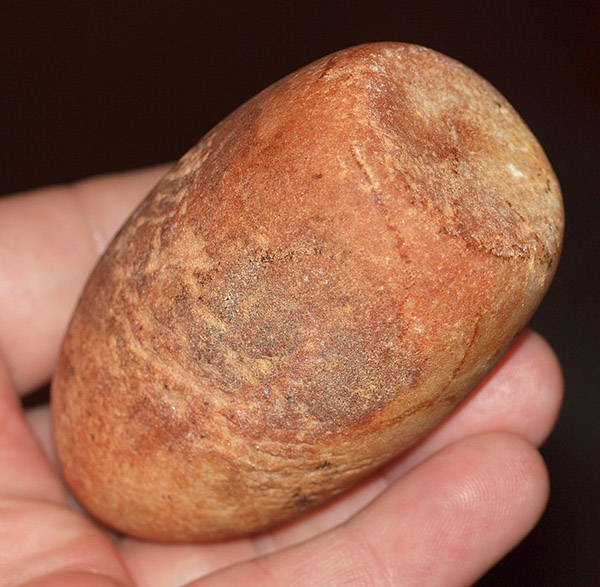 Bi-Concave Gorget - Dr. Gordon Meuser collection - #3-10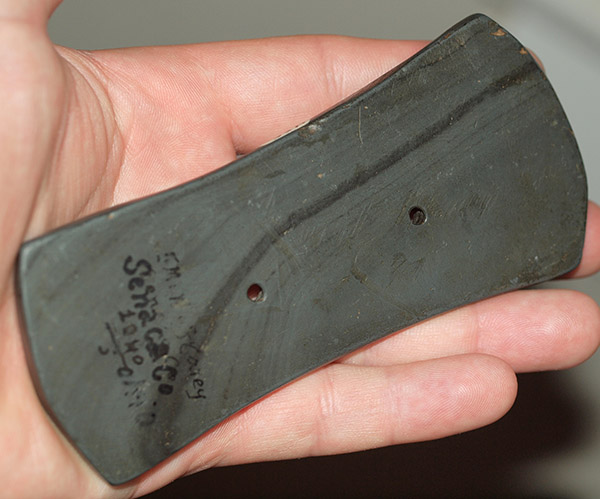 Size: 5 1/8" L x 2 3/8" W.
Provenance: Found 5 miles West of Carey, Seneca County, Ohio. Dr. Gordon Meuser collection #1040/5.
Condition: Super. A great Bi-concave gorget with fine workmanship. Not heavily banded, but the bands present are dark and rich. Some nice borderline engraving on both faces. Drilling is classic conical Adena style. Pictures should tell the rest of the story, and if you don't understand the long term value associated with owning a Doc Meuser artifact, it might be time to try another hobby.
Price: $850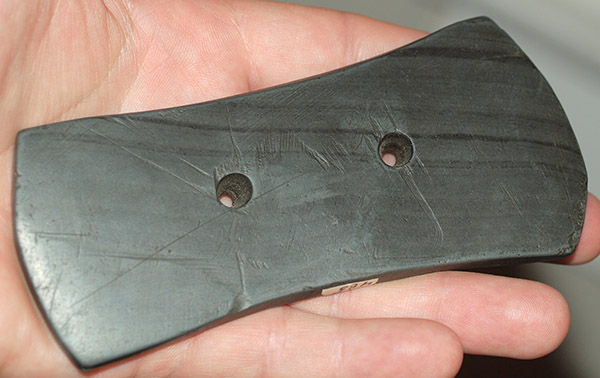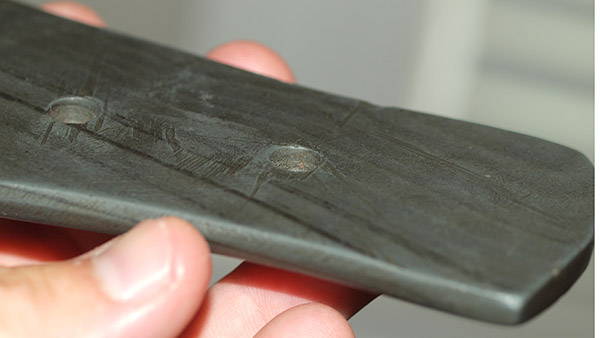 Perforated and engraved sandstone discoidal - #3-11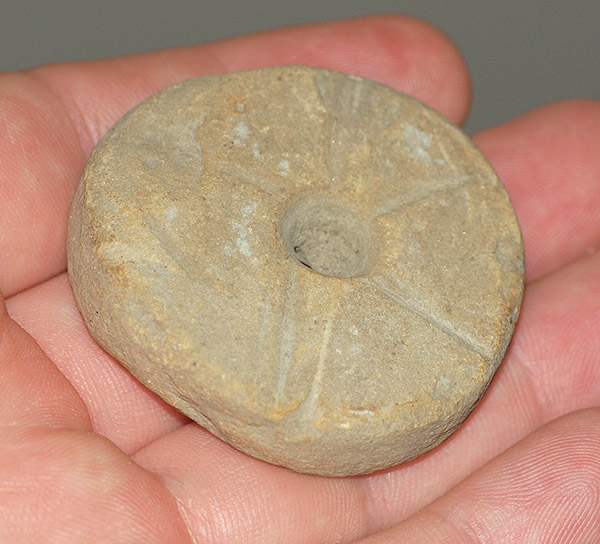 Size: 1 15/16" diameter.
Provenance: Found at one of the many Northern Kentucky Fort Ancient sites in the Ohio River Valley.
Condition: Good. Good is a bit of a misnomer with this form. I would estimate well over 90% of the Ohio Valley discoidals are made from sandstone, and rather crude. I don't understand where all the large hardstone examples are coming from. Maybe somebody's work shop garage? This example has two features that make it rarer for the form. It has some nice engraving, maybe 40% are engraved overall. It is also perforated, which I would estimate as less than 20% are perforated.
Price: $SOLD< THANK YOU>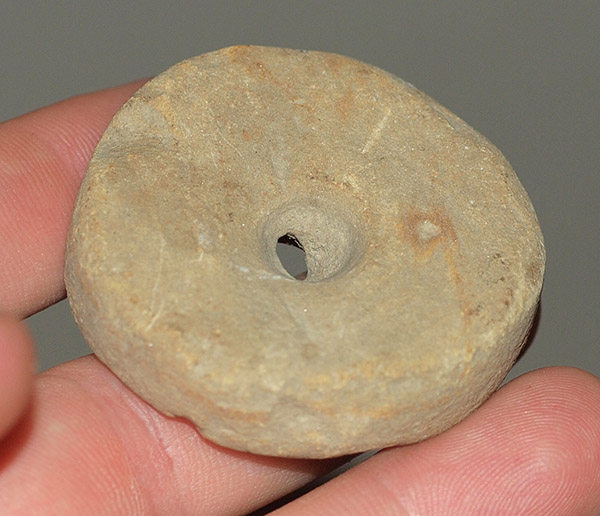 Possibly old knife blade with modern bone handle - #3-12

Size: Overall 11 1/2" Long. Blade is 7 1/2" long.
Provenance: Was in a collection I purchased a way's back. Had it in a drawer, time for a new owner.
Condition: Super. I am not an expert in this field at all. I am sure that the handle is modern. I think the blade is old (maybe 1800's). The hafting job is excellent and very tight.
Price: $SOLD< THANK YOU>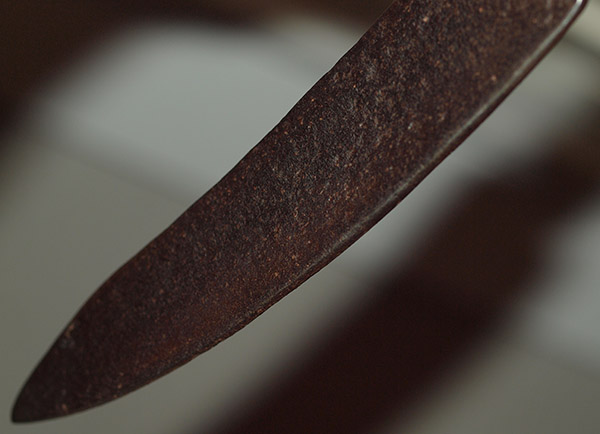 Jon Dickinson
Copyright 2004 (Dickinson Contract Marketing). All Rights Reserved.